Fritz Hansen's new collections celebrate the past while looking to the future
Ahead of its 150th anniversary, Fritz Hansen launches a new light by Kasper Kjeldgaard and a tempting assortment of updated classics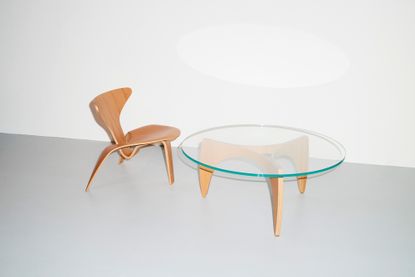 (Image credit: Nikolaj Didriksen)
Given the prominent position that the Fritz Hansen furniture brand occupies in the Danish design industry, the addition of a new collaborator to its roster – which already includes illustrious names such as Arne Jacobsen, Poul Kjærholm, Jaime Hayon and Cecilie Manz – is cause for fanfare. Especially when this collaboration has come about through Wallpaper's matchmaking. It was in late 2018 that we first introduced the brand to artist and designer Kasper Kjeldgaard, to create a one-off piece of lighting for our Wallpaper* Handmade X exhibition at Milan Design Week (see W*245). Three and a half years on, Fritz Hansen and Kjeldgaard are cementing their partnership with the new 'Oneline' light, due to launch in September 2022.
At a glance, the new light is much simpler than Fritz Hansen and Kjeldgaard's 'Centres of Rotation' lamp for Handmade, which involved an illuminated beeswax disc tethered to a supporting brass rod that concealed the electrical wiring. 'Oneline', as befits its name, consists of a tubular piece of metal. Suspended by silver-tone wiring, it looks like a single line hovering mid-air. On its underside are five slim openings, revealing a dimmable LED light source led through extremely thin wires. Joints on either end allow the light source to be rotated 360 degrees, so as to cast its glow in any direction. Its minimalist form and elegant construction belie years of R&D – as Kjeldgaard points out, 'things that appear simple are always the most complex to create'.
'I have created lamps since I was very young, and although they have gotten better, controlling and mastering light is still a challenging task,' says Kjeldgaard with characteristic Danish humility. 'Oneline' distils lessons from his earlier projects: a lighting commission for Stockholm members' club Alma, in 2017, taught him to integrate a light source within a thin, milled opening in a tube, while a series of design features from 'Centres of Rotation' made their way into the new design, from the detail on the tube to the way the electricity is led. But 'Oneline' differs from its predecessors in that it will be manufactured on an industrial scale.
'Kasper's work is inspired by industrial materials and idioms, which made the transformation [in scales] interesting. It was about staying true to his playful ideas while working with industrial materials and a larger production. The ongoing dialogue with Kasper has been a true inspiration,' says Marie-Louise Høstbo, head of design at Fritz Hansen, who worked closely with Kjeldgaard on the project.
Meanwhile, Kjeldgaard credits the brand for facilitating his deeply personal design process. 'I work primarily with metal, and my work is directly led from the work I do at the lathe without having to involve other craftspeople or industrial companies,' he says. 'Oneline came to life this way and made it possible for me to present almost finalised prototypes, which the Fritz Hansen team could develop further, integrating the more technical aspects. I insisted on keeping the light as minimalistic as possible, and Fritz Hansen has been wonderful to work with.'
The resulting light reflects Fritz Hansen's history of championing cutting-edge design, and encapsulates Kjeldgaard's principles of simplicity, balance and weight. Just as importantly, it is well suited to the demands of modern life: it fits seamlessly into offices (and home offices), but one can also easily imagine it illuminating a kitchen counter, or rotated to light up a gallery wall or bookcase.
Alongside the upcoming launch of 'Oneline', Fritz Hansen has reissued a number of midcentury designs by Arne Jacobsen and Poul Kjærhølm in anticipation of its 150th anniversary in October. These include new versions of Jacobsen's 'Egg', 'Swan', 'Lily' and 'Series 7' chairs, in a choice of 'Vanir' textile by Kvadrat/Raf Simons or a chestnut Sørensen leather. Meanwhile, Jacobsen's discontinued 'Egg' table from 1952 makes a happy return. 'With the relaunch,' says Høstbo, 'we celebrate the contemporary relevance and flexibility of Jacobsen's designs.' While the midcentury original was in teak and rosewood, the 2022 reissue has a tabletop of walnut veneer, with a solid walnut edge: 'a darker wood with beautiful depth in the grain structure, but with a contemporary mindset.'
A shift in material palette can likewise be seen in Kjærhølm's 'PK61' table, a low-slung design with linear stainless steel supports and a removable square tabletop in marble, granite or glass. As the quarry in Porsgrunn, Norway, that had supplied the original marble is now empty, the Fritz Hansen team went on a mission to identify a new marble – and found their solution in Fauske, much further north. The new stone is characterised by wavy striations and glistening speckles that look like gold or diamond dust.
Beyond anniversary product launches and reissues, Fritz Hansen has embarked on a major renovation of its HQ in Allerød, north-west of Copenhagen, with a view to transforming it into a true design destination. 'It's a four-year plan, but already this autumn, we can open our doors to our experience centre, where we look forward to welcoming back designers, architects, students and partners,' says Høstbo. 'But first and foremost, we look forward to welcoming guests for 3 Days of Design here in Copenhagen, where we will celebrate in style.
INFORMATION
fritzhansen.com (opens in new tab)
TF has been editor of Wallpaper* since December 2020. He is responsible for our monthly print magazine, planning, commissioning, editing and writing long-lead content across all our content pillars. He also plays a leading role in multi-channel editorial franchises, such as our annual Design Awards, Guest Editor takeovers and Next Generation series. He aims to create world-class, visually-driven content while championing diversity, international representation and social impact. TF joined Wallpaper* as an intern in January 2013, and served as its commissioning editor from 2017-20, winning a 30 under 30 New Talent Award from the Professional Publishers' Association. Born and raised in Hong Kong, he holds an undergraduate degree in history from Princeton University.
With contributions from