Unpacking the magic of mushrooms and future of fungi
Curated by London editor Francesca Gavin, Mushrooms: The Art, Design and Future of Fungi is a new exhibition at Somerset House London featuring mycelium-inspired fonts, chairs and more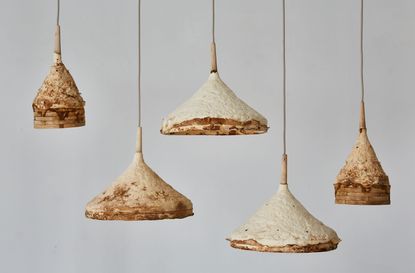 (Image credit: Petr Krejci)
The humble toadstool has long been a source of inspiration for artists around the world. Its fleshy, bulbous form has inspired everyone from Beatrix Potter to Cy Twombly – even we explored its sartorial side in our December 2019 issue, but as a new show at Somerset House reveals, there's much more to the mushroom than meets the eye.

Curated by London editor Francesca Gavin, Mushrooms: The Art, Design and Future of Fungi, is the result of Gavin's own observations. 'I kept noticing artists working with mushrooms,' recalls Gavin. 'I read Anna L Tsing's The Mushroom at the End of the World quite soon after its first release and fell into a wormhole of mushroom facts. At this moment of climate crisis, treating something like mushrooms with respect and fascination feels more pressing than ever.'

Perhaps unsurprisingly, the show's scope is broad, because as well as botany and art, mushrooms have more recently emerged in the fields of technology, architecture, science and even fashion. Visitors to Somerset House will encounter floral displays featuring mushrooms grown in venue's former coalholes; artworks that span illustration, collage, sculpture, photography and film; thought-provoking furniture, and futuristic building materials all made from mycelium.
'I like doing exhibitions that appeal to people beyond the art world, and mushrooms connect to people in such an accessible way,' says Gavin. 'Without mushrooms ecosystems would fail. They are part of our own human microbiome.'
The work of 35 artists, designers and musicians is split into three themes arranged across the venue's three Terrace Rooms as part of a series of free public exhibitions sponsored by Charles Russell Speechlys. The themes Mycophilia, Magic Mushrooms and Fungi Futures were chosen by Gavin in what she describes as an attempt to 'make sense of the mushroom'.

The exhibition's first room houses Mycophilia, where the revival of interest in the mushroom is examined. With vitrines devoted to Alice in Wonderland and mushroom publications it shows how artists, both past and present, are working with mushrooms as a subject. The second room, Magic Mushrooms, shifts focus from the scientific to the psychedelic with John Cage and Lois Long's The Mushroom Book, a rare drawing by Takashi Murakami, and an enveloping surround-3D film by Adham Faramawy.
The third and final room houses Fungi Futures, which is devoted to design and innovation. Here we see how mushrooms are now being used as a material to create everything from lampshades by British designer Sebastian Cox and researcher Ninela Ivanova, a decomposable mushroom burial suit by Jae Rhim Lee to sculptural bricks developed by building material technologist Mae-Ling Lokko. A highlight is a specially-commissioned prototype chair by Tom Dixon, which was grown, 'just in time' Gavin informs, from mycelium.

'The aim of all three rooms is to highlight how we need to live symbiotically with nature,' says Gavin. 'Artists and designers are always the first people to show some of the vital themes in contemporary life.'
'Mycelium is being used for many things hard to illustrate in the show such as eating plastic, healing water and land from toxic waste,' she added. 'I think those are the areas where fungi are becoming fundamental for our future existence.'
The show's design, put together by Pentagram, plays on the Victorian's scientific approach to museum display and classification. Rooms are organised by vinyl lines and facts about fungi are inserted into each thematic space. Pentagram has also worked with 3D artist Rosie Emery and creative studio Counterpoint to develop a mycelium-inspired font that is created using growth algorithms. Formed organically like fungi, the spore-like font has been used to create 3D-printed signage for each room as well as sculptures that appear to sprout out of the exhibition's walls and vitrines.
INFORMATION
Mushrooms: The Art, Design and Future of Fungi, Somerset House, until 26 April
somersethouse.org.uk (opens in new tab)
ADDRESS
Somerset House,
Strand, London
WC2R 1LA
VIEW GOOGLE MAPS (opens in new tab)