Muji explores the art of minimalism in Japanese rock garden installation in New York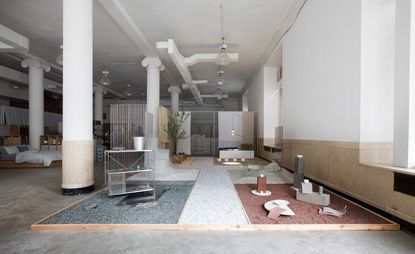 (Image credit: Charlie Schuck)
It's not often that the Japanese lifesyle brand Muji, known for its tightly edited offerings and minimalist 'no-brand' approach to everyday goods, collaborates with outside designers. The 10th anniversary of its retail launch in New York, however, called for a celebratory occasion that motivated Muji US president Toru Tsunoda to tap a local American designer for its first-ever New York Design Week activation.

Ladies & Gentlemen Studio duo Dylan Davis and Jean Lee were tasked to create an immersive, large-scale installation exploring Muji's distinct design ethos and use of honest materials. They presented a clever twist on this, inspired by traditional Japanese rock gardens. 'We really wanted to create an installation that people could experience in an immersive way,' says Lee.
Far from the splashy activations typical of design festivals, Muji Materials Garden presents a series of mediative vignettes exploring the origins of Muji's signature product offerings in wood, stainless steel, plastic, cotton, ceramics, paper, and glass. Various designs are paired with their elemental sources – glass bowls are set atop sand; cotton apparel hangs beside a cluster of wispy fronds; ceramic dishes sit atop plinths of clay slabs; clear storage units hover above a pool of opaque plastic pellets; and a stainless steel desk is paired among rocks and minerals from which the material is mined and melded.
A gravel path linking the vignettes together provides a haptic and visual lesson in contemporary material science, conflating nature and the manmade in pairings that are surprisingly soothing in spite of the industrial processes that occur in between. Davis explains, 'as designers, we wanted visitors to see what we see when we consider a material, and capture that fascination.'

See more from New York Design Week here
INFORMATION
Muji Materials Garden is on view until 29 May. For more information, visit the website (opens in new tab)
ADDRESS
Muji Soho pop-up
434 Broadway
New York, NY
10013