Moroso marks 70th anniversary with New York flagship store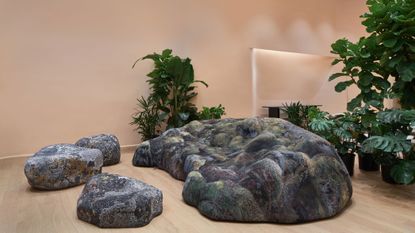 (Image credit: Alex Kroke)
Moroso New York has undergone a revamp. At 105 Madison Avenue, the furniture brand's new flagship store will be opening on 14 October 2022. The redesign, courtesy of Studio Urquiola and replacing a space that first opened in 2007, comes as part of the company's 70th-anniversary celebrations, and sees the store encompass a series of galleries and rooms that will host different collections, catering to everyone from the everyday browser to those looking for a full office revamp.
Included is the 'Gallery of Wonders', presenting the brand's evolving visions for design, facilitated by its in-house research division, More-So. Under the co-creative directorship of Ron Arad, More-So projects lead to limited-edition and experimental works, aimed fundamentally at design enthusiasts.
At the entrance to the store, visitors encounter 'Nature Furniture Collection', designed by Front's Sofia Lagerkvist and Anna Lindgren, inspired by natural landscapes. The layout then encourages visitors to explore the full array of Moroso furniture designs. Rooms lead into one another, each displaying a different living setting and design solutions, from Jonathan Olivares' 'Square' table and armchairs to the Diesel Living with Moroso collection.
Aside from the well-displayed furniture selections, the showroom is bespoke to its own needs. Upstairs is an area dedicated to contract design, where architects and interior designers can consult on Moroso furniture plans. On the ground floor is a custom reception desk by Moroso's contract division, made from Paper Factor, a post-industrial, cellulose-based recycled material. Columns, originally functional supports, have been transformed into major features, while soft hues, potted foliage and distinctively 'Moroso' curves adorn the space, adding to the 360-degree view of the company that the store proposes. §
moroso.it (opens in new tab)
Martha Elliott is the Junior Digital News Editor at Wallpaper*. After graduating from university she worked in arts-based behavioural therapy, then embarked on a career in journalism, joining Wallpaper* at the start of 2022. She reports on art, design and architecture, as well as covering regular news stories across all channels.