Diversity and inclusion consultancy Kiltered launches
Creating diversity and inclusion is an opportunity for businesses, not an obstacle, says Morag Ofili, as she launches consultancy Kiltered. Here, she tells Wallpaper* how the consultancy will help companies promote more equitable cultures and forge a new path through data analysis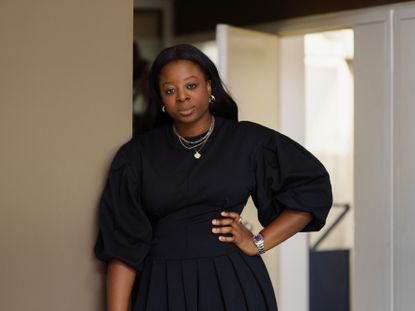 (Image credit: Rick Pushinsky)
Wallpaper* Newsletter
Receive our daily digest of inspiration, escapism and design stories from around the world direct to your inbox
Thank you for signing up to Wallpaper. You will receive a verification email shortly.
There was a problem. Please refresh the page and try again.
Barrister and activist Morag Ofili launches a forward-thinking diversity and inclusion consultancy with the mission to enrich company cultures by developing achievable strategies for change. Named Kiltered – the word 'kilter' meaning balance or equilibrium – the initiative uses data to cultivate positive communications and behaviour within businesses.
Ofili, who is a senior associate of boutique law firm Harbottle & Lewis, and her specialist network will offer small and medium-sized enterprises and business leaders tailored opportunities to engage their teams on the subject of equality, diversity and inclusion in a practical and judgement-free manner. She is looking forward to constructive conversations. 'These issues aren't new, but companies are listening like never before. Now is time for real change.'
Kiltered will help businesses create cohesive diversity and inclusion strategies, and take the necessary steps to make a positive impact. 'Diversity and inclusion are fundamental to every company and cannot simply be brushed under the carpet.'
Wallpaper*: Tell us about Kiltered. What is it all about?
Morag Ofili: Kiltered is about helping businesses see inclusion as a real opportunity rather than a problem or obligation. Many businesses are off-balance in their approach to diversity and inclusion and are often scared to address the elephant in the room. Kiltered aims to change this. We will provide strategic consulting, help with policies and have regular check-ins with companies. We're bringing uncomfortable conversations to the forefront of the discussion.
I firmly believe if you create inclusive spaces, diversity will follow. The reason for the lack of diversity is often because people don't feel safe in the workplace. Therefore, companies need to invest time and effort into this area of business. These topics may be uncomfortable and not easily initiated but you have to start somewhere.
W*: What prompted you to start Kiltered?
MO: I have always been intrigued by the levels of discomfort that seem to haunt businesses when conversations about diversity occur. However, in the past year, I have increasingly seen organisations become more open to addressing their shortcomings. When most companies think about their culture, they think inclusion is implied. However, this needs to be cultivated and actively embedded into everything the business does. Kiltered aims to help organisations start to think about what this means in practice.
W*: Why is a service like this needed?
MO: When it comes to inclusion and diversity, businesses are losing money. Companies that are more inclusive and diverse financially outperform their peers. The younger generation doesn't even want to talk to you if your workforce isn't diverse and aligned with their personal goals and ethics. Businesses are starting to feel the effects of not tackling these issues. They are losing talent, opportunities, and money.
RELATED STORY
W*: How do you think Kiltered challenges the current formula of diversity training to create a lasting difference?
MO: I believe that diversity and inclusion should be treated like any other business issue, and the first step should be developing a clear strategy. Studies show that companies that have leaders who are committed to and confident in their strategies grow faster and are more profitable than their peers.
Kiltered will analyse numerous sources of data to create a picture of an organisation's existing culture and ways in which it can improve. This can include information in the public domain, employee perception surveys and a review of HR data. Our analysts then pull together themes that form the basis of our ongoing strategic advice and provide metrics against which progress can be measured. One-off training cannot compete with a conscious shift in mind-set and clear goals and deliverables.
W*: What makes Kiltered different?
MO: Kiltered is different because we talk about inclusion and diversity in business terms – it is not about the individual but the company as a whole. The consultancy will focus on communication and policies within organisations as opposed singular behaviours and traits. We suggest short, medium and long-term goals, and once a strategy has been agreed, we put our clients in touch with specialists such as recruiters, coaches and lawyers. Ultimately, we will work with our clients to understand where they want to be and how they can get there
INFORMATION
Receive our daily digest of inspiration, escapism and design stories from around the world direct to your inbox