Model made: Arckit, the game-changing architectural model kit, goes Stateside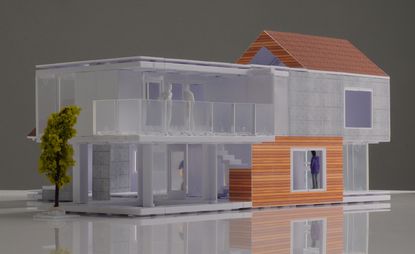 (Image credit: press)
'It could be described as "sophisticated Lego" or "reality Minecraft",' says architect Damien Murtagh of Arckit, his design for a reusable, scaled architectural model building kit that is about to make its debut in America. Based on modern building techniques, Arckit is designed to replace traditional (and fiddly) cut-and-glue model making methods with a sleek kit of parts that allows architects and model-making enthusiasts alike to quickly and easily realise their visions.

'In my experience as an architect, I find that the benefits of presenting a physical model to clients is far more impactful than presenting them with drawings or images,' says Murtagh, who has had to stall his own practice in order to dedicate all of his time to the rapidly expanding start-up. 'Physical models encourage client participation, as well as allowing them to physically visualise design concepts. Like traditional model making, 3D printed models are great, but you cannot alter them once they are printed.'

Made in Tinahely, Co. Wicklow on a standard 1.2 m/4 ft modular grid to a scale of 1:48, there are four options of Arckit to choose from, each one allowing for the creation of models of different sizes and capabilities. The sets comprise a series of reusable interconnecting components that simply snap together, while additional components can be ordered online. Printed textures can be downloaded from Arckit's online Arckitexture library that includes wood flooring, terracotta tiles, stone walls and shingle aluminium, all supplied by real building companies.

In order to further customise their spatial ideas, users are encouraged to design and 3D print their own bespoke components to integrate into the system, so that Arckit becomes a limitless platform to build off. 'Arckit is an add-on system, so this is just the beginning. We will be continually evolving and launching new components, individual component packs and online features,' says Murtagh.

Launched in the UK and Ireland just over a year ago, in May 2014, Arckit is set to go Stateside in September when the freeform kit goes on sale across 445 Barnes & Noble stores nationwide.
Receive our daily digest of inspiration, escapism and design stories from around the world direct to your inbox