Dream homes: Branch Technology creates world's largest 3D printer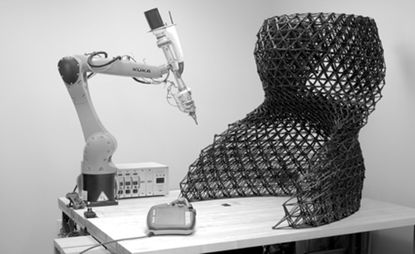 (Image credit: Branch Technology)
Wallpaper* Newsletter
Receive our daily digest of inspiration, escapism and design stories from around the world direct to your inbox
Thank you for signing up to Wallpaper. You will receive a verification email shortly.
There was a problem. Please refresh the page and try again.
Despite the ubiquity of beautiful contemporary architecture with twisting geometry – Frank Gehry's undular designs, for instance – most of the modern world is stuck living in rather ordinary, uniform homes. Only deep pockets and high-profile clients, it seems, can afford innovative, creative architecture.

Inspired by the idea that nature is the ultimate architect of structures that are both durable and aesthetic, Branch Technology – a start-up based in Chattanooga, Tennessee – wants to change the ticky-tacky post-and-beam formula with a 3D-printing technique it calls 'cellular fabrication'. The company has repurposed a 12 ft (3.7m) robotic arm from its previous life in a German automobile factory to create the world's largest 3D printer. And they want to build your next home with it.

'Conventional' 3D printing heats and cools thermoplastics in layers to create an object from a digital file. However, Branch Technology's robot uses a mixture of carbon fibre and the same type of plastic found in consumer electronics to fabricate a frame in open air. The custom exoskeleton is then shipped to the construction site, assembled and filled with spray foam, concrete or other construction materials, essentially replacing a traditional rebar infrastructure.

'Material and energy are premium,' says Shawn Thorne, a partner at Branch. '3D printing allows customisation and complexity for free. It's just as easy to make straight rectangular prisms, as it is to make curves like Gaudí in Barcelona.'

Branch doesn't envision cellular fabrication as the be-all-and-end-all of new architecture. Rather, the company sees freeform 3D printing as a jumping-off point for design innovation. 'We're not trying to be a design firm,' Thorne says. 'What we really want is to unlock other people's designs.'

According to Thorne, the biggest obstacle is getting designers to think outside the box, so to speak. 'Telling people they can build anything they want is really difficult for them to wrap their brains around. So the challenge is getting what's possible into people's minds.'

In September, Branch will hold an open call for home designs. The best idea will receive a cash prize, plus full-scale production. It might finally be time to dig out that mock-up of Dr Dolittle's floating snail house you drew as a kid.
Receive our daily digest of inspiration, escapism and design stories from around the world direct to your inbox