Michele De Lucchi unveils latest furniture design for Stellar Works
Italian designer Michele De Lucchi and Stellar Works present a new furniture collaboration consisting of a modular sofa with a floating silhouette that merges Italian and Japanese design sensibilities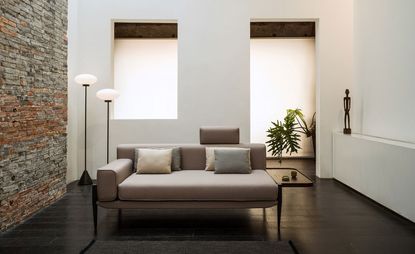 (Image credit: TBC)
'An object's worth is not just based on its function, but also on its intrinsic meaning and on the value it can impart on the surrounding environment. The Memphis movement emerged from this idea – that design is not solely about functionality but also witnessing the moment an object is designed.' So says Italian designer and architect Michele De Lucchi, a key member of Ettore Sottsass' creative collective, with the likes of Nathalie Du Pasquier, Martine Bedin, Matteo Thun and Andrea Branzi.
It's an idea De Lucchi has continued to explore and it's there in his latest furniture design (opens in new tab), a sofa he has tagged 'Float' – a debut collaboration with Asian design brand Stellar Works. The name, says De Lucchi, 'gives the perception of something not firmly rooted to the ground, like your mind wandering when relaxing'.
Michele De Lucchi and Stellar Works: story of a collaboration
Yuichiro Hori, the Japanese founder and CEO of Stellar Works, knows that signing up De Lucchi was something of a coup: 'I knew that, over the last few years, when asked to design furniture, Michele politely turned some brands down. This is why I never dared to propose any projects to him. One day, while having dinner in Shanghai, he suddenly showed me some drafts, proposing we work together on them. I felt incredibly honoured.'
Established in 2012 and devoted to Asian sensibilities and timeless handcraft, Shanghai-based Stellar Works operates under the creative direction of Neri & Hu. Its in-house production facilities ensure traditional craftsmanship throughout the manufacturing process.
Hori and De Lucchi first met six years ago during Salone del Mobile (opens in new tab) in Milan, and the pair now refer to each other as friends. De Lucchi has been visiting Japan since the first Memphis exhibition in Tokyo in the early 1980s, and feels a particular affinity towards Japanese culture. 'Italians and Japanese share what I call empathy of hands,' he says. 'We love craftsmanship, we appreciate woodworking, we understand the meanings an object acquires when handcrafted, when born in a specific moment, in a specific context.'
When establishing Stellar Works, rather than turn to machines to limit costs, Hori went to China to search for a skilled but affordable workforce that could produce quality handmade furniture. 'His vision and long-term commitment deserved attention. How could I not be interested?' says De Lucchi. 'It almost seemed like an experiment – to prove that handmade objects can evolve in different cultural contexts, combining different craftsmanship backgrounds to create a global culture.'
The design process
The 'Float' collection, comprising a sofa in three sizes (from one to three seats), as well as an L-shaped option, is an ode to transformation. Its various components can be combined in multiple configurations, while a range of accessories – including a backseat, headrest and a series of pillows, along with optional built-in wooden side tables – can be arranged to accommodate distinctive layouts and functions. You can personalise the colour of the cushions, and layer them as you like.
'Modular sofas can look cheap, or lack aesthetic appeal,' concedes Hori. 'But we solve this, ensuring it looks luxuriously comfortable. To guarantee the visual effect of a floating sofa, and avoid it looking bulky, we used an invisible inner structure.' The feet stand outside of the sofa's padded form, creating a suspended effect, while the generous cushioning, supported by a metallic sheet, provides both comfort and strength.
It was quite challenging, De Lucchi admits: 'Have you ever heard the old Irish expression about throwing your hat over the wall? If you don't know how to climb over a wall, throw your hat on the other side and you'll surely find a solution. In this particular case, the floating effect and the thin structure were my hat waiting on the other side,' he says, rubbing his beard. 'When I work on a new project, I need to find ways to surprise myself. If I knew in advance how the result would look, I would be bored by now, and I would have a much longer beard.'
And though De Lucchi's original design was floated pre-pandemic, Hori says it is a perfect fit with changed ways of working and living. Domestic and professional settings are now blending, and furniture has to work in different ways. 'We now need to design for the human environment as a whole, fitting around everyone's sensibilities, in every moment of life,' concurs De Lucchi.
His next hat thrown over the wall is a chair. 'A crazy project, a challenge, something that simply does not exist,' he enthuses. 'A madness – to the point that we are all frantically looking for a way to make it real, and affordable. A product that can be bought and used by everyone, everywhere.'
INFORMATION
stellarworks.com (opens in new tab)