Michael Young: Works in China - Part 1 Design Art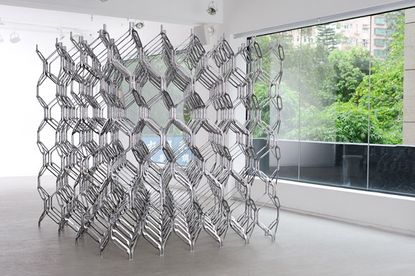 (Image credit: Photography by Fred Lam)
Wallpaper* Newsletter
Receive our daily digest of inspiration, escapism and design stories from around the world direct to your inbox
Thank you for signing up to Wallpaper. You will receive a verification email shortly.
There was a problem. Please refresh the page and try again.
British-born but Hong Kong-based industrial designer Michael Young has built up a formidable presence in Asia, where he has produced products for titans like EOps,
http://www.giant-bicycles.com/" target="_blank" >Giant, Lacoste, Swedese and Dupont Corian. But for his current show he has taken time out from the conveyor belt to create a series of one off sculptures and handcrafted pieces. 'I started out making one offs in London, as it was all that one could make back then, but it was a passion,' he says. 'After years of mass production, it's refreshing to go back to my roots and play a little.'
Young has approached this 'play' time, however, with characteristic rigour. Working in China has opened him up to new manufacturing expertise, which he has grasped to create his latest body of work. On show at The Cat Street Gallery's epic new addition, The Space (the largest multi-purpose art venue in central Hong Kong), are pieces with complex geometric forms made from difficult processes like lost wax gravity injection, such as the honeycomb-like 'Hex' chair, and using 3D CNC technology, such as the pixelated 'Psi Tower'.
Also in the exhibition is a series of glass pieces created for Tittot, inspired by the mathematics of ancient Chinese building techniques, which Young has combined 'with some rather complex computer work to make modern abstractions'. Creating the multi-facetted designs and maintaining their sharpness pushed the process of lost wax casting to its limits, and was achieved with a lot of trial and error. 'The process for making the glassware is extremely long, complicated and totally handmade,' says his studio. 'Every step needs undivided attention.'
The show also marks the launch of a new monograph on the designer, also titled Works in China, penned by John Heskett, which charts projects that span from watches for O.D.M., to chairs for Swedese and a polo shirt for Lacoste. In it, Young frankly reveals how his battle to read and write at school helped fuel his interest in design and industry. 'It drove me to find perfection within a logic that existed elsewhere, in a language of objects and processes that were tactile and not metaphysical,' he says. 'This journey has been the education I never had.'
ADDRESS
The Space
210 Hollywood Road
Sheung Wan
Hong Kong
Receive our daily digest of inspiration, escapism and design stories from around the world direct to your inbox
Malaika Byng is an editor, writer and consultant covering everything from architecture, design and ecology to art and craft. She was online editor for Wallpaper* magazine for three years and more recently editor of Crafts magazine, until she decided to go freelance in 2022. Based in London, she now writes for the Financial Times, Metropolis, Kinfolk and The Plant, among others.