From Le Corbusier to the iPhone, Michael Craig-Martin's tribute to icons of design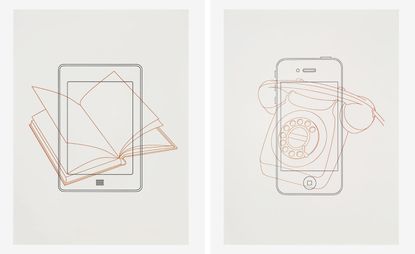 (Image credit: artist and Alan Cristea Gallery, London © Michael Craig-Martin)
Which designs will really stand the test of time – and which will fade into oblivion? Michael Craig-Martin has been a practising artist for over fifty years, so he's seen a fair few come and go, but in his latest exhibition, he pays homage to the creations that have inspired him over the decades, distilling them into simple lines, and revealing in the process what the marks of truly timeless design are.

'Quotidian', at Alan Cristea Gallery, London, is a testament to Craig-Martin's ongoing fascination with architecture and design. A series of four diptych screenprints made last year, Design and Architecture, are dedicated to the iconic designs of the early 20th century, including the Frank Lloyd Wright house in rural Pennsylvania, known as Fallingwater or the Kaufmann Residence, the late architect's masterpiece of organic architecture. There's also a nod to De Stilj and the Schroder House in Utrecht, and Le Corbusier's Villa Savoye in Paris – all rendered in the artist's intense palette of just twelve colours that he has stuck to since the 1980s.
In Plan and Elevation (2017), Craig-Martin pairs iconic public landmarks (the Guggenheim and the Ronchamp chapel) with their floor plans, an exploration of the aesthetic of 1970s architecture magazines in which Craig-Martin found early inspiration.
More than twenty new 'tape' drawings – made by sticking thin black tape on vivid coloured plastic sheets – delve into the world of classic, contemporary and everyday design of past and present: a MacBook Air, a coffin, a toaster, and even a Yeezy Boost trainer are among the items to get the Craig-Martin treatment.
But Then and Now (2017), is perhaps the series that best reflects Craig-Martin's position as an artist and 'accidental chronicler of the shift from old to new technology'. New objects are superimposed on their predecessors: Spotify on top of a cassette, an old telephone is overlaid with an iPhone, a book with a Kindle. These drawings don't regale the shift to towards the new, but rather contemplate the necessity of good design, to answer the demands of the times in which we're living.
INFORMATION
'Quotidian' is on view until 17 November. For more information, visit the Alan Cristea Gallery website
ADDRESS
Alan Cristea Gallery
43 Pall Mall
London SW1Y 5JG
Charlotte Jansen is a journalist and the author of two books on photography, Girl on Girl (2017) and Photography Now (2021). She is commissioning editor at Elephant magazine and has written on contemporary art and culture for The Guardian, the Financial Times, ELLE, the British Journal of Photography, Frieze and Artsy. Jansen is also presenter of Dior Talks podcast series, The Female Gaze.