A Memphis-inspired hotel suite in New York has its interiors up for sale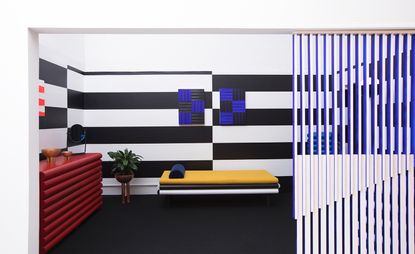 (Image credit: Charlie Schuck)
Booking app HotelTonight are waving goodbye to the muted palette of hotel rooms with a playful hospitality project for New York Design Week. In a collaboration with Sight Unseen Offsite and Brooklyn-based design duo Hannah Bigeleisen and Steven Bukowski, they have realised a conceptual suite with vibrant contemporary interiors that are available to purchase via the HotelTonight app.
'It doesn't just feel like a single room with a single function' explains Bukowski. The design team set out to challenge the idea of a hotel room as a place to repose for the night, turning it into a space that inspires creative thoughts, as seen through the primary palette, textured surfaces and bespoke artworks by Bigeleisen. 'There's a place to rest, a place to read, a place to sleep, and space to entertain,' Bukowski continues.
The initiative aligns Sight Unseen's ethos to support emerging talent with HotelTonight's mission to promote boutique independent hotels. This interactive and accessible nature of the installation is further bought to life by allowing guests to purchase the mini bar, desk lamp and vanity mirror – all designed by Bukowski and Bigeleisen – in the same process as making a hotel reservation between 18-20 May.
The furniture inside the space (all originally created for the project) combines via a playful use of graphic prints and bold, architectural lines. These details draw inspiration from both Memphis and Op-art movements with a monochromatic striped pattern acting as as a motif across the room from the walls to the Bubble lounge bed (its streamlined wood frame also slides out with a niftily stealth drawer).
'Too often, hotel rooms are sterile, with nondescript furniture that's meant to be invisible rather than noticed. says Bigeleisen. 'This space is the opposite, with wall treatments that augment the perception of the room and reinforce the linear elements of the furniture.'

See more from New York Design Week here
INFORMATION
New York Design Week is on until 23 May. For more information, visit the HotelTonight website (opens in new tab)
ADDRESS
201 Mulberry St
New York, NY 10012
USA
VIEW GOOGLE MAPS (opens in new tab)