Melbourne Design Week asks 'How can design shape life?'
Our edit of exhibitions to see at Melbourne Design Week 2020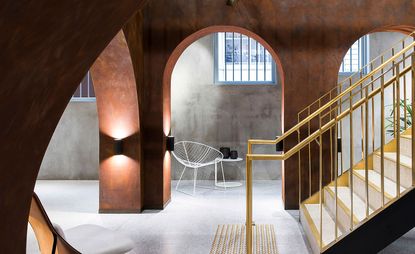 (Image credit: Nicole England)
A chord of radical elegance binds the experimental nature of standout works by artists, artisans and industrial designers at Melbourne Design Week (MDW), Australia's leading annual design event. Now in its fourth year, it explores the theme 'How Can Design Shape Life?'
Presented by Creative Victoria and the National Gallery of Victoria, the program includes 300 separate events organized by over 400 industry participants for 11 days. 'Of these, over 80 are exhibitions staged by independent designers, design studios and design collectives – from emerging to established,' says Melbourne Design Week's overarching curator, Ewan McEoin.
Cross-disciplinary and collaborative exhibitions are prevalent throughout the display of works. A collective use of unorthodox materials and the treatment of modern manufacturing materials to remove traces of machine fabrication is also widely investigated, whilst age-old techniques are revived via innovative execution.
The Australian Furniture Design Award 2020
Delving deeper into experimental ideas are the five finalists of Australia's most significant furniture design awards exhibition within Stylecraft's showroom – each surveying new design and production processes with many utilizing sustainable materials (the winner will be announced on 20 March). Pictured above is Marta Figueiredo's Elementary Abacus.
145 Flinders Ln, Melbourne VIC 3000
Fiona Lynch
Interior designer Fiona Lynch presents her fourth iteration of Work Shop. Within her gallery, artworks and objects together with experiential furnishings meld to 'create an exhibition that is futuristic with an awareness of our planet and artisan making,' she states.
Pictured above is cabinet designed by Lynch and handmade in aluminium by Daniel Barbera – a functional meditation on consumption, given its single drawer and compact maple rail (crafted by Ross Thompson). Aluminium is usually known for having a slick machined finish, but here it adopts a matte surface that is combined with chalk outlines for a sculptural effect. A crumpled illuminated balloon of hand-sewn silk stiffened by acrylic paint was also designed by Lynch in collaboration with archival seamstress, Catherine Shannon. Tethered to both ceiling and floor, it is neither a lamp or pendant light. Its sheer lunar force explores the precious and vernacular nature of materiality.
7 Glasshouse Road, Collingwood, VIC Australia, 3066
Adam&Arthur
Marking the first non art-based exhibition within Tolarno Galleries, the floors are lacquered with an obsidian patina, igniting the kaleidoscopic intensity of three whimsical pieces by Adam&Arthur – a partnership between industrial designer Adam Goodrum and French straw marquetry artisan Arthur Seigneur. The lavishly laboured works described by Goodrum as 'functional art pieces' are ablaze with parabolic tessellations constructed from thousands of dyed shards of straw affixed to birch carcasses.
Re-inventing traditional craft that customarily applies straw to flat surfaces in straight and right angled planes, the units are precision-carved to fashion curved and faceted surfaces. A reflective floor in the gallery reveals another niche parquetry quirk – even the undersides are covered in pattern work.
Tolarno Galleries, Level 4/104 Exhibition St, Melbourne VIC 3000
Partu (Skin)
This is latest collaboration between cattle-station saddler Johnny Nargoodah and conceptual object designer Trent Jansen. Within Arc One gallery, chairs, benches and objects possess a minimalistic theatrical essence via thickened folds of supple Scandinavian upholstery leather stretched over geometric timber and steel frames, whilst other seating appears to be bluntly chiseled from solid timber and stretched and twisted into ergonomic furniture. Fashioned from beaten aluminium mesh laminated in supple New Zealand saddle leather, they imbue bark-like shapes.
45 Flinders Ln, Melbourne VIC 3000
Designwork 04 at Sophie Gannon Gallery
Within the Albert Street space, commercial and interior designer, Danielle Brustman, delves into a sensorial discourse between scale and the emotive strength in harmonious and discordant colours. A palpable spectrum of tilted record cabinets, a suspended 'room jewellery' and a giant geometric mandala wall light comprising a central dial that can turn to subtly manipulate diffused hues resonate with comforting associations.
Complementing this vivid intensity, Dale Hardiman and Stephen Royce's Open Garden examines the re-animation of discarded technology. Broken mobile phone LCD screens are arranged in sculptural forms and revived via intricately complex hand-made circuit boxes and boards to emit ambient and reflective qualities of light (and in one case, imagery) to mesmerizing effect.
INFORMATION
Melbourne Design Week is on view until 22 March

ngv.vic.gov.au