Melbourne Design Week returns for 2021 edition
Now in its fifth consecutive year, Melbourne Design Week (26 March – 5 April 2021) returns with a multi-site program of design activations and provocations under a compelling theme: 'Design the world you want'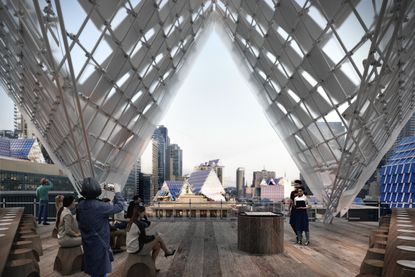 (Image credit: TBC)
Melbourne, which is not in lockdown, today launches its design week in locations throughout the city. Melbourne Design Week has an opportunity to set the design agenda, and to bring attention to what makes the design scene here special. 'What really stands out about Melbourne, and makes its designers unique, is not an aesthetic but an attitude,' says Timothy Moore, a Curator of Melbourne Design Week (and co-director of local practice Sibling Architecture).

'This attitude of generosity and collaboration is evident in the many group showings at Melbourne Design Week,' explains Moore. 'We hope to present an optimistic example to the rest of the globe about how designers can collaborate and contribute to the new world in its wake – from designers taking over empty shop fronts to architects providing prototypes of how to tackle climate change.'
Melbourne Design Week: Wallpaper's highlights
A New Normal
15 of Australia's leading architects are sharing their propositions for how to make Melbourne a self-sufficient sustainable city by 2030. Taking over the top floor and roof top of an office building on Little Collins Street in the CBD, A New Normal features a series of installations including a rooftop pavilion made of solar panel components by John Wardle Architects and a greenhouse by Ha that shows how land can be used for both agriculture and energy production. A parallel program of live streamed talks explore a range of topics, from creating a circular economy to how buildings can transition from fossil fuels to clean electric power.
Rooftop, 130 Little Collins Street
normalise.it (opens in new tab)
Community: A Storefront Exhibition
The alt.material collective return to Melbourne Design Week with a display of furniture and design objects across 24 empty storefronts in Fitzroy and Collingwood. Reflecting on the impact of Covid-19 and recent economic shifts that have affected businesses and tenancies on the high street, COMMUNITY presents Australian designers alongside international names including Ron Arad, Talin and Tulip Hazbar, Sam Jacob, Iris van Herpen and Eliot Bastianon.
Various locations
altmaterial.com (opens in new tab)
A World We Don't Want
Presented by Friends & Associates, this exhibition presents thirteen designs by Australian creatives reflecting on 'a world we don't want' to speculate on a future we do want. Taking place in the former stables building at Meat Market, North Melbourne, presentations can be found by the likes of Flack Studio, Marta Figueiredo and Jonathon Griggs, and Nicole Lawrence and Thomas Coward.
2 Wreckyn St, North Melbourne
friendsand.associates (opens in new tab)
Future Inheritance
If we were to leave an object behind for a loved one, what would it look like and what is its emotional, historical and cultural significance? This is the question being asked of 20 designers in an exhibition exploring the power of objects, the stories they hold and the ways in which they transfer ideas and values from one generation to the next.
5a Glasshouse Rd, Collingwood
@future.inheritance (opens in new tab)
futurefoodsystem
Located between Fed Square and the Yarra River for six months, futurefoodsystem was conceived by designer Joost Bakker as a 100 per cent sustainable modern urban farm / home / restaurant with aquaponics, solar power, micro-farms, a charcoal tank, vertical vegetable gardens and mushroom walls, and other living inhabitants such as fish, crickets and worms. Throughout Melbourne Deign Week there will be tours of futurefoodsystem, and there will be a keynote talk with Bakker and resident chef Jo Barrett, moderated by NGV Senior Curator of Contemporary Design and Architecture, Ewan McEoin.
River Terrace, 3 Princes Walk
futurefoodsystem.com (opens in new tab)
Fresh Eyes: Reimagining Robin Boyd's Walsh Street
A pioneer of Melbourne's Modern Architecture movement, Robyn Boyd was a visionary in urban design and famously wrote the 1960 text The Australian Ugliness about the national aesthetic. Some of Melbourne's leading and emerging architectural photographers have been invited to revisit the house Boyd designed for his own family in 1957. The resulting exhibition – featuring John Gollings, Tess Kelly, Tom Ross, Sean Fennessy and Lauren Bamford amongst others – is taking place at Domain House in Melbourne's Royal Botanic Gardens. A new publication After Australian Ugliness, offering a contemporary response to Boyd's writings, is also being launched at Melbourne Design Week.
Domain House, Dallas Brooks Drive, Royal Botanic Gardens
robinboyd.org.au (opens in new tab)
INFORMATION
Melbourne Design Week runs from 26 March – 5 April 2021
designweek.melbourne (opens in new tab)
Elias Redstone is Wallpaper's Australia editor and an acclaimed arts leader. He is the founder and artistic director of Photo Australia / PHOTO International Festival of Photography, Melbourne. Previously, Elias was senior curator of The Architecture Foundation, London. He has curated exhibitions for museums and galleries internationally including Barbican Art Gallery, London; Storefront for Art and Architecture, New York; and Centre for Contemporary Photography, Melbourne. His book Shooting Space: Architecture in Contemporary Photography is published by Phaidon.