9 things to see at Melbourne Design Week 2023
Melbourne Design Week 2023 (18 – 28 May 2023) follows a theme of 'Design The World You Want'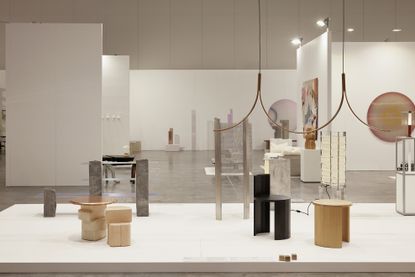 (Image credit: Sean Fennessy)
Melbourne Design Week 2023 marks the festival's seventh edition (18 – 28 May 2023), with exhibitions and events that shine a spotlight on excellence in Australian design and architecture. Building on the ideas unveiled during previous iterations of the programme, the 2023 edition continues to invite designers to 'Design The World You Want', with a mix of exhibitions, events, symposiums and film screenings.
Here, Wallpaper's Australia Editor Elias Redstone offers his recommendations to help you navigate the expansive programme.
---
MELBOURNE DESIGN WEEK 2023: WHAT TO SEE IN THE CITY
Melbourne Design Fair
Following its launch last year, Melbourne Design Fair is now cementing its place at the spiritual and commercial heart of Melbourne Design Week with an expanded programme that sees the fair take up residency at Melbourne Convention and Exhibition Centre.
New additions include a 'Discovery' section curated by NGV, and 'Focus', an exhibition highlighting the work of five female Australian designers: Helen Britton, Emma Jackson, Nicolette Johnson, Jessica Murtagh and Paula Savage, who has been awarded the 2023 Melbourne Design Week Award.
Melbourne Convention and Exhibition Centre
18-21 May
Florescence
The 'Florescence Collection' continues the experiments with contemporary applications for straw marquetry by A&A, the collaboration between Australian industrial designer Adam Goodrum and French marquetry artisan Arthur Seigneur, who is now based in Melbourne. The designers are presenting a hemispheric table and three brightly coloured pods composed of intersecting sphericons that are inspired by the action of a flower bud opening, known as anthesis.
Tolarno Galleries
Until 27 May 2023
Sense of Direction
Presented in the historic Chapter House, 'Sense of Direction' is an installation of rugs and clocks by artist Brendan Huntley in collaboration with fashion label Alpha60. The exhibition is a meditation on personal transformation and at its centre is a show-stopping 32-meter-long rug that features an array of motifs including faces, celestial beings, clocks, butterflies, and eyes.
Alpha60 Chapter House
19 – 28 May
Radical Utopia: An Archaeology Of A Creative City
Curated by Harriet Edquist and Helen Stuckey, 'Radical Utopia' revisits 1980s Melbourne to explore how design and activism shaped the contemporary city's status as a cultural hub. The exhibition features the studios, places, and spectacles where design was debated and produced, including nightclubs, magazines, gaming labs and graphic design collectives.
RMIT Gallery
Until 27 May
Pieces of Peace
Su san Cohn's latest exhibition 'Pieces of Peace' explores how jewellery can promote peace between humans, while examining the impact of robotic industrial production on handmaking in the age of automation. The project seeks to subvert the idea of machines being used to create components for warfare by using them to produce peace offerings in the form of tokens and wearable craft.
Anna Schwartz Gallery
20 May – 24 June
Found In Translation
The exhibition 'Found In Translation' brings together images of Japanese architecture, infrastructure and landscapes by Melbourne-based photographer Rohan Hutchison with furniture from Karimoku Case Study and Ishinomaki Laboratory, which was founded as a workshop for people devastated by the 2011 tsunami. Collectively the objects on display suggest how Japan's environment influences the design of objects and spaces.
Apato
18 – 28 May
Hard
Returning for its second year, 'Hard' invites queer creatives from across Australia to incorporate found materials into new works, using their surroundings as inspiration. Curated by Adelaide-based designer Calum Hurley, 'Hard' references both queer sexuality and the Australian ritual of collecting hard rubbish left kerbside after dark.
Wood Street Gallery
18 – 21 May
Trade Between
'Trade Between' is the first project by Do Works, a platform to explore new ideas through creative furniture collaborations. The exhibition features work by emerging architects and designers Angus Grant, Annie Paxton, Dalton Stewart and Shalini Rautela, who have created furniture that seeks to transcend the mundane through celebrating aesthetic forms.
Nicholas Building
18-28 May
Melbourne Art Book Fair
A programme of talks, launches, workshops, exhibitions, and performances is taking place across Melbourne and cities in regional Victoria, including at the Centre for Contemporary Photography, Perimeter Books, and Uro Publications. The focal point of the Art Book Fair will be the gathering of over 80 publishers, artists and bookmakers for the stallholder fair at NGV from 19 to 21 May.
Multiple venues
18 – 28 May
Elias Redstone is Wallpaper's Australia editor and an acclaimed arts leader. He is the founder and artistic director of Photo Australia / PHOTO International Festival of Photography, Melbourne. Previously, Elias was senior curator of The Architecture Foundation, London. He has curated exhibitions for museums and galleries internationally including Barbican Art Gallery, London; Storefront for Art and Architecture, New York; and Centre for Contemporary Photography, Melbourne. His book Shooting Space: Architecture in Contemporary Photography is published by Phaidon.