Inside a new Melbourne gallery that champions creative dualism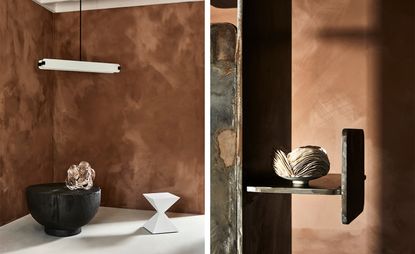 (Image credit: Press)
Melbourne-based interior designer Fiona Lynch has launched Work Shop, a gallery housing design and fine art by Australian and international artists and artisans. 'There's a gap in local and international contexts, for artists and designers working in a way that bridges art and design,' she says of the lack of public platforms demonstrating this creative dualism, which is why she has opened the exhibition space that features commissioned pieces and original designs.

The intimate space (conveniently located adjacent to her eponymous practice in Collingwood) aims to provide greater insight into the creative process, while offering designers the opportunity to test ideas before going into full production.

Work Shop also serves a purpose for Lynch's studio too, 'to hone our ability to interpret and convey design as an experience… to ensure we continue to innovate, and ensure the qualities of depth and substance are always engrained in our work,' adds Lynch. 'I really believe that in this age of instant gratification, it's very easy to get caught up in the end result, disregarding the creative process required to arrive at a resolved outcome.'
The opening exhibition, entitled 'Ideas to Intuition', showcases Lynch's own original designs (she studied Fine Art at RMIT University in Melbourne), plus pieces by New York-based lighting designer Mary Wallis; Australian sculptor Makiko Ryujin; painter Jiaxin Nong and British porcelain artist Olivia Walker. Their works 'investigate the tension between the constructed and deconstructed, the resolved and incomplete, the built and undone,' explains Lynch, 'encouraging the viewer to discover beauty at all stages of creative evolution'.

Eschewing the sterile sentiments of white cube spaces, the gallery walls are brusquely saturated with a velvety chocolate lime wash, while the artisanal nature of the display plinths and furniture complement the works they present with exacting sentiment. Stacked Hebel blocks with eroded edges support Ryujin's 'Burnt Wooden Vessels' and Walker's 'Living Ceramic' series – porcelain vessels comprising hundreds of individual applications of clay that grant them organic growth-like textures.
A turned and charred solid timber plinth by Ryujin reveals the elemental strength of fire as does the fragmented glass sculpture by Douglas upon it, while 'Totem' – a weighty steel structure designed by Lynch – is executed in a waif-like form with a tailored sheath membrane, complementing the ceramics it supports.

Launched to coincide with the opening of Melbourne Design Week, Work Shop will remain open to the public until 24 April, then by appointment through to July. Thereafter, Lynch intends to host three to four focused exhibitions annually, adding new commissions and finds along the way.
INFORMATION
'Ideas to Intuition' is on view until 24 March. For more information, visit the Fiona Lynch website (opens in new tab)
ADDRESS
7 Glasshouse Road
Collingwood
VIC Australia
3066
VIEW GOOGLE MAPS (opens in new tab)