In memoriam: Marcus Fairs (1967–2022)
We remember Dezeen founder Marcus Fairs, a leading light of design and architecture journalism, who has passed away at age 54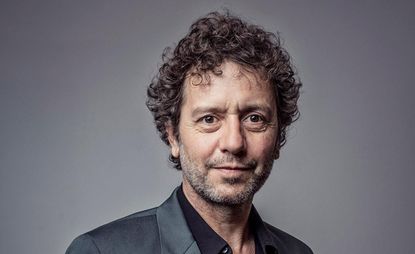 (Image credit: press)
We are shocked and saddened by the announcement that Dezeen founder Marcus Fairs has passed away at the age of 54. As editor of Icon, and then CEO and editor-in-chief of Dezeen, Fairs nurtured a reputation for fearsome energy, an incredible eye for editorial talent, and an unwavering belief in the cultural importance of design and architecture.
'I first met Marcus twenty years ago, just after he launched Icon,' says Wallpaper* Editor-in-Chief Sarah Douglas. 'He was a brilliant journalist, a champion of design, a pioneer, innovator, and entrepreneur. He was enthusiastic, curious, and above all great fun, and his presence in the design community will be sadly missed. Our thoughts are with his family and many friends.'
Fairs studied 3D design before moving into architecture journalism, working for Building Design and Building and freelancing for The Guardian and The Independent on Sunday amongst others. He launched the architecture and design magazine Icon in 2003 before developing and launching the digital design magazine Dezeen from his spare bedroom in 2006. He picked up a string of awards along the way, including the British Society of Magazine Editors' Business Web Editor of the Year in 2013. The Royal Institute of British Architects made him an honorary fellow in 2017, making him the first digital journalist to receive the honour.
Though Fairs sold Dezeen to Danish media company JP/Politiken Media Group in 2021, he continued to work as the title's chief executive and editor-in-chief. His passing was announced on Dezeen's website and social media channels.
Marcus Fairs photographed by Wallpaper* China Editor Yoko Choy in 2005/6, at the offices of Icon magazine. 'I thought it would be nice to share these precious moments I captured with him – a young man on his path to success and greatness. What hasn't changed over the years is his infectious smile and passion,' she recalls.
Many tributes have come in from across the creative industries. Artist Olafur Eliasson wrote on Twitter: 'I am deeply saddened to learn of the passing of my good friend Marcus, a creative visionary who I had the great pleasure of knowing personally.'
'It's heart-breaking to hear this tragic news,' designer Thomas Heatherwick told The Architects' Journal. 'Marcus was like the mischievous ringmaster who brought the design world circus together. He was a tireless and unique talent. Such a loss.'
Curator and critic Beatrice Galilee described Fairs as 'a world, a star, an energy source for so many of us. He made careers and changed lives. An incredibly talented, passionate journalist, editor and friend.'
Architect Arthur Mamou-Mani commented on Instagram, 'Marcus was such a caring, sincere human being. Always seeking for the truth, always pushing for actual solutions to help the planet through design. He changed our world, he made design approachable, understandable and helpful, and I miss him already so much.'
Architect Dara Huang recalled in an Instagram post dedicated to Fairs, 'in our last conversation you told me about your budding music venture, you sang the most incredible song and you still had that fire to keep creating. You left way too soon my friend… but you were always ahead of your time.'
INFORMATION