Hayon Studio and Caran d'Ache embrace beauty in imperfection
For Wallpaper* Handmade X, Jaime Hayon and Caran d'Ache sought to break the mould with 'Drawing Collectible Toys', a series of figurines that went through an unexpected design journey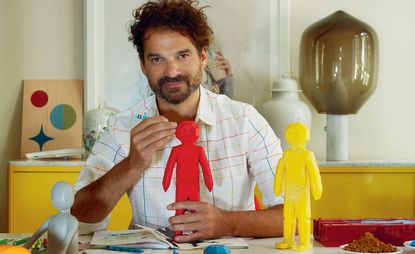 (Image credit: Gregori Civera)
Swiss stationer Caran d'Ache thrives on creative encounters. In the past few years alone, its writing instruments have been leathered up by Peter Marino, given a chromatic makeover by Paul Smith, and clad in checks and stripes by Mario Botta. So when the brand agreed to be part of our Wallpaper* Handmade exhibition, we were keen to come up with a very different challenge.

It was Caran d'Ache's communications director Catherine Bagnoud who came to us with a solution. Instead of pens or pencils, why not work with pigments instead? One of the pillars of Caran d'Ache's business – which had so far resisted reinterpretation – is its wax pastels, available in permanent and water-soluble versions. The former, called Neocolor I, was invented in 1952 and is cherished for its smooth texture, bright and long-lasting hues, and ability to colour many surfaces. Almost seven decades on, Neocolor I is still manufactured in Caran d'Ache's workshops near Geneva, where it exists as loose, luminous chips before being melted into paste and moulded into familiar crayon forms.

Caran d'Ache's research and development team had toyed with the moulding process before, melting down Neocolor I and then using cake moulds to cast it into dinosaur and pebble shapes. 'The funny thing is that once solid, the "object" can be used as a drawing instrument itself,' says Bagnoud. For Handmade, we wanted to use the same moulding process on a more ambitious scale to create custom shapes.
Jaime Hayon was first on our list of dream collaborators. The Valencia-based designer and self-professed 'pencil-lover' is known for his charismatic sketches and humorous forms, and sure enough, his studio was quick to confirm his participation. His proposal: a series of Neocolor figurines, the 'Drawing Collectible Toys', that build on Hayon's previous toy designs (for Hong Kong-based company Toy2R in 2002, and a decade later for Spain's Lladró Atelier), while taking cues from contemporary sculpture, such as Paul McCarthy's dwarves and Kaws' 'BFF'.

The design 'is a contradiction, because you want to have it, but you also break it and draw with it', Hayon explains. 'I find it quite surreal in a way, and very attractive.'

We went straight to work – a colour palette was agreed, silicone moulds commissioned. The plan was to create 12 figures and present them in a cylindrical display, like a zoetrope.
Sadly, it proved a challenge to extract the figurines from their moulds. The R&D team tried cooling the moulds in the fridge, adding paraffin to thicken the Neocolor paste, and even embedding metal elements to strengthen the arms, head and feet of the figurines. Most times, the extremities broke during unmoulding. As it turned out, the moulds were too big and the forms too intricate for the fragile material. Even if we managed to create a handful of pristine figurines, we had doubts that these would survive the journey to Milan for our Handmade exhibition. Excitement gave way to collective disappointment.

Then again, beyond creating beautiful products, Wallpaper* Handmade is about celebrating creativity and collaboration. And frustrated experiments can be valuable too, when it comes to articulating ideas and inspiring viewers. So it was on to Plan B. Instead of showing a cluster of completed 'Drawing Collectible Toys', we would combine the results of our experiments (shipped in the moulds where possible, and unpacked in Milan to minimise damage) with a host of other elements – the moulds, raw Neocolor chips, a coffret of pastels and, of course, a handful of Hayon's hand-drawn sketches – and present everything together.

Two days before opening, Hayon came to personally configure the display. In a moment of inspiration, he dismembered one of the figures and used a limb to draw a clown face, bringing to life the tension between love and destruction that he'd articulated in the first place. The result is a more dynamic exhibit than we'd initially envisioned. And what better response to the theme of love than a project that joyfully embraces the beauty in imperfection?
As originally featured in the August 2019 issue of Wallpaper* (W*245)
INFORMATION
TF Chan is a former editor of Wallpaper* (2020-23), where he was responsible for the monthly print magazine, planning, commissioning, editing and writing long-lead content across all pillars. He also played a leading role in multi-channel editorial franchises, such as Wallpaper's annual Design Awards, Guest Editor takeovers and Next Generation series. He aims to create world-class, visually-driven content while championing diversity, international representation and social impact. TF joined Wallpaper* as an intern in January 2013, and served as its commissioning editor from 2017-20, winning a 30 under 30 New Talent Award from the Professional Publishers' Association. Born and raised in Hong Kong, he holds an undergraduate degree in history from Princeton University.