Signal boost: Console, by Clara Yee and Da a
The Beatles' All You Need Is Love inspired this shrine-like plinth for a wi-fi router, created for Wallpaper* Handmade X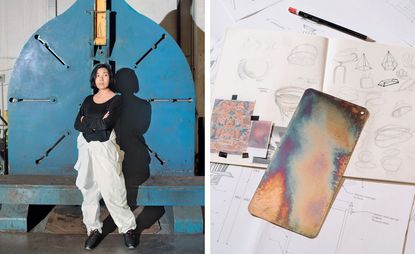 (Image credit: Federico Ciamei)
On 25 June 1967, the very first live global satellite television production was broadcast. It was the height of the Vietnam War, and while Our World featured tent-pole performers such as Maria Callas and Pablo Picasso, it was The Beatles' performance from EMI's Abbey Road studios of All You Need is Love – a song John Lennon penned specially for the occasion – that captured the global zeitgeist. It was also a game-changing moment in telecommunications technology, an unusually specific Big Bang that birthed the idea of global connectivity.
Though connectivity has now become commonplace, the echoes of All You Need is Love still resonate with Clara Yee. For the Singapore-based designer, Lennon's song was the starting point for her meditation on Handmade's message of love. 'I've always been fascinated by how much of the world is connected, despite all our differences. I was very struck by the 1967 broadcast and the idea of technology being able to spread love. And also how much communications technology has changed. We used to sit around TVs. Now we anchor our lives around Wi-Fi.

Yee settled on the idea of a shrine-like plinth for a Wi-Fi router, but the religious reference was not accidental. 'I became fascinated by Tibetan Buddhist paintings,' says Yee. 'Their subjects are often a humble, everyday object.' And in the modern context, what is more humble, and overlooked, than the Wi-Fi router? Despite its importance to just about every single aspect of our personal and professional lives, 'it's always hidden away, so I wanted something extravagant on which to display it.' Depending on your perspective, Yee's design is either the shape of an abstract satellite dish or the universal conical Wi-Fi signal. 'It's based on parabolic shapes,' Yee says.
Fabrication took place in the Puglia factory of Da a, a specialist in metal and stone manufacturing that also uses heavy-duty industrial production methods to create furniture. 'The common denominator between our know-how and Clara's project was industrial metal processing, which was one of the reasons Wallpaper* introduced us to Clara,' says Da a's art director Anna Laneve. 'The shape of Console was different from what we would normally make, but the processing stages were quite similar.' Even so, Laneve says the process was tricky. 'Every single iron sheet supporting the base has a different angle and cut, and two of my best welders had to make all the pieces correspond to one another and fit them together.'

Complicating matters was Yee's choice of a special cinnabar-ruthenium finish that gives Console's metal surface a texture that is reminiscent, if you're in the hyperbolic mood, of otherworldly cosmic explosions. 'It was absolutely the right decision, but it required more time to apply and age than a regular metal coating,' Laneve says of the patinating potion, handmade from natural plant and mineral extracts. The treatment, she adds, is entirely bespoke. 'It's unrepeatable and therefore creates a one-of-a-kind product.
As originally featured in the August 2019 issue of Wallpaper* (W*245)
INFORMATION
clarayee.com (opens in new tab); daaitalia.com (opens in new tab)
Daven Wu is the Singapore Editor at Wallpaper*. A former corporate lawyer, he has been covering Singapore and the neighbouring South-East Asian region since 1999, writing extensively about architecture, design, and travel for both the magazine and website. He is also the City Editor for the Phaidon Wallpaper* City Guide to Singapore.