New online platform Maison Numen launches with Latin American craft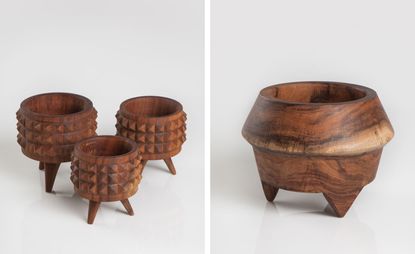 (Image credit: press)
These days, folks are becoming more interested in the authenticity of their design – always intrigued by the craftsman behind the cutlery or the artisan responsible for the intricate weave on their rug. New online shop Maison Numen is going even deeper, capturing the stories of design from hidden spots in often undiscovered areas of the design world.

The brand's first project explores Latin America. From craftsmen in the outlying Venezuelan section of the Andes to colonial Mexican pockets, Maison Numen is sharing these native talents in a first collection titled 'Latin Animae Vol 1'.

The inaugural range includes textiles, woodwork and ceramics, all from Peru, Guatemala, Venezuela, Mexico or Colombia. The one thing they have in common: they are all hand crafted in their home regions, transposing their cultural characteristics on the unique works of art.

Having travelled themselves in collecting the designs, founders Jessica Macias and Ana Caufman strive to share the special culture of their featured makers, telling us of the difficulty they had traversing these locations. The Amazon river in Venezuela, for instance: 'It's is all dried up right now,' says Bader Gonzalez, Numen's marketing director, 'so you cant even get to it at the moment'.

Ordered into the themes of 'Atlas', 'Story' or 'Materials' on Maison Numen's website, each piece has a personality and character that relates to where they derive from. There is slight quirk in the Talavera technique and katalox wood that can only be found in Mexico, and a sense of meekness in the organic 'Wii' baskets created in the Amazonian rainforest by its female aboriginal inhabitants.

While a lot of these pieces remain traditional in style, a contemporary look is evident in the clean creamy ceramics made from Jiutepec clay, from Morelos, Mexico. The designers have rejuvenated the tropical material and transformed it into modern, minimalist design pieces.

'We have grown with them,' states Macias when we asked her which design was her favourite, 'they are our babies!' Maison Numen is launching a second collection, 'Latin Animae Vol 2', in September.
INFORMATION
For more information, visit the Maison Numen website (opens in new tab)