From hot seats to circus acts, Maarten Baas gets his game on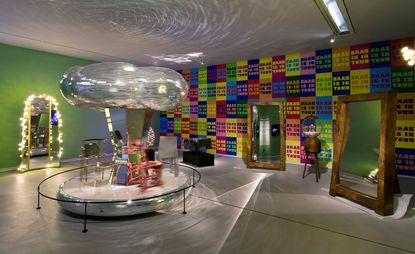 (Image credit: Marten De Leeuw)
To call this a retrospective might at first sound a tad presumptuous: after all, Maarten Baas is only 39, still in action and constantly evolving. 'Hide & Seek' is his first big solo exhibition since his debut at the Design Academy Eindhoven graduation show in 2002, where he launched the now-iconic 'Smoke' series.

But the Dutch designer has a long history with the Groninger Museum in the Netherlands. 'It all started in 2003 when we gave him a collection of furniture that was in storage to "smoke"; in 2006 we commissioned him to do a series of the "Clay" fans for us; and five years ago we invited him to redesign the Mendini Restaurant, which was entirely furnished with items from that series,' says Mark Wilson, the exhibition's chief curator.
The nine distinct chapters in the exhibition are presented chronologically. Beginning with 'Smoke' – in which the designer burns furniture before covering it with a transparent layer of epoxy to make it functional again – the series includes Ettore Sottsass' 'Carlton' room divider and the Campana brothers' 'Favela Chair'. New pieces have been created to add to the museum's 'Clay' collection. Meanwhile, six grandfather clocks from the 'Real Time' series are shown together for the first time; and there is an updated arrangement of the 'Circus' (launched at Salone del Mobile in 2014).

Baas' works are known for their rebellious and dramatic elements, so naming the exhibition after a game sounds just about right. '"Hide" and "Seek" are two distinct qualities. "Hide" is closed, hidden, invisible, while "seek" means going out, taking new steps. Sometimes, it feels like an alchemist mixing all the stuff together to make something special,' Baas explains.
More recent works include acclaimed pieces launched last year. The 'Carapace' series of wooden furniture encased in metal mimics the protective camouflage of hard-shelled animals. 'Close Parity', based on a series of naive sketches, is realised in bronze and kept in balance by counterweights.

'We are interested in Baas more as an artist rather than a designer; of course, he is parallel in both. We recognise the elevation in his 15 years of works and also the unique voice that he has developed. When you walk through the exhibition you can really see his way of thinking and progression,' says Wilson.

Viewers are also treated to a sneak peek of his upcoming Milan presentation in collaboration with Lensvelt, which explores the highly topical dilemma of the difficulty in separating opinions from news, and fact from fiction. A new collection of chairs with the Dutch manufacturer will be launched in April, too.
INFORMATION
'Hide & Seek' is on view until 24 September. For more information, visit the Groninger Museum website (opens in new tab)
ADDRESS
Groninger Museum
Museumeiland 1
9711 ME Groningen
VIEW GOOGLE MAPS (opens in new tab)