Copper feel: Lumière Bricoleur turns scrap metal into sculptural lamps
The duo's first collection, mostly rendered in copper, is sourced on Copenhagen's streets and scrapyards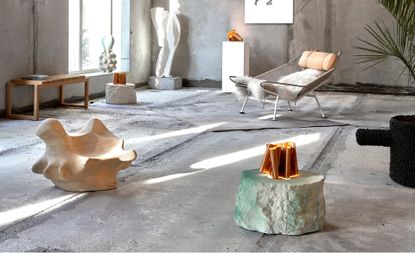 (Image credit: Jenny Sundby)
In March this year, Morten Ravn, one half of Danish design duo Lumière Bricoleur, bought two boxes of defunct architectural lamps and began tinkering. Before long, he had a functional lamp on his hands and a taste for the potential of rejected materials. 'The sensation was like creating fire,' says his co-founder, Nikoline Henningsen.
Lumière Bricoleur is a labour of love in every sense. Ravn and Henningsen have been a couple since last summer, a partnership that soon sparked explorations in repurposing materials. The design process isn't necessarily conventional – there's no 3D modelling, drawing or maquette making. Instead, the process is intuitive: decommissioned, industrial objects are pieced together like, as their name suggests, bricolage. 'We work like an abstract painter,' they say. 'When Jackson Pollock painted, he didn't think. He was doing, getting into the zone and letting the painting reveal itself. Our process is the same, and then we curate our output afterwards.'
Their name is in homage to French anthropologist Claude Lévi-Strauss' thoughts on social bricolage, and the exploration of light in Einstein's theory of relativity. Bricolage in design is not a new concept: Achille Castiglioni famously constructed his 'Toio' lamp using a car headlight and fishing rod rings, and Ingo Maurer's explosive 'Porca miseria!' chandelier is comprised of smashed fragments of porcelain. But for Lumière Bricoleur, it's about forging a more sustainable paradigm. 'Sustainability is not just about recycling and doing right by the environment, it's also about crafting something so well-made that the user will never throw it out.'
The duo's first collection is mostly rendered in copper, sourced on the streets and in the scrapyards of Copenhagen. They describe each of the small lamps as 'something akin to a miniature sunset, or bonfire. There's something primal and soothing about them, they're raw, but also exceptionally beautiful.' The creative process involves darkening their studio and working solely from the light emitted by each lamp. This allows them to 'form the shape of the lamp and the light it gives off, as well the shadow play.' It's Scandinavian minimalism meets Japanese Wabi-sabi. Delicate waves of hand-bent metal ebb and flow like abstracted origami curling around their light source.
They have recently tackled larger-scale installation too, with The Wave, where undulating sheets of curled copper loom above the bar in Copenhagen's Restaurant Babylon, founded by acclaimed Danish chef Frederik Bille Brahe. The team is now working on a set of larger copper lamps, alongside wall lights and light reflectors and further explorations in site-specific work. 'We have a million ideas on the drawing board, but we also have to be patient and wait for the market to catch up.'
INFORMATION
Receive our daily digest of inspiration, escapism and design stories from around the world direct to your inbox