London studio Based Upon's Indian commissions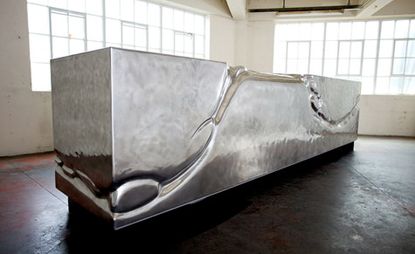 (Image credit: press)
Since setting up Based Upon, a studio in London specialising in bespoke sculptural furniture, Ian Abell and his brother Richard's projects have taken them to India many times, where they have an ever-growing base of clients, including art collector Shalini Passi. In fact, a trip to India was instrumental in the founding of their studio. Here, Ian reveals the remarkable impact this extraordinary country has had on their work.
What first took you to India and how did your commissions there come about?
I was in India just before setting up Based Upon, writing, travelling and living among Tibetan monks. I had planned to go back for five years to live a very simple life in a monastery or retreat. I came home on Christmas Eve and, while sitting at Christmas dinner, my twin and I realised that it was time to create something together. The decision was not as easy as it sounds. I went on a silent Vipassana retreat for ten days, knowing that I would make my decision on the day I emerged. I believed I had left India behind and so when, three years later, Richard and I were flying to India as artists to work on an amazingly meaningful commission telling the story of an Indian family, I felt blessed. It was a real highlight of my entire life.
Tell us about some of your clients there?
The Passis are some of the loveliest people you could ever meet and are now dear friends of ours. Likewise Jay Mehta and his wife Juhi Chawla. Jay runs the Mehta Group and Juhi is a Bollywood legend. We have been privileged to live with the Mehta family in India and Uganda exploring the story of their family history in order to create a large artwork for them. They are an inspirational family. We are also working on some sculptural pieces of furniture for them, and have various other projects for other Indian clients in the early stages of development, including a bar, tables and screens for a home on the Mumbai coast.
What impact have your Indian experiences had on the way you work?
Much of Based Upon's work begins with something that is meaningful to the client who has commissioned it. We want to create work that they will treasure and hand down through generations. We hope that our work resonates at a deep level. That resonance is the product of the way we approach our making by hand and the significance the object or artwork has to the client. This quest to go beyond the usual value of material things is very much influenced by our experiences in India.
Which Indian artists, designers and architects do you most admire?
All of the work I have seen represented by Amrita and Priya Jhaveri at their gallery in Mumbai has been very inspiring. The Jhaveris have an amazing eye and great taste. The architect that collaborated with Shalini Passi on her home, Neelu Dhar of Morphogenesis, and the architect working with Jay Mehta, Quaid Doongerwala, strike me as very talented chaps.
Tell us about some of the places you have been, while searching for inspiration?
While taking casts for our work, we have been to Porbander, the birthplace of Mahatma Ghandi; the backstreets of Mumbai; and small rural villages in Gujarat. I would like to return to the foothills of the Himalayas close to the source of the river Ganges, Benares in Varanasi and the ashrams in the South of India. It is a dream to work on projects that take us to India's most sacred sites.