London Design Festival 2011 Preview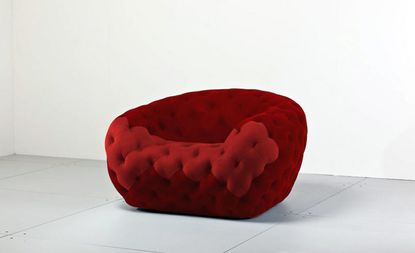 (Image credit: Robert Stadler)
'Shading' exhibition by Robert Stadler at Carpenters Workshop Gallery
Carpenters Workshop Gallery will present its second solo show of work by Robert Stadler during the festival. Expect a series of amorphous foam seating, pebble-like tables and lighting that seeks to 'materialize the immaterial'.
Carpenters Workshop Gallery, 3 Albemarle Street, London W1S 4HE
16 September - 12 November, www.cwgdesign.com
Back to business after the summer, the capital is gearing up for the arrival of the world's design circuit with this year's bigger than ever beforeLondon Design Festival. Once again the nucleus of the action will be the V&A, where visitors will be treated to a soaring timber wave installation from Amanda Levete Architects, and a contemplative fabric folly from the Bouroullec brothers. But, as usual, the action is spread all over town, so to spare your sanity, not to mention a few wasted taxi journeys, here's our edit of the top 25 events.
Check back soon for a tour of design-store packed Pimlico Road, as part of our Street View series, where we'll be updating you about all its festival happenings.
Plus, as soon as the action kicks off, we'll be reporting live from around the city.
100% Design
With over 400 designers, exhibits and seminars, this umbrella event can feel like a bit of trudge compared to the flamobyant, creative satellite shows around town, but it remains firmly on our calendar.
Earls Court Exhibition Centre, Warwick Road, London SW5 9TA
22-25 September, www.100percentdesign.co.uk
'Textile Field' by the Bouroullec brothers at the V&A

The Victoria & Albert Museum will once again be the hub of the festival. Among the highlights will be a dramatic installation by Ronan & Erwan Bouroullec for Kvadrat in the Raphael Gallery. Expect a vast foam and textile structure with gentle inclinations, on which visitors can relax and contemplate their impressive surroundings.
Victoria & Albert Museum, Cromwell Road, London SW7 2RL
15 - 25 September, www.kvadrat.co.uk
'Timber Wave' by Amanda Levete Architects at the V&A

This unique installation by Amanda Levete Architects and Arup takes the V&A out onto the street. The three-dimensional latticework spiral is made from American red oak, using lamination techniques normally used in furniture making, and applied to create a three-story high piece.
Victoria & Albert Museum, Cromwell Road, London SW7 2RL
17 September - 15 October 2011, www.amandalevetearchitects.com
Alan Fletcher's The Art of Looking Sideways at Aram Gallery
To mark the tenth anniversary of The Art of Looking Sideways - a book exploring visual awareness by legendary graphic designer Alan Fletcher - Aram Gallery will showcase some of the design work and objects from his studio that formed the thinking behind the tome. Visitors will get a unique glimpse into the mind of this creative genius.
Aram Gallery, 110 Drury Lane, London WC2B 5SG
17 - 24 September, www.aram.co.uk
B&B Italia celebrate 10 years in London
Along with introducing their 2011 collection to the UK market during the festival, including pieces by the likes of Antonio Citterio, Patricia Urquiola and Vincent Van Duysen, B&B Italia will mark the 10th anniversary of its epic, John Pawson-designed store on Brompton Road with a special exhibition of commemorative mementos from noteworthy friends and collaborators, such as Pawson (pictured is his contribution), Zaha Hadid, Wallpaper* Editor-in-Chief Tony Chambers, and Libby Sellers.
B&B Italia, B&B Italia Store, 250 Brompton Road, London SW3 2AS
19 - 25 September 2011, www.bebitalia.it
'Ascent' by Barber Osgerby for Haunch of Venison
Industrial designers Edward Barber and Jay Osgerby step into the gallery realms this month with a new collaboration with the Haunch of Venison. 'Ascent' is a series of eight new pieces by the duo inspired by moving craft, such as boats and planes.
Haunch of Venison, 6 Burlington Gardens, London W1S 3ET
24 September - 19 November, haunchofvenison.com
Size + Matter installation by David Chipperfield Architects
Size + Matter is one of cornerstones of the festival, for which a leading designer or architect is asked to challenge their creative process and devise a temporary installation for the Southbank. This year sees David Chipperfield Architects team up with structural engineers and glass specialists from Arup to create 'Two Lines' - a 'sculptural dialogue between two identical forms' executed in SEFAR® Architecture Vision fabric.
Southbank Centre, Belvedere Road, London SE1 8XX
17 September to 16 October, www.davidchipperfield.co.uk
'Gravity' exhibition by Cristian Zuzunaga at EB & Flow Gallery
London-based artist, photographer, printmaker and designer Cristian Zuzunaga caught our eye last year with his collection of pixelated fabrics for Kvadrat. Now EB & Flow Gallery is giving us a chance to look at the rest of his oeuvre, with a solo show exploring his investigations of the city as metaphor.
EB & Flow Gallery, 77 Leonard Street, London EC2A 4QS
2-30 September, www.ebandflowallery.com
'Escape into the Upper Air' by El Ultimo Grito at Spring Projects
Spring Projects presents a solo show of new works by the Spanish duo that make up El Ultimo Grito. The studio has created a bold, audacious and immersive landscape of objects that sit comfortably between design and art.
Spring Projects, 10 Spring Place, London NW5 3BH
9 September - 18 October, www.springprojects.co.uk
'Assemblage 3: Delicate Interference' by Faye Toogood at Phillips de Pury
British designer Faye Toogood launches her third furniture collection at Phillips de Pury during the festival. Delicate Interference is a study of material, form and finish that seeks to mimic 'nature's ability to attract and repel' through light interference.
Phillips de Pury & Company, 45 - 47 Brook Street, London W1H 4HN
16 September - 4 October, www.phillipsdepury.com
Republic of Fritz Hansen London store launch
Britain's first Republic of Fritz Hansen store will open its doors in Fitzrovia during the festival. As well as the full range of Fritz Hansen furniture, the store will also play host to other Scandinavian brands like Iittala and Georg Jensen. Many of Fritz Hansen's furniture designs, like the Egg and Swan chairs, have become instantly recognisable classics, and we wouldn't be surprised if Jaime Hayon's new 'Favn' sofa follows in their footsteps.
Republic of Fritz Hansen, 13 Margaret Street, London W1W 8RN
17-25 September, www.fritzhansen.com
Formafantasma at Gallery Libby Sellers
Former London Design Museum curator Libby Sellers launched her 'nomadic' gallery in 2007, popping up in temporary locations across the globe with works by some of Europe's most engaging designers. This month she is launching her first permanent space on London's Berners Street, with the inaugural exhibition dedicated to two projects by Italian-born, Eindhoven-based designers Formafantasma.
Gallery Libby Sellers, 41-42 Berners Street, London, W1T 3NB
19 September - 8 October, www.libbysellers.com
Hemma: Swedish Design at the Residence
A highlight among several Swedish design showcases at the festival will be 'Hemma' (Swedish for 'home'), an exhibition of new furniture set against the spectacular, 18th century Robert and James Adam-designed backdrop of the Swedish ambassador's residence on Portland Place.
Swedish Ambassador's Residence, 27 Portland Place, London W1B1QA
17 - 24 September, www.swedishdesigngoeslondon.com
'Perspectives' by John Pawson in St Paul's Cathedral

One of the more eye-popping events on the festival calendar will be architect John Pawson's Perspectives installation, in collaboration with Swarovski Crystal Palace, for the soaring Geometric Staircase at St Paul's Cathedral. Pawson has a devised a unique, concave Swarovski crystal meniscus – the largest commissionable lens – for the bottom of the staircase in the usually off-limits South West Tower, as well as a spherical convex mirror for the cupola above. The installation will offer visitors an extraordinary composite view of Sir Christopher Wren's tower, and the chance, as Pawson puts it, 'to see beyond the naked eye'.
St Paul's Cathedral, St Paul's Church Yard, London EC4M 8AD
19 – 25 September, www.johnpawson.com
Noma Bar exhibition at Outline Editions
Outline Editions will be showing new work by the ingenious graphic artist and W* contributor Noma Bar during the festival. 'Cut it Out' is an interactive sculpture, allowing visitors to create their own bespoke Noma Bar artworks, which will then be signed by the artist as part of a limited edition series. A further selection of his prints will also be on show, each incorporating his unique blend of 'double-take' imagery and biting social commentary.
Outline Editions Ltd, 94 Berwick Street, London, W1F 0QF
17-30 September, www.outline-editions.co.uk
Fendi and the RCA
Italian fashion house Fendi celebrates the opening of its new Sloane Street store with a special collaboration with the RCA. Students from the Design Products Department have created temporary window and in-store displays incorporating innovative uses of Fendi's craftsmanship techniques along with discarded materials. British designer and RCA graduate Simon Hasan has been on hand as a mentor.
Fendi, 181-182 Sloane Street, London SW1X 9QP
17 - 25 September, www.fendi.com
Royal College of Art exhibitions
The RCA will be hosting several exhibitions to lure us to its South Kensington campus, including Give me More - a new version of the EPFL+ECAL Lab's award-winning augmented reality show, with an interactive installation by Yuri Suzuki - and a series of design research projects from the Helen Hamlyn Centre.
Royal College of Art, Kensington Gore, London, SW7 2EU
22-25 September, www.rca.ac.uk
Tent London
Tent is traditionally a showcase of products and prototypes by young and emerging talents from the UK and across the globe. This year, however, it is expanding its remit, setting up a new Superbrands London event in the Old Truman Brewery's Boiler House, which - if you didn't make it to Milan - will be the place to see the 2011 collections of the likes of Moroso and Bang & Olufsen.
Tent London, Old Truman Brewery, Brick Lane, London, E1 6QL
22-25 September, www.tentlondon.co.uk
The Dock
Tom Dixon is rapidly turning his canal-side space - set on an industrial estate in West London - into a major festival destination. Alongside his own collection of new lighting products this year, he is presenting pieces by Present & Correct, Piet Hein Eek and Hikaru Noguchi in the Tom Dixon Shop. Elsewhere, Print Club London will set up a pop-up gallery, Aston Martin will showcase its new Cygnet model, Timothy Hatton Architects will unveil a temporary pavilion, and the Floating Cinema will pull up beside the wharf to show a series of films. Meanwhile, Innocent Drinks is set to open the doors to its new HQ and Moooi will transform the White Building into a mythical underworld in which to show new pieces by Marcel Wanders. Just a few things to keep you busy.
Portobello Dock, 344 Ladbroke Grove, London, W10 5BU
19 - 25 September, www.tomdixon.net
The Tramshed 2011
Now in its second year at the festival, the Tramshed will once again take over a spacious former electricity generating station in the area dubbed the Shoreditch Creative Triangle, playing host to an interesting array of brands including Autoban, Aesop, Bocci and De La Espada, with the latter launching its first collection with British designer Benjamin Hubert.
Tramshed, 32 Rivington Street, London EC2A 3LX
22 – 25 September, tramshed2011.com
Viaduct
British designer Ilse Crawford will be lighting up the Viaduct showroom with an experimental collection of new designs developed for Swedish brand Wästberg. Also on show will be some of the latest pieces by international brands such as Örsjö, Foscarini and &Tradition.
Viaduct, 10-10 Summers Street, London EC1R 5BD
15 September - 1 October; www.viaduct.co.uk
Workshop by Kiki and Joost for Bernhardt

Dutch designers Kiki van Eijk and Joost van Bleiswijk may be real-life partners and share a studio but until now, both have focused on their solo careers. For their first major joint project for Bernhardt, the duo have used their own studio as the source of their inspiration, designing a collection aptly titled 'Workshop'. Consisting of forty textiles in five distinct patterns and an accompanying chaise, the collection will be unveiled for the first time at the festival.
Brands Limited, 99 St John Street, London, EC1M 4AS
20-23 September, www.bernhardt.com
The Auction Room exhibition
The Auction Room questions the format of exhibitions and the role that they play in the contemporary context of design. On display will be bespoke objects by young names -- including Hendzel and Hunt, and Alex Hellum - that reflect upon the theme of 'fake' and are arranged in the style of an auction room. Organised by Mariana Pestana and Designers Block, the exhibition will culminate in a 'sale' evening, during which the audience can bid for objects in exchange for whatever they might have to offer -- a collection of vintage vinyl, design pieces, or even a week's holiday in Greece
The Farmiloe Building, 34 St John Street, London EC1M 4AY
21-25 September
Design Junction London
Following its debut at this year's Salone del Mobile in Milan, Design Junction London will showcase a stellar line-up of UK and international furniture and accessories brands, such as Benchmark and Another Country, while also offering a pop-up café and daily design talks.
Victoria House Basement, 37-63 Southampton Row, London WC1B 4DA
22-25 September, www.thedesignjunction.co.uk
Receive our daily digest of inspiration, escapism and design stories from around the world direct to your inbox