Meet the makers: follow our trail at London Craft Week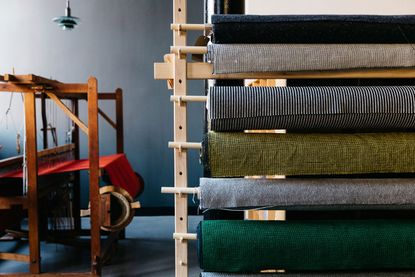 (Image credit: press)
Craft has long been dogged by an image problem; those dowdy visions of crocheted brooches, lumpen pots and Tom and Barbara Good making chutney in Surbiton. But don't let the 'C' word put you off London Craft Week, running until 7 May. Though only launched last year, it boasts a punchy lineup of 129 events across the capital, with an international crew of 214 makers holding talks, demonstrations and exhibitions – think London Fashion Week for the craft world.

Spanning 55 disciplines, LCW takes in perfume makers, glass blowers, furniture designers, tailors, silversmiths, ceramicists… the list goes on. A not for profit event, LCW was founded by 'Mr Luxury' Guy Salter, previously CEO of Asprey, Laurent-Perrier and Garrard to name a few, so unsurprisingly this is craft at its most luxurious. And far from homespun wares, an increasing number of makers are augmenting age old techniques with cutting edge technology to ingenious effect.

Focus is key, so where to head for the design orientated?

Furniture designers
The chance to snoop around collective studios is the greatest joy of events like LCW. It's worth making the trip to Woolwich for Second Floor Studios & Arts' guided tour on 5 May (1–3pm), a chance to meet and watch demonstrations by resident furniture designers Sebastian Cox, David Gates, Jan Hendzel and Bertram Whitford.

On 6 May (10am–noon), Rachael South, a third generation upholsterer, chair caner and seat weaver also demonstrates her craft at her East London workshop.

Alternative materials
Glass artist and furniture designer Danny Lane, one of the first 'creative salvage' artists, who first came to fame in the 1980s for his broken glass furniture, will offer a tour of his North West London studio on 6 May (2.30–3.30pm).

Concrete is the material of choice for Leigh Cameron, who was trained in Japanese cabinet making but now moulds this versatile medium into functional timber and concrete designs, which maintain a lean Japanese aesthetic. On 4 May, he is holding a Concrete Workshop (10am–12.30pm) at the University College London's Institute of Making, exploring the material's many uses.

Smaller designers
Every year, the team behind Celebration of Craftsmanship & Design trawl smaller workshops around the UK to dig up talent. The fruits of their labour, 35 pieces of contemporary furniture, glass, jewellery and art from 21 workshops, will be on show throughout LCW at Craft Central in St John's Square, EC1, a chance to see some overlooked makers.

Textiles
The relationship between craft and industry will be discussed by textile artist, designer and colour consultant Ptolemy Mann at Material Lab on Great Titchfield Street on 6 May (11am–noon), where you can also see a display of hand-dyed and woven rugs and textiles.

Family-owned Danish furniture manufacturer Carl Hansen & Søn is hosting Mourne Textiles in a meeting of minds. Using the Northern Irish brand's hand-weaving loom, the London showroom will host live demonstrations (10am-6pm) of weaving an upholstery making.

Wallpaper
To East London's Geffrye Museum, for wallpaper good enough to frame in its 'Craft of Wallpaper' exhibition, on throughout LCW. The show features 11 designers, including Custhom, pioneers of digital embroidery, blended with traditional methods, and Claire Coles' handmade wallpaper murals, combining leather, silk and papers.

Millinery
On 5 May, milliners Noel Stewart and Piers Atkinson – along with designers from Headonism – head to Christopher's to discuss 'How to Commission a Hat for the Season' (at 1pm, 2pm and 3pm) – proof that LCW's version of craft has a sartorial edge, too.
INFORMATION
London Craft Week is on view unitl 7 May at venues across London. For more information, visit the London Craft Week website