Mode of display: Konstantin Grcic's 'Abbildungen' at Kunsthalle Bielefeld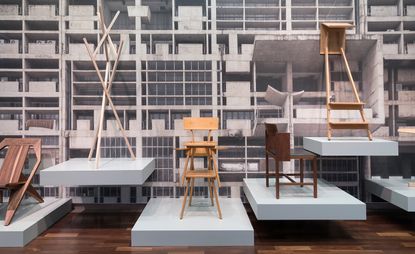 (Image credit: Wolfgang Günzel)
Germany's Kunsthalle Bielefeld is now hosting 'Abbildungen', the latest exhibition of work by Konstantin Grcic, a notable Wallpaper* affiliate and one of Europe's most influential industrial designers. Herein, Grcic is presenting a selection of his 'design-oeuvre' via both simple and complex bases, pedestals, shelves and display cases, especially designed and fabricated for the occasion.

In 1991, Grcic conceived a robust wooden plinth for the exquisite sculpture Bird, by Constantin Brancusi, after a request by its private owner. Fifteen years later, upon an invitation by the adventurous director of the Kunsthalle Bielefeld, Friedrich Meschede, the designer presents Rodin's La douleur on a sockel redolent of an industrial palette.

'The Brancusi plinth is my earliest work in this exhibition,' explains Grcic, 'the plinth for Rodin my latest. So, both pedestals form a frame for the exhibited works. The sockel is an absolutely classical form of presentation. That is what I'm interested in. A sockel is creating space for figures and greatly challenges us to look at things in a new way.' Outgoing Tate Modern director Chris Dercon rightly stated during his opening speech that, 'for Konstantin Grcic, furniture is always a plinth'.

Yet Grcic was also inspired by Philip Johnson's architecture for the Kunsthalle Bielefeld, privately commissioned by the local industrialist Rudolph August Oetker in 1968. Indeed, aficionados of architecture are aware that Johnson conceived his Kunsthalle literally as a plinth for art. Grcic's displays carefully follow Johnson's proportions of the rooms, his curved walls and the views of nature through the windows.

This month also, Galerie Kreo in Paris will be presenting Grcic's new 'Hieronymus' furniture series, including a combined table and bench, inspired by Antonello da Messina's crucifixion painting of 1475, housed in the collection of the National Gallery in London.

'The five fixtures,' explains art historian Donatien Grau, 'are all like small plinths, almost a stage, seemingly separating us from the world.'

Plinths are an essential artworld consideration and design focus, at least according to Dercon and Meschede. Museum curators, it seems, should learn from Grcic, Jasper Morrison and other designers in how to display art in ways simultaneously stimulating and precise.
INFORMATION
'Abbildungen' is on view until 3 July. For more information, visit the Kunsthalle Bielefeld's website (opens in new tab)
ADDRESS
Kunsthalle Bielefeld
Artur charging Beck-Straße 5
D-33602 Bielefeld
VIEW GOOGLE MAPS (opens in new tab)