Slab happy: Konstantin Grcic's latest furniture collection is full of concrete ideas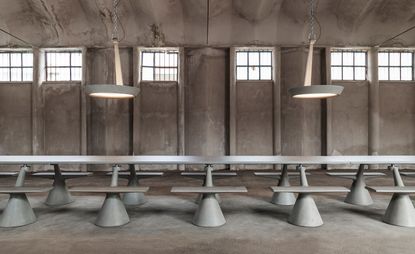 (Image credit: Omar Golli)
A neglected parking lot on the outskirts of Rome sounds like an unlikely stage for the launch of the latest furniture collection by esteemed industrial designer Konstantin Grcic. However, this small, unassuming building is not what it seems.

The padiglione is in fact a little-known masterpiece of engineering that was designed by the late Roman architect Pier Luigi Nervi (opens in new tab). Built in 1945 as a warehouse for his firm, Nervi e Bartoli, the structure is the only surviving building from its larger Magliana campus.

The undulating pavilion was Nervi's first building in ferro-cemento, a technique for free forming reinforced concrete, which later became the distinctive signature of his work. Despite its historical value, the pavilion's significance is little known, even among locals.

Installed within the space for one day only, Konstantin's new collection of modular tables with integrated seating and suspension lighting is executed entirely in concrete using the most innovative techniques – an homage to Nervi's building principles.
Commissioned by Giustini / Stagetti Galleria O Roma (where the collection is also on view until 31 July) and curated by Emanuela Nobile Mino, the showcase, titled the 'Magliana Project', is the latest in a wider series of exhibitions initiated by the gallery called 'Privato Romano Interno'.

Begun in 2011, the series invites international designers to produce limited-edition furniture collections that are inspired by the city of Rome, and celebrate traditional Italian craftsmanship. Each collection is then presented in an architecturally striking space within the city. Grcic's debut follows on from the Campana Brothers' 'Brazilian Baroque' collection of 2011, and Formafantasma's Roman pottery-inspired 'Delta' collection from 2016.

'Konstantin's project was very challenging,' says curator Nobile Mino. 'Each piece needed to pass by different processes of prototyping in order to achieve Konstantin's high standard of perfection. So today we are all very happy and proud of the results obtained after such a long – and yet exciting – period of research.'

Grcic was first introduced to Nervi's experimental pavilion at an exhibition dedicated to the architect at the MAXXI museum in 2011. He later visited the site with Nobile Mino at the beginning of the project, where he imagined a dining area that would functions an 'ideal compensation to its vacant interior'. Arranged down the central long axis of the space, a long Last Supper-style arrangement of cement tables integrates seating and lighting fixtures.

'By associating a decidedly pragmatic inclination with a pointedly philanthropic sentiment,' Nobile Mino says. 'The Magliana Project presents itself as a successful attempt to reorganise everyday reality in the domestic sphere by introducing a new order of behavioural and aesthetic values: principally celebrating the convivial experience, while preserving the harmony of intimacy.'
INFORMATION
'Magliana Project' is on view until 31 July at Giustini / Stagetti Galleria O Roma. For more information, visit the website (opens in new tab)
ADDRESS
Giustini / Stagetti Galleria O Roma
Via dell'Arancio, 46/49
00186 Rome
VIEW GOOGLE MAPS (opens in new tab)