Konstantin Grcic's Berlin exhibition imagines the new normal
'New Normals' is a solo exhibition by Konstantin Grcic at Haus am Waldsee, Berlin (until 8 May 2022), imagining a post-pandemic future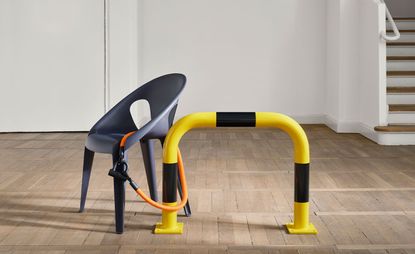 (Image credit: Florian Böhm)
German industrial designer Konstantin Grcic is a master of reinterpreting everyday objects through a conceptual yet utilitarian lens. Take his now-iconic die-cast aluminium 'Chair One' (2003), for instance, which elevates the stackable, all-weather monobloc chair to entirely new and sculptural levels. It's hardly surprising, then, that Grcic would take a similar approach to what is often a hackneyed survey exhibition format.
Konstantin Grcic: 'New Normals'
Rather than offer a chronological overview, Grcic's first institutional exhibition in Berlin, titled 'New Normals', reimagines his well-known creations in as-yet-unknown futures. The familiar use of various pieces of furniture – staged in new combinations and cleverly altered – suddenly becomes subject to speculation. What kind of dinner parties would be hosted around the glass-top 'Champions' table (2011), now outfitted with motorcycle rear-view mirrors? What new wellness trend would require a home gym made of 'Brut' sofas (2016) and a gymnastics ball nestled under a mesh covering? Or, alternatively, how is the tongue-in-cheek version of the 'Traffic' chaise longue (2013) presented here, with multiple strategically placed smartphone holders jutting out of its frame, not already the 'new normal', as the show's title suggests?
'Future and design are inextricably, inherently linked,' the exhibition's curators Ludwig Engel and Anna Himmelsbach write in its catalogue, arguing that objects and daily rituals that are self-evident today were unimaginable just a short time ago. Indeed, the challenges of navigating everyday life during a pandemic, inconceivable two years ago, make the curators' point painfully clear.
Thankfully, the survey offers an almost rhythmic viewing experience straddling grave reality and comic relief. The installation Normal 10 (each of the assemblages in the show is titled an enumerated 'Normal') casts three office chairs – the '360°' chair (2009) – and an industrial warning light on the four points of an aluminium cross. Is it a device meant for ensuring socially distanced office work? Or is it a corporate merry-go-round designed to get employees' creative juices flowing in intense brainstorming sessions?
'The majority of what surrounds us today will remain the same for decades to come,' Grcic argues. Rather than a comprehensive aesthetic à la Star Trek, he says, the future will resemble the present world, gradually altered through constant mending and the occasional paradigm-shifting innovation. It's a process 'constantly under construction', he adds, 'and barely held together… mainly by duct tape'.
The installation Normal 15 drives this argument home. It consists of six 'Chap' stools (2021) forming a circle around a concrete block, to which they are connected with industrial cables. The mysterious assemblage suggests a spiritual ritual carried out in a controlled environment. Corporate team-building measure appropriates sacred medicine retreat? It doesn't seem so far off. What is 'inconceivable today' will one day be taken for granted, Grcic points out.
INFORMATION
Konstantin Grcic,"New Normals" is on view at Haus am Waldsee, Berlin until 8 May 2022