Designers colourfully reinvent a traditional Kastellorizo house
The Società delle Api's 4Rooms project brings together a group of international designers to renovate an historical Porta Rossa house on the Greek island of Kastellorizo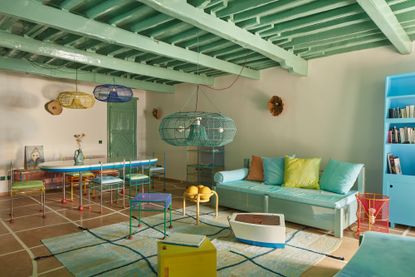 (Image credit: De Pasquale+Maffini)
Thinking about the main port at the Greek island of Kastellorizo is like imagining a ring that encloses the sea and then lavishly lets it out. What this inhabited corner of the island showcases, with its narrow houses, leaning against each other, is not only a beautiful natural gulf but a history of abandonment and return, of cultures that have succeeded each other, all leaving a trace on the land.
The mission of Società delle Api (SDA) for the 4Rooms project, taking place in the island's Porta Rossa house, expresses the essence of Kastellorizo honouring the island's natural landscape. The intent of SDA, and its founder Silvia Fiorucci, for Porta Rossa, one of the residencies founded by the Association, coincides perfectly with its goals to creatively blend with the local realities and, in some way, become an interpreter of the spirit of place. Fiorucci, design patron and collector, wanted to create space in her non-profit organisation for artists, architects, designers, and thinkers, allowing them to express and bring experiences to build and shift knowledge.
Società delle Api is a platform that allows its residents to participate creatively and leave their mark. The backbone of its programme is its residency offering, intended as a meeting place for artists and designers, a space for research and production. Here, Fiorucci's open call led to a project, curated by Annalisa Rosso, to design and renovate four rooms in a typical historical house on three levels, belonging for generations to a family of sponge merchants from the island. Each room was handed over to a studio or designer, fostering a dialogue between the Mediterranean heritage and international creativity.
Rosso (co-founder of the Milan-based design agency Mr. Lawrence and editorial director of the Salone del Mobile) curated the competition project and also acted as a member of the jury, together with Michael Anastassiades, Silvia Fiorucci, ECAL director Alexis Georgapopulos, and vice-president of SDA, Cristiano Raimondi.
The selected designers and studios include Phanos Kyriacou (co-founder and director of the art gallery Party Contemporary and founder of the project space Midget Factory), Julie Richoz (Swiss-French designer based in Paris), Studio Brynjar & Veronika (Icelandic-German studio working in the field of art and design), and UND.studio (a collective of designers, artists, cabinetmakers, and architects working on objects and spaces).
The communal spaces on the ground floor of Porta Rossa have been commissioned to the French studio Superpoly, awarded in the 5Rooms competition organised by Silvia Fiorucci in Grasse in 2018. 'This project began as a dialogue between the island, its aesthetics, its resources, and its inhabitants,' stated Superpoly on the Porta Rossa initiative.
While each winning designer is significantly different from one another, they all approached the project with great intimacy and a sustainable mindset. The designers' proposals look at and reflect on the island's heritage, people and culture while showcasing their creative flair and a contemporary way of living. The 4Rooms project, an individual case study yet based on a shared Mediterranean culture, innovative yet aware of the island's roots, allows the winning designers to leave a creative trace in Kastellorizo.
INFORMATION
lasocietadelleapi.mc (opens in new tab)