Jeremy Maxwell Wintrebert renders 'Human Nature' in glass for the London Design Festival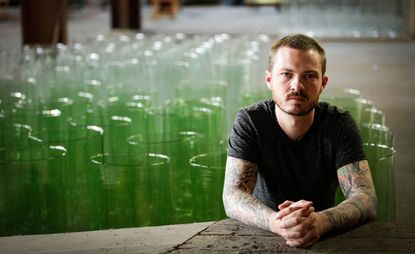 (Image credit: Jérôme de Gerlache)
Preparations for the London Design Festival are underway at the V&A this weekend as its corridors begin to fill with hundreds of glass cylinders.

They're part of an installation entitled 'Human Nature' by glass artist Jeremy Maxwell Wintrebert that will occupy a three-storey space between the Medieval and Renaissance Galleries.

Perrier-Jouët commissioned Wintrebert to create the piece. He's the first glass artist to work for the champagne house since Art Nouveau master Emile Gallé in 1902. Wintrebert is well known in design art circles, having started his career aged 19 creating glass displays for the glossy boutiques of St-Germain. This piece, which consists of between 120 to 140 cylinders in different colours, is one of his largest.

It was inspired by a trip to Lamberts in Germany, one of only three factories in the world to still make mouth-blown stained glass. The process involves blowing the material into a cylindrical form before splitting it open and flattening it out. When Wintrebert saw the cylinders it was 'love at first sight'. He took some back to his studio in Fontainebleau, Paris, and began photographing them in the forest, while deciding how to use them.

When Perrier-Jouët approached him, the penny dropped. In the same way that Gallé turned a bottle into a piece of art by decorating it, Wintrebert would transform the cylinders into sculptures, and highlight the (endangered) craft of hand-blown windows at the same time. A visit to Perrier-Jouët's maison in Epernay inspired his use of green and white, and the idea to use two colours on each piece.

The V&A is the mothership around which all the festival's activities orbit. With a flagship installation at the museum and a solo show which runs simultaneously at Gallery Fumi - for which he is creating a further two giant installations, and 14 other works - Wintrebert is set to be one of the festival's star designers.

We spoke to Jeremy Maxwell Wintrebert ahead of the London Design Festival to find out more...

W*: Where were the cylinders made?
JW: At Lamberts. The factory is struggling so I wanted to work with them. It's the first time I haven't blown the glass myself. I normally work from my studio in Amsterdam. I'm happy with the results. I don't miss blowing. Throughout my career it has always been in me and my hands, so it's nice sit back and let the other guys do the work!

W*: What will happen to the cylinders after the show?
JW: They are all freestanding so they can be separated. Some will go to Epernay, to Perrier-Jouët's Maison, though I'm not sure they will all fit in there, and some will travel to shows around the world. Art Basel Miami maybe.

W*: What was your biggest challenge in creating Human Nature?
JW: When I said yes to Perrier-Jouët, I had no idea what I was getting into. This is my first festival and it's huge. London celebrates design in a way that a lot of other places don't. There's a very sharing spirit, what with all the public installations. I'm an artist who lives in the middle of a forest, so it's a bit of a whirlwind for me.
Receive our daily digest of inspiration, escapism and design stories from around the world direct to your inbox
Emma O'Kelly is a contributing editor at Wallpaper*. She joined the magazine on issue 4 as news editor and since since then has worked in full and part time roles across many editorial departments. She is a freelance journalist based in London and works for a range of titles from Condé Nast Traveller to The Telegraph. She is currently working on a book about Scandinavian sauna culture and is renovating a mid century house in the Italian Lakes.