'Inside' by Vincent Dubourg, London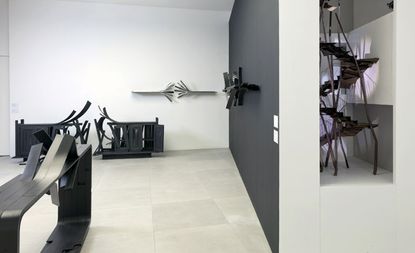 (Image credit: David Brook)
Exploding sideboards, ruptured shelves and a staircase that bursts through the heart of a three-storey building. French artist Vincent Dubourg's works have a dark and violent beauty, which makes a walk around his second solo show at Carpenters Workshop Gallery full of strange thrills.
'You will either love or hate Vincent's work but it will certainly provoke a reaction,' says Loïc Le Gaillard, co-founder of the London gallery, which has represented the artist since its inception in 2004. Unlike with some design art, Dubourg's work isn't just about form. The eight limited edition pieces on show at 'Inside' are designed to be used and experienced, their deconstructed structures placing the focus, unusually, on the interior of each object.
Asked what prompted all this violence, Dubourg says: 'I like the idea of creating something beautiful out of something broken.' In his work, these seemingly destroyed objects are also instilled with a life of their own, for example, the apparently dilapidated but actually fully functioning staircase - a private commission represented by a maquette at Carpenters Workshop Gallery - appears to emerge through the floor of a house in Knightsbridge and thrust its way through the roof.
The collector who commissioned this staggering new work, which looks a little like a staircase to a tree house, was first drawn to Dubourg by his 'Napoléon à Trotinette' console table, shown at the V&A's Telling Tales exhibition in 2009, and had her entire house remodelled around it. Le Gaillard admits it was a leap of faith for the owner: 'I have to commend her vision,' he says. But, as with all Dubourg's works, the staircase has been realised with extraordinary detail.
Look closely and you'll spot the banisters disappearing into the walls, and on the ground floor, the supporting branches of wood (actually aluminium) appear to rip up panels of the parquet flooring as they sprout from the ground. Even the maquette, encased behind glass in the Mayfair gallery, is meticulously detailed, crafted in aluminium by hand in Dubourg's studio in the Creuse region of France. Likewise the aluminium panels of the 'Double Buffet Nouvelle Zélande' cabinets in the exhibition perfectly mimic the texture of charred wood. It leaves us wandering just what he will 'destroy' next?
ADDRESS
Carpenters Workshop Gallery
3 Albemarle Street
London W1S 4HE