Harewood Biennial explores the radical potential of craft
What's so radical about craft? The Harewood Biennial (on view at Harewood House until 29 August 2022) answers with a series of thought-provoking projects, commissioned and curated by Hugo Macdonald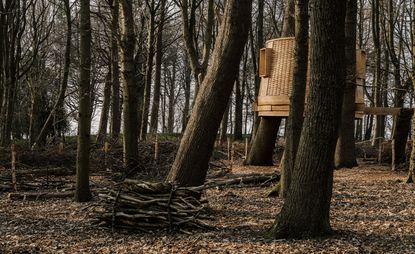 (Image credit: Edvinas Bruzas)
Wallpaper* Newsletter
Receive our daily digest of inspiration, escapism and design stories from around the world direct to your inbox
Thank you for signing up to Wallpaper. You will receive a verification email shortly.
There was a problem. Please refresh the page and try again.
An 18th-century house in the Yorkshire countryside may not be the most obvious place for a group of designers, artists and makers to tackle some of the world's most pressing issues. But at Harewood House, situated just on the outskirts of Leeds, that's exactly what the second-ever Harewood Biennial, curated by Hugo Macdonald, is setting out to do.
'The word "radical" comes from the Latin word radix, which means '"root",' says Macdonald, a Wallpaper* contributing editor, as he leads us around the building's state floor. 'Here, craft is presented as a bridge between our roots and future.'
'Radical Acts': craft at Harewood House
Macdonald's explanation comes in response to a question about his use of the word radical in the exhibition's title, 'Radical Acts'. Each of the 18 exhibitors is presenting a radical act of their own choice: from Sebastian Cox's 'Radical Act of Environment' to Bisila Noha's 'Radical Act of Remembrance' – each work comes together to form what Macdonald describes as a "call to arms and action". Some are poignant and poetic, others are practical. But, as we can sometimes forget to do with design shows and objects, it's important to look at the projects holistically in order to understand their impact to affect change.
Take, for example, the work of artist Celia Pym, whose installation is based around clothes that she has repaired for some of the Harewood House staff in the first room of the show. Neatly placed upon an aluminium table, designed by London-based studio Jones Neville, each item comes with a photograph of its owner and a short passage, in their words, describing its importance.
The project came about after Pym reached out to the employees to see if they had any items that needed mending, and invited them to sit with her to discuss the garment's story. One respondent, Thomas – a gardener within the estate's expansive grounds – brought the artist a jumper, which was, after seven years of heavy, outdoor use, in a bit of a sorry state. 'Everyone mocks me for wearing it because it has such a big hole in the front,' he said. But Pym's delicate darning techniques have repaired the rips and tears, with colourful thread selected by Thomas himself. It's a great first example of how Macdonald has curated the show's concept – just as you find yourself asking 'What is so radical about darning?', you are provided with a rich context, which makes it feel completely relevant.
In the Cinnamon Drawing Room, designer Mac Collins has crafted a set of cast aluminium dominoes, alongside a set of wooden chairs and a table to play them on. The work is true to Collins' aesthetic: bold, and clean, with his choice of material bringing a sense of warmth. Conceptually, it makes a statement of corrective representation, within a house that was built through wealth made on the transatlantic slave trade.
'I come from a dual-heritage background – I'm half Jamaican and half English. When I first came to Harewood, something that struck me was that my history is entwined with it. It's not ridiculous to think that my own family and my own direct lineage may have been linked to the family here.'
Collins has used the game of dominoes in order to celebrate a 'positive Black narrative within a historically inaccessible environment'. Poignantly, the game sits beneath a portrait of Edwin Lascelles, who built Harewood. 'I was told that people would historically use this space to laugh and talk after dinners, over playing games. It was a reminder that it was enjoyed at the expense of the communities that I descend from,' says Collins.
'Today we play together in one room – a shared culture and a shared society.'
The installations continue around the house with the likes of silversmith Francisca Onumah; designers Michael Marriott, Eunhye Ko, Fernando Laposse, and Ilse Crawford with Nanimarquina; salvaging studio Retrouvius; and organisations Community Clothing and Good Foundations International.
Exhibitors have made use of the space outside too. The properties of hemp are being explored in the walled garden, with sheets of the material being laid across potato patches to enable growth without soil disturbance. Across the lake, in the small Bothy building, craftsperson Robin Wood is highlighting the importance of passing on craft knowledge intergenerationally. Bobby Mills' turned wooden bowls, made from windfallen trees, are on display in the Bakehouse Studio, while Sebastian Cox has turned his attention to cultivating the surrounding woodland, and erecting the 'Sylvascope' viewing platform, made from trees he and his team have felled over the past few weeks.
At a time when many of us feel consistently helpless, with the notion that our own actions are worthless in the grand scheme of things, Macdonald and his collaborators show that it is our individual, small acts that can join together to form a powerful view to a more healthy and equitable world.
INFORMATION
The Harewood Biennial is on view until 29 August 2022
biennial.harewood.org
ADDRESS
Harewood House Trust
Harewood House
Harewood
Leeds LS17 9LG
Receive our daily digest of inspiration, escapism and design stories from around the world direct to your inbox