Denmark's Hans Bølling on his playful, enduring designs
We caught up with Danish architect and designer Hans Bølling at his Charlottelund studio to talk learning, love and design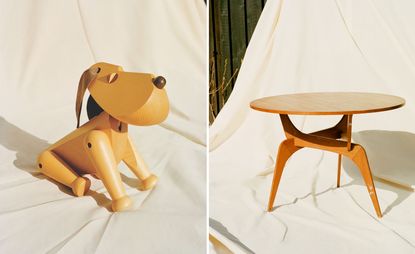 (Image credit: Luk & Nik )
The Danish architect and designer Hans Bølling is 91 years old and an enthusiastic lover of life. But most of all, he is a lover of his wife. 'My inspiration for everything I do all comes back to her,' says Bølling as he points to Søs, his partner of more than 60 years. They are drinking white wine in the living room of the home they have shared for as many decades – a single-storey pre-fab house that Bølling has extended seven times, in Charlottelund, a coastal suburb north of Copenhagen.
Displayed proudly on tabletops, forgotten on top of a stack of books on a windowsill, and scattered across shelves in Bølling's home studio, sit prototypes and early models of dogs and ducks and dopey little dudes; exotic birds roost here and there, a shapely mermaid emerges a few times over. Stray heads of horses, sailors on their boats, monkeys on wheels and other wooden delights animate and populate the space.
Hans Bølling: a Danish design legend
These figurines – including Oscar, an affable, droopy-eared dog designed in 1953, and an elegant duck with its squat little duckling from 1957 – are arguably Bølling's best-known creations. They were almost all initially crafted as gifts for Søs, and later, for their two children. But Bølling's rich portfolio also boasts buildings and furniture designs, making him a nuanced, multidisciplinary talent who now, late in life, finds his work being rediscovered, or simply discovered, with some long-lost designs being put into production for the first time.
'I always say my career has been spent playing, not working,' says Bølling. 'I can't sit still. I love to fiddle around with things and experiment. I can't help myself: I'll wake in the middle of the night with an idea and run to sketch it down. It never stops being fun!'
Bølling's most recognisable furniture piece is the pleasantly simple 'Tray' table, which consists of a foldable H-frame base on wheels and two reversible circular trays, one placed at tabletop level, the other resting as a shelf below. Designed in 1963, the prototype was developed in a single day when Torben Ørskov, the late, visionary owner of the Copenhagen design store Form & Farve – where many of the midcentury's biggest names got their retail start – asked Bølling to come up with a light and portable coffee table. Bølling went to his workshop and made the coffee table right away, translating his idea directly from head to hand with no sketches. Ørskov was thrilled with the design, and only then did Bølling put it to paper for production purposes. The table has since become a classic. Since 1990 it has been licensed and produced by the Danish manufacturer Brdr Krüger, and can be found in the permanent collection of the Design Museum Denmark in central Copenhagen. 'It is a very well-known design object. I think you can call it a signature piece,' says the museum's director, Anne-Louise Sommer. 'Bølling is a designer with a playful, humoristic and understated approach to life and design. In that respect, he's quite Danish, in the best sense of the word.'
In a country known for furniture and fairytales, Bølling has made a career of the functional and the fantastical, creating some objects with a clear and utilitarian purpose, and many others just because. With his gaggle of timber creatures, Sommer notes that Bølling might be considered some kind of successor to the playful woodwork associated with the prolific Danish silversmith and designer Kay Bojesen (1886-1958), who crafted a near-zoo of wooden animals during his lifetime (today, he is widely known for the long-limbed monkey that hangs out in every Danish home).
Though Bølling's animals found quick success in the 1950s and 1960s (today, most are produced by the Danish company Architectmade), only a handful of his furniture pieces made it to market, not least because he didn't pursue production outlets for most of his ideas. His daughter, Anne-Mette Bølling, also an architect, notes that the sketch for one of her father's designs recently put into production was, for the last 50 years, stowed away in a plastic bag in the family bike shed.
Bølling was, in many ways, 'overshadowed by the well-known architects and designers from the so-called golden age of Danish design in the mid-20th century,' says Sommer. These included Arne Jacobsen, Hans Wegner, Finn Juhl and Nanna Ditzel (whom Bølling particularly admired). Sommer adds that Bølling – born in 1931 in Aarhus – was part of a younger generation, or as Bølling himself puts it: 'When I was young, the other architects were a bit older. Then when I was a bit older, the other architects were outright old. Now I'm indisputably old and the others are indisputably dead.'
Even though some of his contemporaries, including Poul Kjærholm – one of Bølling's instructors at The Royal Danish Academy of Fine Arts – would also become mainstays of the midcentury movement, Bølling maintains that he never felt particularly aligned with the names and faces that dominated those decades.
'I don't think I ever felt a tie to them, they were all very clever. They never made a bird, though, they never fooled around – they were so focused on building something,' he says. 'But I never felt overlooked; I always got to do what I wanted. Perhaps I was a bit of an outsider because I was just running around, having a good time, never worrying about anything much at all.'
Bølling originally studied textile printing (he is a talented illustrator, and considered going into advertising) at The School of Arts and Crafts in Copenhagen, and that's when he met Søs, the younger sister of a classmate. Søs' father was the renowned architect Axel Wanscher, and her uncle was Ole Wanscher, one of the great furniture designers of the midcentury. Once the then 20-year-old Bølling began dating Søs, Wanscher suggested (read: insisted) that his future son-in-law pursue an architecture degree. Bølling completed a carpentry apprenticeship before enrolling in the architecture programme at The Royal Danish Academy of Fine Arts. He married Søs in 1959 and graduated the same year.
For much of his early career, Bølling worked at his father-in-law's architecture practice on projects that included municipal buildings, housing developments, private residences and villas, and Øresundskollegiet – a large-scale dorm building, associated with the University of Copenhagen, which is still admired and in use today.
Bølling crafted his wooden figures and dreamt up furniture designs while maintaining his day job. Yet he did formalise his off-duty pursuits with the launch of his own side studio in 1960. He went on to work on several prominent architectural projects, including the Tokai University Boarding School in Præstø, Denmark.
Interest in Bølling's work is still going strong, as he becomes part of the reissue trend. In 2017, Brdr Krüger took its longstanding relationship with Bølling a step further and introduced his 'Triiio' table series – which comes in coffee, side and dining sizes – for the first time. Featuring a playfully abstract three-legged wooden base (with a hint of Noguchi-esque geometry) and a glass top, the table, originally designed in 1958, found an eager audience. The French luxury house Hermès picked the design for its new Copenhagen flagship, ordering a larger bespoke version of the showcase a range of its covetable tableware.
'To be able to share Hans' work with the world is very thrilling,' says Jonas Krüger, creative director of Brdr Krüger and the fifth generation to be part of the family business. 'Looking back at "Triiio", it was like finding a diamond in the rough. Seeing the sketch for this table was like discovering an instant classic.'
Krüger notes that Bølling has a unique ability to design with playfulness and a sense of naivety, while being analytical and precise at the same time. 'He's not ashamed to show his foolish side. He's emotional, and doesn't take himself too seriously,' says Krüger. 'He's not the strict, academic type, even though he can produce work like the "Tray" table, which reveals that kind of thinking. He plays many instruments, so to speak.'
Krüger hints that consumers can expect to see more Bølling products in the near future (since this interview, Bølling has launched new furniture with Brdr Krüger). And Bølling confirms that retirement is not on the cards. 'Why on earth would I want to do that?' he muses.
Bølling moved his studio to his home several years ago and has a workshop off the back of the house. When Søs has friends over, he'll retreat to his office and sketch, or mess around with things on the lathe. 'The ideas don't slow down with age,' he says.
Given his multifold talents – architect, designer, craftsman, draughtsman – one can't help but wonder how Bølling defines himself. Looking back on his career, what does he see? What is his legacy? Is he the gentle, jovial jester of Danish modernism? A whimsical woodworker? A discreet design master who is finally getting his due? 'Truth be told, most of all I see myself as married to Søs!' Bølling persists. 'You know, we kiss each other goodnight every single evening, we are thankful for each other, our children, and this rather wonderful life that we have built.'