Danish design legend Hans Bølling launches new furniture
Nonagenarian Danish designer Hans Bølling unveils new furniture for Brdr Krüger and American Hardwood Export Council, with an exhibition during 3 Days of Design 2022 in Copenhagen that reimagines the designer's home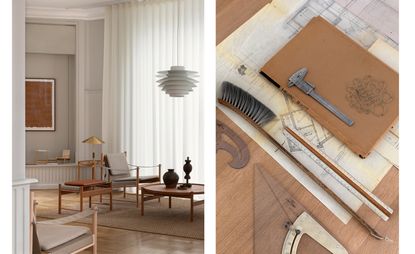 (Image credit: Norm Architects)
'When old men become really old, they often buy a new Porsche. I bought a lathe,' recalls Danish architect and designer Hans Bølling, now 91 and gregarious and prolific as ever. A decade since he acquired it, the lathe continues to sit in his home workshop in Charlottenlund, to the north of Copenhagen – a low wooden structure with generous skylights, packed with tools, raw materials, and files, sketches and handmade prototypes that point to a lifelong dedication to designing and making.
Or rather, a dedication to playing, as Bølling likes to say. For all the wisdom that the years have brought, he retains a boyish sense of curiosity and joy that immediately brings to mind his celebrated wooden animals: among them a family of dogs with articulated joints and floppy leather ears, and a teak duck and duckling with moveable heads.
'I've been playing since I was 14, and some days I still stay in my workshop until twelve, one o'clock, drawing, constructing paper models, and making things out of wood,' Bølling says. He credits the midcentury design icon Ole Wanscher (the uncle of his wife of 62 years, Søs) with instilling the importance of getting hands-on with materials. He does not work on a computer.
While Bølling's output has included major architectural projects such as a Japanese boarding school in south Denmark, these days he devotes his time to the furniture projects that had once been a mere hobby. His latest pieces: a lounge chair (his first), a stool and a coffee table, all created in collaboration with Danish furniture label Brdr Krüger, are being launched with an exhibition, 'House of Hans Bølling', at the brand's Copenhagen showroom during 3 Days of Design 2022.
The pieces riff on the wooden 'Tray' table, a design from 1963 that he calls his proudest achievement. Produced by Brdr Krüger since 1990, the 'Tray' is a work of simple genius. It comprises two circular, reversible trays, supported by a collapsible four-legged frame on wheels. Each cylindrical leg is gently indented at the top, where the user can place a finger and easily pull the frame in their direction. 'It's an iconic and clever construction – strict in its appearance, but with details that make it playful and appealing,' says Jonas Krüger, creative director and fifth-generation owner of Brdr Krüger.
The new 'HB' coffee table is the most direct translation of the 'Tray', made wider and lower and with its wheels removed. Meanwhile, the stool and lounge chair derive their four-leg structures from it. The stool has an additional pair of horizontal bars at the top to support the canvas seating surface. The chair likewise has a canvas seat, plus gently bowing canvas armrests, and an adjustable back cushion that can be slid up and down with a counterweight.
All feature traditional shoulder tenon joinery, and there isn't a single nail or screw. The designs combine a disciplined, architectural mindset with an inviting warmth – as Krüger points out, 'it's a really fine line to get right'.
The Krüger family have worked with Bølling for decades: it was Jonas' grandfather, Helge who produced the first wooden duck in 1957, and Jonas' father Niels who took over production of the 'Tray' in 1990 when Bølling wasn't satisfied with the quality of production by another manufacturer. Jonas has played an important role in the recent resurgence of interest in Bølling's design output, working closely with Bølling to revisit and refine unrealised prototypes, as well as come up with brand new work. 'Hans is always extremely excited about trying to make new things. He's still not that known, and doesn't have that huge body of work in furniture, but my hope is that he will be seen as equally important as Børge Mogensen.'
Beyond the fact that they represent new work by a nonagenarian designer, the Bølling collection pieces stand out for their range of woods. They are offered in European oak, a staple of Danish carpentry workshops, but also American maple and American cherry, and on request, American red oak. The American options reflect a partnership with American Hardwood Export Council (AHEC), a forward-thinking trade association that has been flying the flag for American timber for more than three decades.
Whereas demand for European oak has long outstripped supply (the situation has been exacerbated by the war in Ukraine, which has put significant pressure on European supply chains), maple, cherry and red oak grow abundantly in American hardwood forests and remain underused. David Venables, European director for AHEC, explains that the council's intention is not to displace European wood with American alternatives, but rather to expand the choices available to designers and customers: 'We want to put them in a position to go, we have to change our reliance on a single wood source, and widen our options.'
The Bølling collection calls for us to look at maple and cherry in a new light: as Krüger explains, maple furniture often takes on a yellow hue that is unpopular among consumers. Eschewing the usual natural oil finish, the brand has opted for a whitening oil, so that the new pieces in maple have the light, alluring tone of white ash. Cherry is often associated with high-gloss flooring, popularised in the 1980s and still used on sailboats, but here it appears much subtler and serves a more affordable alternative to walnut. The red oak can be difficult to distinguish from European oak ('red' refers to the colour of its leaves in autumn, rather than the colour of the timber), but what is important is that red oak is grown over a wider region and there are more subspecies, which makes its usage more sustainable. (Venables also highlights that bringing timber from the other side of the world does not necessarily mean a larger carbon footprint, as long as the timber is transported by boat. Sustainability is front of mind for AHEC and for Brdr Krüger, which collects excess sawdust to heat its workshops.)
Ultimately, Bølling, Krüger and Venables all wish to emphasise the virtues of wood, as a material that can cater to diverse aesthetic preferences but also serve as a carbon bank. 'If you maintain a wooden chair for decades, and pass it on to the next generation, you are actually storing carbon. During this time new trees will grow, which takes your carbon footprint to zero and beyond. Which is why it's important to build to last,' Krüger explains.
Bølling, whose six-decade-old 'Tray' table has doubled in sales in recent years, knows what it takes to create a timeless piece of design. It's architectural thinking and geometric rigour, but also a passion for experimentation: 'Start making a lot of things: drawings, small models, wooden aeroplanes, and make every idea in your head happen,' he counsels the next generation. 'Start playing.'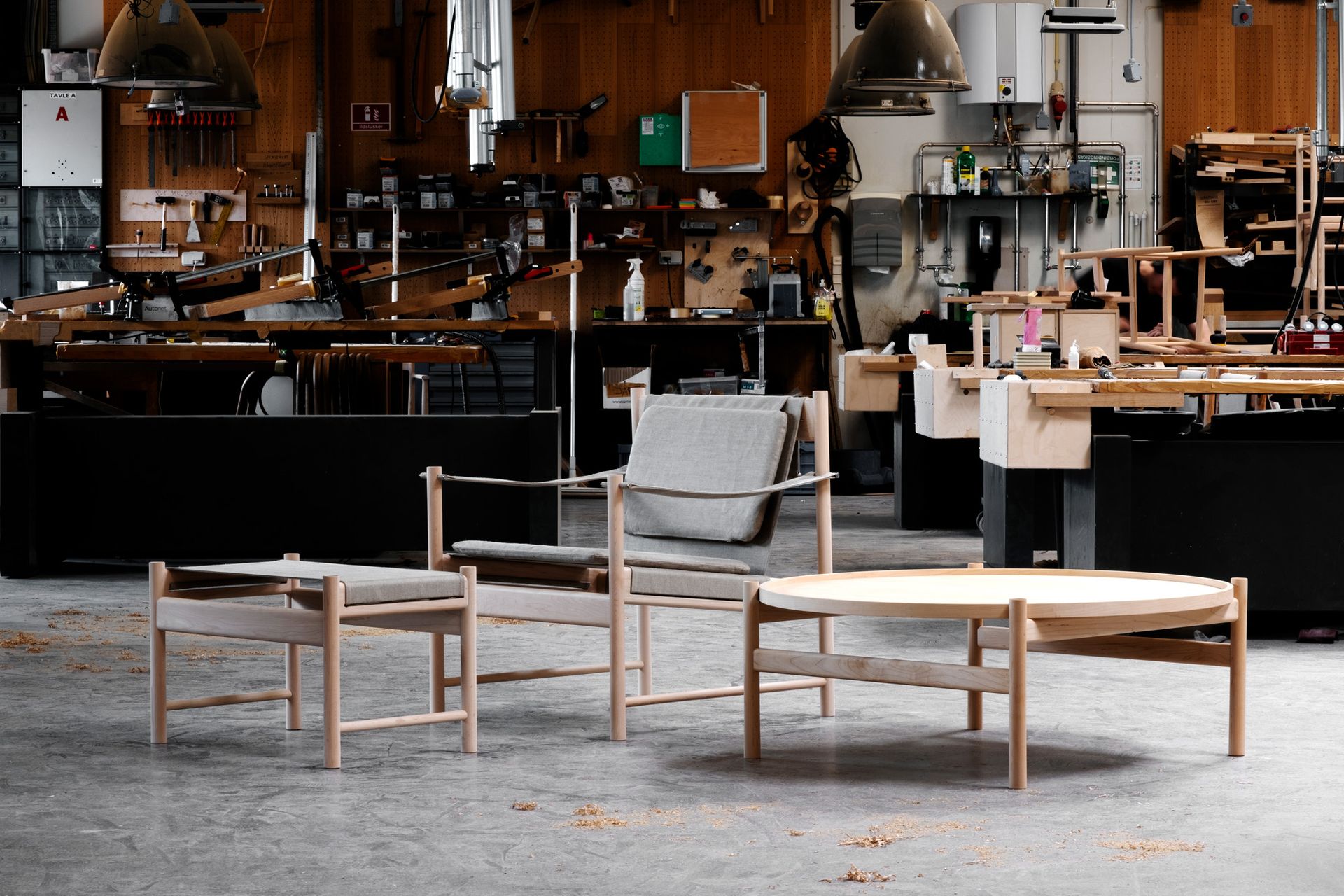 INFORMATION
The Bølling collection is on view at Brdr Krüger, 15 – 30 June 2022, Bredgade 28, Copenhagen
brdr-kruger.com (opens in new tab)
americanhardwood.org (opens in new tab)
ADDRESS
Bredgade 28
1260 København
Denmark
VIEW GOOGLE MAPS (opens in new tab)
TF has been editor of Wallpaper* since December 2020. He is responsible for our monthly print magazine, planning, commissioning, editing and writing long-lead content across all our content pillars. He also plays a leading role in multi-channel editorial franchises, such as our annual Design Awards, Guest Editor takeovers and Next Generation series. He aims to create world-class, visually-driven content while championing diversity, international representation and social impact. TF joined Wallpaper* as an intern in January 2013, and served as its commissioning editor from 2017-20, winning a 30 under 30 New Talent Award from the Professional Publishers' Association. Born and raised in Hong Kong, he holds an undergraduate degree in history from Princeton University.
With contributions from