Greta Magnusson Grossman retrospective, Stockholm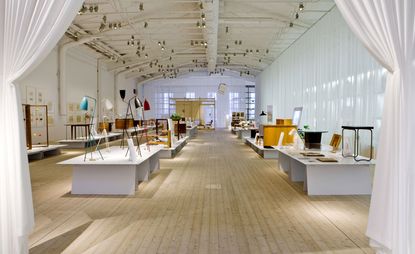 (Image credit: press)
Swedish furniture designer and architect Greta Magnusson Grossman may not have achieved quite the fame of her contemporaries, Charles and Ray Eames, but, a decade after her death, she still has a devoted following. Now her star is being heralded in the first major retrospective of her work in Stockholm's Arkitekturmuseet (opens in new tab) and the launch of a new book, 'Greta Magnusson Grossman: A Car and Some Shorts'.
Both chart the story and works behind Grossman's 40-year career. Her unique take on Swedish modernism proved a huge hit in the US when she moved there from Stockholm in 1940. The lamps she produced for the likes of Barker Brothers spawned so many copies that they have become icons of mid-century style.
Grossman's furniture for brands including Glenn of California is also sought after for its unique mix of materials, such as colourful textiles and California walnut juxtaposed with black plastic laminate and wrought iron. The slender proportions of her pieces also makes them instantly recognisable.
The exhibition at Arkitekturmuseet -- in collaboration with New York's R 20th Century (opens in new tab) -- also features architectural models, photographs and film clips. It's curious title refers to Grossman's number one objective upon arrival to the US: to 'buy a car and some shorts'. It was her first step toward self-Americanisation.
Desk in walnut and wrought iron with black laminate surface, produced by Glenn of California, Los Angeles, 1952. 'Good Design' chair in walnut, produced by Glenn of California, 1952. Table lamp with one cone shade and one 'Cobra' shade, produced by Ralph O. Smith, 1948-49. Photograph by Sherry Griffin/R 20th Century.
Sideboard in walnut with cane shelf, produced by Glenn of California, 1954. Table lamp with three arms and conical shades, produced by Ralph O. Smith, 1948-49. Photograph by Sherry Griffin/R20th Century.
ADDRESS
Arkitekturmuseet
Skeppsholmen
SE-111 49 Stockholm
Sweden
VIEW GOOGLE MAPS (opens in new tab)