Rafael de Cárdenas gives Demisch Danant's West Village gallery an injection of Gallic cool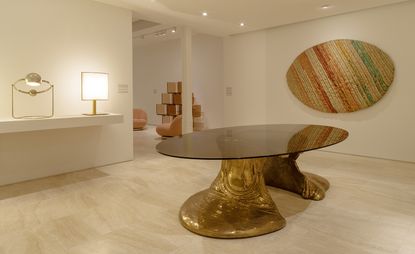 (Image credit: press)
The residential blocks that lie just off Fifth Avenue in Greenwich Village, exude the kind of late Victorian charm one may associate with novelist Henry James or architect Stanford White. But this elegant downtown enclave has been given an injection of modern Gallic cool with the unveiling of a new exhibition space by Demisch Danant gallery.

Once home to SF Vanni, the oldest Italian bookstore in North America, the address has been transformed into a commensurately glamorous showcase for the lauded 20th century design pieces sold by the gallery, formerly in Chelsea. 'Not only were we looking for a larger space, but we wanted to increase our curatorial vision and exhibition program,' says co-founder Suzanne Demisch.

The gallerists turned to their friend Rafael de Cárdenas, a local architect whose firm performed a delicate architectural intervention. 'It was important that we respected the neighbourhood but also bring our own references,' says Demisch, who cites the streamlined, almost-institutional French modernist architecture from the sixties as an influence. Cárdenas increased volume by raising the ceiling heights, chose honed terrazzo floors and renovated an upstairs apartment to be used as a salon and office.
According to Stephane Danant, made in France, the gallery's inaugural exhibition, sits 'somewhere between retrospective and prospective'. Standout works include Maria Pergay's daring 'Marquetry Desk', first produced in 2005; a series of never before exhibited pieces by lighting studio Verre Lumiere; and several outstanding works from weaver and fiber artist Sheila Hicks. The exhibition also includes a pair of 'Pacha' chairs and a smoked glass and steel 'Élysée' bookcase designed in the early 1970s by Pierre Paulin, a name that has become synonymous with postwar French design and its renewed collectability.

It wasn't always that way. 'When we started out people were convinced I was Pierre Paulin,' says Danant. The reintroduction of Paulin and many other designers who were either forgotten entirely or had fallen out of favor, can be traced, in large part, to the decade-long efforts of the New York gallery.

'This sense of continual discovery is something we wanted to convey with the gallery,' says Danant. 'The exhibition and its program catalogue capture our point of view and share our process, which is quite personal,' adds Demisch. 'It describes our history up until this point and also defines what we're hoping to do in this exciting new space.'
INFORMATION
For more information, visit the Demisch Danant website