Galerie Thaddaeus Ropac's new 'Home (very) Sweet Home' exhibition groups art and design within an imagined residence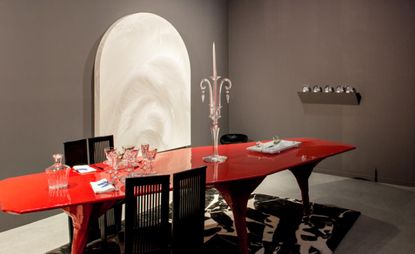 (Image credit: Philippe Servent)
When Jean-François de Bastide wrote La Petite Maison, a novella based on a libertine who seduces an upright woman by impressing her with his pleasure pad, he could never have imagined it looking like the installation being unveiled at Galerie Thaddaeus Ropac's Pantin location today.

'Home (very) Sweet Home (opens in new tab)' rethinks de Bastide's narrative, circa 1785, by integrating art and design elements in a space roughly configured to resemble a seven-room residence (including a 'garden' that consists of an Alex Katz rose painting and Elger Esser's moody depiction of Giverny).

In exploring the notion of 'sensuous architecture', curators Matthieu Lelièvre and Alexandra Midal also looked back to Condillac's Treatise on the Sensations (1754) and Nicolas Le Camus de Mézières' The Genius of Architecture or The Analogy of that Art with our Sensations (1780). But Galerie Ropac exists in the present, not the past. And as such, the spaces present a series of contemporary vignettes that transform viewer into voyeur and blur lines between furniture and objet d'art.

The rooms express not only a variety of aesthetics but ways of engagement. To view the salon - with its modular set of low tables in burned wood from Normal Studio and Wiener Sitzmöbel seating - you need to look through a series of distorted peepholes. In the boudoir, Konstantin Grcic's polyurethane loveseat anchors the interactive wallpaper by HEAD.

You can walk around the Floris Schoonderbeek's orange bathtub, (opens in new tab) with its barbecue-like heating apparatus. But you can only gaze at the bedroom mise-en-scène that includes a trompe l'oeil marble-printed wingback chair by Maurizio Galante and Tal Lancman and Sylvie Fleury's bronze casts of Alaïa pumps. Benjamin Graindorge's amorphous lighting of the striking red El Ultimo Grito table in the dining room are very clearly functional, but could as easily be deemed sculptures. There's a compact Tony Cragg piece in the space that functions as a wunderkammer. It can only be glimpsed from afar, making it all the more covetable.

Enter the kitchen and all you'll find is Martha Rosler's 'Semiotics of the Kitchen' (opens in new tab) (from 1975), a performance art piece in which the artist acts out aggressively with quotidian kitchen utensils. It is the one work in the show that is outside the Ropac collection.

Lelièvre, who works in-house at Galerie Ropac, explains that their interpretation is less literally sexual, more subtly unsettling. It was Midal who encouraged this darker reading that belies the show's name; knives are a recurring theme and Warhol's 'Flash – November 22, 1963' (the feature image) underscores the voyeuristic aspect.

In an early walk-through of the exhibition, Thaddaeus Ropac (one of Wallpaper's 2014 Design Awards judges) noted how the Pantin gallery – a cluster of buildings located just beyond the Paris' ring road – provides the additional space to introduce unconventional programming. 'We want to stay as an art gallery representing artists and their careers. But we like to explore other ways of showing art,' he said. 'We are showing art in a context of an environment where design also plays a role.'

Lelièvre says the project forced him to apply decorator touches such as the crown moldings to establish a bourgeois backdrop. But that really, he never saw the environment as an actual home. The unusually angled walls, he says, make this clear. 'There's a feeling of bringing a view to what is architecture and design,' he adds. 'We are not decorators – it is not a question. But we are crossing towards it.'

Indeed, had we been crossing the threshold into an actual home, there would have been a doormat.
The concept for the exhibition was inspired by Jean-François de Bastide's La Petite Maison, a novella based on a libertine who seduces an upright woman by impressing her with his pleasure pad. The bedroom mise-en-scène features the 'Watermelon with Knife' painting by Robert Mapplethorpe, 1985, trompe l'oeil marble-printed wingback chair by Maurizio Galante & Tal Lancman, 2011, and 'Augenkreuz' eye artworks by Stephan Balkenhol, 2012.