Frieze Art Fair: Gallerists' Tables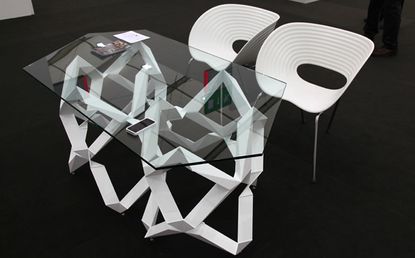 (Image credit: Shiraz Randeria)
Wallpaper* Newsletter
Receive our daily digest of inspiration, escapism and design stories from around the world direct to your inbox
Thank you for signing up to Wallpaper. You will receive a verification email shortly.
There was a problem. Please refresh the page and try again.
It is the UK's (maybe even the world's) most action-packed, dazzling and profitable art event of the year, but for wallpaper.com, photographer Shiraz Randeria looked away from the glamarous work and the price tags focusing instead on the gallery stands' tables - where, after all, all the big deals are being made.
The resulting portfolio of pictures, along with quotes from the gallerists themselves, makes for an amusing study into the personalities of the individual stands against the homogenity of the fair itself
Paul Kasmin Gallery, New York 'This is a Tokyo table by Mattia Bonetti and it's an edition of 20. We use his tables and chairs at art fairs, but this one in particular is perfect as a beautiful gallerist coffee table.'
Photography: Shiraz Randeria
Casey Kaplan, New York 'It's light, practical, modular and transportable – the perfect fair table. We love the plastic 1960s' aesthetic; if we could have a stand full of Joe Colombo, we would.'
Photography: Shiraz Randeria
Raster, Warsaw 'It's amazing how much fits in for such a small table. It's a beautiful 1960s' design from Poland. We didn't want to use a modern table that you could find in a shop or a chair book. This one is personal; it's from home.' 
Photography: Shiraz Randeria
Gallerie Meyer Kainer, Vienna 'We're also using a Franz West table on the stand, but this one is by an Austrian group called gelitin, who we represent. Yes, it's for sale' Photography: Shiraz Randeria
Jack Hanley Gallery, New York 'We commissioned this table from Folke Köbberling and Martin Kaltwasser. They make furniture and sculptures from salvaged and recycled wood. They also make bicycles from car parts. Is it for sale? Yeah, I guess.' Photography: Shiraz Randeria
François Ghebaly Gallery, Los Angeles 'The whole stand is by Neïl Beloufa and the table is dual purpose. You can stand it up on its side and it becomes a sculpture, although I find it more useful as a desk.' 
Photography: Shiraz Randeria
Sommer & Kohl, Berlin 'We're a new gallery and didn't want to ship a table from Germany. I used to work at Stephen Friedman gallery in London, so I asked if they had a spare table and they lent me the desk I worked at for 7 years. We always wanted to have flowers at fair stands, but no one liked them, so now we have our own gallery we can do what we want.' 
Photography: Shiraz Randeria
Stephen Friedman Gallery, London 'It's actually just a table we have at the gallery, although it goes into a kind of hibernation and only comes out at art fairs.' Photography: Shiraz Randeria
Galerie Eva Presenhuber, Zurich 'The table is by Franz West. Around 20 years ago he needed some new furniture and didn't like anything he saw, so started making some. They slowly became part of his work, and he included tables in his sculpture exhibitions. The table and sofa set work well with our stand, and it's very nice to sit on.' 
Photography: Shiraz Randeria
Richard Telles Fine Art, LA 'We decided it would be simpler to rent the table, rather than ship furniture from Los Angeles, so this is the standard table that Frieze provide. But it works and it actually fits in with the stand.' 
Photography: Shiraz Randeria

303 Gallery, NY
'God, it's hideous. It's like an illegal Chinese gambling table, so we're covering it up as much as possible. It's definitely not the table we wanted. We had ordered a beautiful wooden table, but it was never delivered. Ironically on the stand we have an amazing black resin Valentin Carron table, but we're not allowed to write or work on it, as it's a sculpture. Next year we're going to commission something functional and which folds out like a transformer. We're going to have the best table here.'

Photography: Shiraz Randeria
Receive our daily digest of inspiration, escapism and design stories from around the world direct to your inbox