'Intro': entering Fabio Novembre's creative consciousness at La Triennale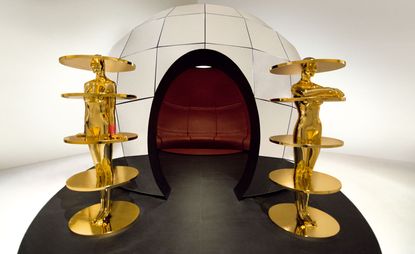 (Image credit: press)
For Fabio Novembre, all works are personal, individual to himself and alluding to an experience; from his love for AC Milan leading to him art directing the team's merchandise, to his new releases at Salone for the likes of Kartell and Cappellini that he says are imbued with a part of himself. His notion for 'Intro', a bedroom set up for La Triennale's 'Room' exhibition is no different.

Taking shape as a large chrome egg, reminiscent of a futuristic space dome adorned with a deep red leather interior, Novembre presented his interpretation of a bedroom. When asking the maverick where the concept of the egg arrived from, he replies: 'Well the egg is our first bedroom, we stay there for nine months, for me it was obvious'.

From there, we're immersed in Novembre's vivid imagination. The design remains somewhat simplistic, the interiors without any furniture; just an immersive space, with two gold sculptures guarding it. 'This is my tribute to Alejandro Jodorowsky, it almost looks like his movie The Holy Mountain with the two women at the beginning,' he explains. However, he leaves his own conceptions open to interpretation. 'At the opening people were like, "But Fabio, they are your two daughters protecting you!" This makes sense to me too, they are the two important women in my life who can get into my head. So you could say its Jodorowsky and my daughters.'

For the installation, Novembre collaborated with furniture manufacturer Natuzzi, which takes pride in its experimental artist collaborations. Talking to Pasquale Junior Natuzzi, communication director and deputy creative director of the company, he told us about the project being totally out of their intricate craftsmanship comfort zone; 'it was like doing the interiors of the car instead of a sofa', he puts it.

Carefully mastering the leather upholstery with five people, and the rest with ten, working around the clock on the polyurethane and chrome shape, he says 'its a tailoring exercise, like doing a bespoke suit on someone's body'. In our eyes, it was an intriguing depiction of Novembre's consciousness.

We get further into the mindset of Novembre on entering the mouth shaped doorway, to a mixed soundtrack – phrases from Fellini's 8 1/2 and Design explained to my mother, a book he wrote a few years ago – 'so its like entering inside my head'.

When presenting our 'futuristic space dome' interpretation to Novembre, he replies, 'Its testifying my own time, not about the past or future, visualising the life we are doing now. This should be the task of every designer. I don't want to imagine how life will be in 3000. It is about how life is now through your own eyes, dreamful and imaginative.' We're left wondering what ideas will spring from Novembre's prolific mind next....
INFORMATION
'Intro' is on view at 'Rooms' at La Triennale till 12 September. For more information, visit the Triennale's website
ADDRESS
Viale Emilio Alemagna 6
Milano 20121