The return of a classic: Erik Jørgensen re-makes Arne Vodder's 'AV Chair'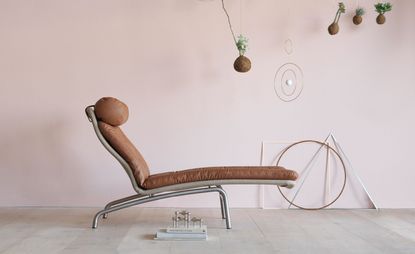 (Image credit: TBC)
Danish furniture company Erik Jørgensen has collaborated with the family of renowned architect and furniture designer Arne Vodder on a remake of his popular design, the 'AV Chair'.

Attention to detail, modest expression and a fondness for natural materials characterise Vodder's work. The designer is considered one of the greatest Danish creative practitioners of the 19th century, but is little-known in comparison to contemporaries such as Børge Mogensen and Arne Jacobsen.

The first item to be designed by Vodder with a full metal frame in matt steel and cast in the synthetic material 'ironside', the prototype for the chaise longue chair was presented during Copenhagen's annual furniture fair in 1972.

The designer had always shown an interest in organic and natural forms, and this is often portrayed by his passion for creating something beautiful to look at as well as comfortable to sit on.

Erik Jørgensen revamps Vodder's model using soft and luxurious leather, ensuring that the high quality is maintained and making sure that the item doesn't look mass-produced. In this way, the buyer is able to see the craftsmanship behind it, an important element the designer cared about.

As Vodder's original model was designed to merge his passion for detail and purpose, the new model's frame aims at enhancing the shape of the chair, which follows the natural contours of the body.
INFORMATION
Prices from €3,553 (excluding VAT). For more information, visit the Erik Jørgensen website (opens in new tab)