Dubai Design Week 2021 champions local creativity and visions of the future
Dubai Design Week 2021 highlights – here's our pick of where to go and what to see (8 –13 November 2021)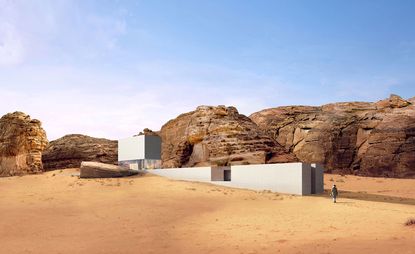 (Image credit: press)
There's a cultural moment heating up in the Gulf. Fashion house Valentino recently ventured east to take part in cultural exchange Qatar Creates in Doha, where new cultural hub M7 just landed, and a Virgil Abloh retrospective has launched at Qatar Museums. Meanwhile in Dubai, Dior celebrated the opening of a new boutique right on Jumeirah beach, and let's not forget the postponed Expo 2020 Dubai that will continue to draw in an international audience until spring next year. The start of Dubai Design Week should now take things to sizzling point.
So what does Dubai Design Week bring? Now in its seventh year, there is a steer to make the programme appealing for all. 'Dubai Design Week is a free-to-attend event and we ensure that there are activities for all levels of experiences, skills and ages,' says director of Dubai Design Week, Mette Degn-Christensen. With plenty of initiatives supporting local communities, addressing the constant architectural evolution of the city, and promoting the next generation, there's an underpinning aim to give creatives from the Persian Gulf a global stage in what Degn-Christensen calls the 'creative capital of the region'.
Dubai Design Week highlights
The Beirut Concept Store
Last year saw a tough moment for the Beirut creative scene, with the August 2020 explosion taking down many studios and spaces in the city. Following this, support poured in from the industry, and it hasn't stopped. For Dubai Design Week, 50 established and emerging Lebanese creatives get a moment in the spotlight at The Beirut Concept Store in Dubai Design District (D3). Curated by Mariana Wehbe, The Beirut Concept Store will showcase a wide range of creative fields, including ceramics to collectible design. Included are works by Borgi Bastormagi, Atelier Nadeen, Nathalie Khayat, Souraya Haddad, and Marylynn and Carlo Massoud, plus works from new creative platform Exil Collective that aims to promote budget-conscious designs that are made locally.
'Nature in Motion' Abwab by Ahmed El-Sharabassy
Abwab (translating as 'door') is an annual feature of Dubai Design Week that supports talent from the MENASA region, and features pavilions that respond to themes such as human senses and socio-political barriers. Fittingly for this pandemic recovery year, the inspiration for Abwab is regenerative architecture and restorative design. For this, Dubai-based Egyptian architect Ahmed El-Sharabassy's winning installation alludes to the local ecosystem: the desert's constant motion and the city's transforming architectural landscape. Under the lightweight canopy that is made using recyclable, sustainable materials, the public can gather and enjoy an exhibition that also engages with the topic of regenerative architecture.
Global Grad Show and MENA Grad Show
Innovation and the power of design thinking often come from bright young talents, and each year Global Grad Show highlights this. For 2020, a spin-off concept, MENA Grad Show, was launched for locally curated projects from the Middle East and North Africa. While Global Grad Show 2021 features its products digitally from over 470 institutions, MENA has a physical display – 'We are always looking to generate further awareness of design and creativity as a tool for solutions, and that presents opportunities for UAE-based and regional designers,' says Degn-Christensen of having graduate shows as a pillar of Dubai Design Week. Included in MENA Grad Show's 60 projects is 'Sleeye' by Farzaneh Mangelian & Zahra Ghiasi from Tehran University of Art. Using short-wavelength blue light, the product aims to boost sleep and minimise daytime dysfunction in blind or partially sighted people, and essentially improve life quality.
'Context Reflections' by Anarchitect and Cosentino
Taking centre stage inside the D3, this installation shows the possibilities of Cosentino's first ever carbon-neutral surface, 'Sunlit Days'. Using the warm Dubai glow as a third collaborator, Anarchitect has realised a low-tech edifice that shows the importance of natural light to visitors, who can enter the space and enjoy the optical performance of light play in architecture.
2040: d3 Architecture Exhibition
For a city that is ever changing, how do we predict what Dubai will look like in 20 years? This was the task for five architectural firms in this multimedia showcase. Aligning with The Dubai 2040 Urban Master Plan for a sustainable urban development, these concepts focus on being human-centric, with the practices, Beyrac Architects, Dabbagh Architects, MEAN (Middle East Architecture Network), RMJM Dubai, and Tariq Khayyat Design Partners, responding to four themes: Mobility and Transportation, Public and Recreational Spaces, Accessibility to Infrastructure, and Eco-Tourism.
INFORMATION
Dubai Design Week runs from 8 to 13 Novebmer 2021
dubaidesignweek.ae
ADDRESS
Dubai Design District
Receive our daily digest of inspiration, escapism and design stories from around the world direct to your inbox