Beauty and destruction: Beirut's design community struggles to rebuild in the aftermath of explosions
With dozens of historic buildings and modern high rises in ruin following the Beirut blast of August 4, the Lebanese vow to rebuild what is left of their great city. Find out ways to help below.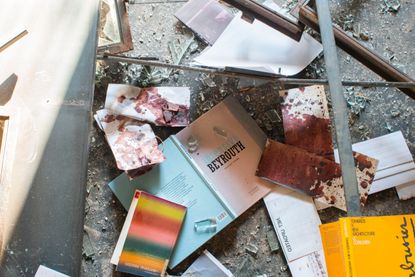 (Image credit: PSLab)
Wallpaper* Newsletter
Receive our daily digest of inspiration, escapism and design stories from around the world direct to your inbox
Thank you for signing up to Wallpaper. You will receive a verification email shortly.
There was a problem. Please refresh the page and try again.
It was the end of a summer's day in Beirut — the sparkling Mediterranean city once referred to as the 'Paris of the Middle East'. While this time of year usually sees Beirutis and foreigners congregating in droves at the beach or having a festive dinner by the sea, the city was now in a two-week lockdown following a surge in Covid-19 cases. Most had just finished work and were inside their homes. The country was already reeling from a state of financial collapse, spikes in unemployment and even power shortages. But then something worse happened. Two massive explosions at the Port of Beirut resulted in a state of apocalyptic destruction that, at the time of publication, left around 220 dead, 400 still missing, 6,000 injured and 300,000 homeless in a matter of 24 hours. The blasts took place in a warehouse at the port after an estimated 2,750 tonnes of ammonium nitrate, which had been stored on site for six years, exploded into gigantic clouds of white and orange smoke.

While the reason the explosive material ignited remains unclear, no sight can parallel the destruction and utter carnage of present-day Beirut. At least 8,000 buildings, mostly located in the historic quarters and pulsating cultural districts of Gemmayzeh and Mar Mikhael, were damaged; according to Unesco, around 60 historic buildings are at risk of collapse. Many of the conversations in this article were interrupted due to the bad connection after the explosion.
'The blasts destroyed the cultural heart of Beirut,' said designer Roula Salamoun, whose office in Hamra was fortunately not as damaged as those in the epicentre. 'We are going through erasure, and that's very dangerous because we already went through it after the civil war [of 1975–90]. If we wipe out museums and institutions, then we wipe out our past and we wipe out our culture, our society and our heritage.'
Beauty has always sat alongside violence in Beirut. It is no stranger to destruction and its urban landscape reflects its wounds. The civil war left the city severely scarred with bullet holes that permeated its historic structures for years. Then in 2006 another Israeli invasion left the city in a state of shock. Rebuilding has become a constant in the Lebanese mind and character. But even as Lebanese and designers courageously move to fix their beloved, many affirm that this time reconstruction must be different.
Rania Abboud is the communication director of PSLab, a design and manufacturing company of site-specific luxury lighting products. Its Beirut headquarters is 500 metres away from the port. The blast left it in shambles, glass flew everywhere coupled with the blood of wounded staff.
'The only building that we might be able to save is the Bauhaus building on our premises. All the rest is gone.', recalls Aboud.

Located in Mar Mikhael, similarly near the port, is the studio and showroom of design duo David/Nicolas, founded in 2011 by David Raffoul and Nicolas Moussallem. 'For the first few days we were not even able to speak about what happened. It was so traumatic,' says Raffoul, a week after the blast left their space in ruins.
Moussallem was just locking the door of the studio when the explosions happened. 'The key broke in half,' he remembers. He and a colleague were immediately blown through the glass and through the wall into the store next door. They quickly ran out of the shop, past the dead and the injured, covered in blood and trying to find refuge. 'At first we thought there was a bomb in our space, but then we walked out and saw that the whole street was destroyed. We walked further and saw that the whole neighborhood was destroyed, and a bit more and we saw finally that the entire city was destroyed.'

Raffoul was in the neighbourhood of Achrafieh, having just finished a gym session. 'Nicolas called me and said, "David, there is no more studio,"' he recalls.
Raffoul rushed back to save their archive, their key to being able to rebuild. The building where their studio is located is a historic structure, and while it can be fixed, the risk of something falling on it and damaging it again is high. While Moussallem and Raffoul aim to repair it, they are presently planning to invest more in their Milan space.

'We are not able to fathom the damage,' says designer Nada Debs, whose boutique and studio in Gemmayze were completely destroyed. 'If you saw this in a movie, you would say it was too much and that it looked artificial, and that you would have to reduce the impact!'
Debs, like many architects and designers in Beirut, is eager to rebuild and stay in her beloved city, but not without a change. 'All around us are these old beautiful homes with older people living in them, now completely destroyed, and that is heartbreaking,' adds Debs, as she was walking to the protest that took place the Saturday after the explosion. 'Most of the creative industry, all located in Gemmayze and Mar Mikhael, has been hit. Me and my team organised ourselves very quickly and now we are ready to help others. This is the way forward – we all need to support each other.'

Located on Rue Verdun, one of the most prestigious streets in Beirut's downtown, the flagship store of leading carpet purveyor Iwan Maktabi was badly damaged. The brand's antique carpets date back to the early 20th century in Isfahan, Iran, while their contemporary carpets feature designs from prominent brands including Jan Kath and CC-Tapis. There's now a white piece of fabric hanging from the one of the windows, with English and Arabic writing declaring: 'We are staying.'
'We have always been resilient enough to be able to keep rebuilding, but now I am offended when people call us Lebanese resilient,' said Mohamed Maktabi, the company's general manager. 'The phoenix rising from the ashes — that's what we always have been, but this time is different. I don't want to build again — I have been building all of my life! I want to have the choice to die of natural causes and not like this!' But they, like many Beirutis, have vowed to rebuild, while knowing there is, as Maktabi says, 'a high chance of it being destroyed again.'
RELATED STORY
The destruction also reached the Al-Amin Mosque, a Sunni-Muslim mosque in downtown known for its blue dome and minarets, completed in 2008. Inside, the Ottoman-inspired decorations of Nabil Dada, one of the city's most celebrated architects, were damaged. The walls were originally adorned with vibrantly coloured and patterned tiles, which Dada had spent two days sourcing in Iznik, Turkey, a town famous for its tile-making traditions that date back hundreds of years.

Dada says the damage inflicted on the city actually could have been much worse. 'If it weren't for the grain silo building [built by Palestinian banker Yusuf Beidas in 1968, it took the brunt of the explosions' impact], we would have lost even more,' explains Dada on the phone from Beirut. 'Buildings facing the port lost their entire façade. The colour of the cloud from the explosion was this orange that we had never seen before.' Dada and his team are now in the process of cleaning the debris from their damaged office.
Even as architects and designers courageously work to reconstruct their homes and workspaces, many don't have the means to rebuild as before. Lebanon's financial collapse has left most in a state of constant uncertainty.
'I don't have the means to rebuild my [showroom and] office like it used to be,' says furniture and jewellery designer Karen Chekerdjian. 'I invested everything I have done over 15 years into it.'

For the first ten days after the blast Chekerdjian decided to shutter her business. But then she changed her mind. 'I can transform it into something else – a storage and a studio, but not a showroom anymore. I can't shut it easily and need to find a way to fix it, but I don't know how I will manage to rebuild because it's very expensive.'
She will continue to produce her jewellery locally, but now focus entirely on international sales. 'This is the reverse of what I have done before,' she said. 'My business used to rely on 80 per cent of sales from Lebanon and 20 from outside. I have to reverse it now, otherwise I cannot survive.'

Entrepreneur and philanthropist Cherine Magrabi runs House of Today, a non-profit platform supporting emerging Lebanese designers. She was in France when the explosion hit, and quickly mobilised to help struggling Lebanese creatives. 'This explosion shattered their dreams, their future,' she says. 'We need to raise awareness locally and abroad.'

House of Today is now helping designers to refurbish their studios, to get them back up and running as soon as possible. Those in need can fill out an application on its website. In the meantime, Magrabi is also raising money to provide opportunities for Lebanese students to pursue design studies abroad, and for designers to enroll in overseas residency programs.
Even before the explosions rocked Beirut, the Lebanese economy was in a state of free fall. All sectors were affected. 'The jewellery industry was already at risk of disappearing,' says jewellery designer Gaelle Khouri. 'Local demand for luxury products was already severely dampened in light of the capital controls imposed by Lebanese banks and the steep reduction in people's purchasing power.' Craftspeople, such as the Armenians who came to Lebanon for a better life, are now fleeing back to their home countries or to finding refuge elsewhere in the world, she notes.

Khouri's studio and apartment in Mar Mikhael are completely damaged. 'The waiters in the coffee shop around the corner are both dead,' she laments.
The creative community, says Khouri, will rise again, just as Beirut will rise again. 'As designers what we must do now is channel this trauma into our creativity,' she tells me over the phone. To this end she has created a ring titled 'I have a Dream', reflective of Lebanon's endurance over the last four decades. It is entirely handmade in Lebanon by local craftspeople impacted by the 4 August explosions, and has been donated to the Auverture Raffle for Beirut, to raise funds for the Lebanese Red Cross and Lebanese Food Bank. It shows a hand, mutilated yet clutching a blossoming flower. 'It embodies the eventual re-birth of Lebanon, driven by the fortitude and resilience of its exceptional people,' Khouri describes. 'Lebanese citizens have always faced challenges head-on and learned to grow and adapt in the face of disturbing tragedies. Thanks to their strong aspiration for the beauty of life, Lebanon is today on its way to a revolution.'
---
The people of Beirut are in urgent need of international support following the devastating explosions of 4 August. Please give generously to the following organisations if you can:
House of Today and Super Fund by environmental foundation Slow Factory are helping local designers restore their damaged studios

The Lebanon Solidarity Fund at the Arab Fund for Arts and Culture are supporting institutions and individuals in Beirut's arts and culture sector

The Lebanese Red Cross has launched a Beirut Emergency Appeal to save lives

Impact Lebanon is distributing funds to local NGOs in priority sectors: healthcare, food, shelter

The Emergency Lebanon Appeal by Alfanar supports hunger relief, debris clean-up and reconstruction, and social enterprises

Bebw'shebbek, a local initiative led by Mariana Wehbe and Nancy Gabriel, is helping to rebuild doors and windows of the 80,000 destroyed homes due to the explosions
INFORMATION
Roula Salamoun, roulasalamoun.com, @roula.salamoun
PS Lab, pslab.net, @pslab
David/Nicolas, davidandnicolas.com, @davidandnicolas
Nada Debs, nadadebs.com, @studionadadebs
Iwan Maktabi, iwanmaktabi.com, @iwanmaktabiofficial
Nabil Dada, dada-associates.com, @nabildada.interiorarchitects
Karen Chekerdjian, karenchekerdjian.com, @karenchekerdjianstudio
House of Today, houseoftoday.com, @houseoftoday
Gaelle Khouri, gaellekhouri.com, @gaellekhourijewellery
Receive our daily digest of inspiration, escapism and design stories from around the world direct to your inbox