Domus transforms a baroque palazzo into an experimental design laboratory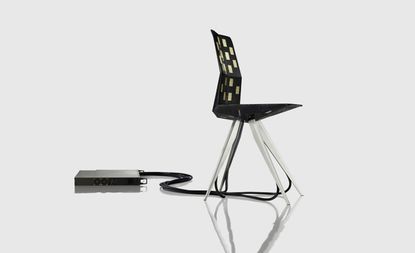 (Image credit: press)
Wallpaper* Newsletter
Receive our daily digest of inspiration, escapism and design stories from around the world direct to your inbox
Thank you for signing up to Wallpaper. You will receive a verification email shortly.
There was a problem. Please refresh the page and try again.
You could hardly miss the posters plastered all over Milan at this year's Salone del Mobile for Domus magazine's 'Future in the Making' exhibition. During the fair, Italy's foremost design and architecture magazine transformed the baroque Palazzo Clerici in the town centre into a 'transient laboratory of advanced experimentation and production'.

The curator Joseph Grima is Domus' newest editor-in-chief and this show is a reflection of his agenda to raise the level of discourse regarding 'the revolution that is radically changing the face of design'. New economic models, crowdfunding, microlaboratories, accessible technology and design, and above all sharing are all powering this 'glocal' phenomenon.

One of the main highlights of the show was a stress-test lab for the R18 Ultra Chair by designers Reed Kram and Clemens Weisshaar, who have been collaborating with car manufacturer Audi's ultra lightweight technology department. Visitors were asked to act as participants in data collection for the chair, constructed from high strength aluminium alloy, carbon fibre and a new carbon rubber compound, by sitting on it. The aim being: to implement the optimum materials for each component in a chair design with the high tech precision of a racing car.

Elsewhere in the exhibition, the emphasis was on projects that integrated sophisticated technology with a kind of garden shed ingenuity. It showed projects sharing high technology with the world via the web, allowing access to designs and low-cost hardware so DIY buffs from Chile to Adelaide can take up the design baton.

Thus a 14 year old boy in Chile, Sebastián Alegría, came up with an effective and cheap earthquake advanced warning system that works via Twitter based on a piece of open-source hardware called an Arduino. German designer Markus Keyser showed his SolarSinter machine that can generate objects and vessels out of desert sand using solar energy. And the old Dutch design masters Droog introduced an interesting concept for an alternative furniture fair that was based on a new economic model that would tax materials and waste rather than income.

As often happens with exhibitions that seek to document today's phenomena, it is hard to transmit the neatness or ingenuity of some of these conceptual and multimedia projects in a succinct way to a visually obsessed public with a short attention span, so much of the explanatory information required further research on the part of the visitor via the net and articles in the magazine. Nevertheless this was an important and most necessary contribution to the world's largest design fair that is still primarily driven by the blinkered and breakneck cycle of compulsive consumption.

We caught up with Domus editor and exhibition curator Joseph Grima to find out the aim of the show and what he hopes will be its legacy...

You worked for three years at the Storefront for Art and Architecture gallery in New York before being made Editor of Domus a year ago and now you are curating an exhibition here in Milan. Was the medium of the exhibition something you wanted to bring to Domus?
To some extent yes. I worked as an editor at Domus before, so took a lot of my editorial experience into running a gallery and now I am bringing the event-making experience back to the magazine. It is a way of giving a physical dimension to the making of a magazine. It's almost like making an article in 3D.

Do you see this as part of the need for publishing in general to move into different formats and disciplines?
Absolutely. We are living in an experience economy, which is more than simply reading words on paper, it's about creating a platform, a deep environment and a community. I think that's what Domus has always been: a nexus and focal point for a global community - connecting disciplines and exploring avant gardes. And the way you do that today is very different from how it was done 30 years ago.

What inspired the exhibition?
Last year we noticed an interest in open source as a model for the economy of design. We published a manifesto for open source architecture and it became quite a powerful statement. So we began to identify with this idea and decided to try and bring together a group of people who are working on this theme.

How would you describe the core ideas behind your exhibition?
The exhibition is an attempt to explore one of the emergent themes in design from architecture to urbanism, product design and so on. It is about collaborative rather than competitive practice. It is about sharing ideas and how new communication platforms have transformed the way we think about the design process. Above all it is about looking beyond the aesthetic appearance of the object as a measure of its value to the way it is made and the processes behind it - and the involvement of the user in the design process. It is about trying to take a snapshot of the profoundly altered relationships in the traditional triangle of manufacturer-designer-consumer. We are looking at how this top-down hierarchy is being replaced by a much more bottom-up idea of working with the end users rather than just pushing products at them.

What kind of messages do you hope to get across?
We are recognising the increasing importance of the maker movement as something that can't be ignored by the design community any longer. In the past people of tended to look down their noses at this rather informal group. We are trying to create a bridge between that and the top down, elitist design establishment that Milan represents. We wanted to officially bring the fablab world into the Salone.

Our second aim was to conduct an experiment. This baroque palace interior represents a time when architecture was more symbolic than anything else. Its formality is a complete removal from the world of production and hands-on artisans. It is anything but a workshop: If you can make furniture here you can make it anywhere.

So are you being rather revolutionary by turning a palace into a factory?
Yes, we are trying to be subversive but without actually burning the house down.

Some of these new design experiments and concepts are pretty hard to grasp. Is actually communicating the relevance of these projects the hardest part of a show like this - especially in such a visually dominated society as ours?
I think we need to work on multiple platforms. There are articles in this months issue of the magazine and we have a lot on the website as well as the exhibition. So we are trying to give ourselves an agenda and therefore attacking the problem from multiple angles. So much money is spent at the Salone. You can use that money for 'fireworks' and canapés, or you can use it to try and bring people together. Part of the function here is to round up a specific group of people that we have identified over several months of research and actually stick them in a building together and just see what happens. I think a lot of new collaborations can be born from this exhibition that could help move the whole discourse forwards.
Receive our daily digest of inspiration, escapism and design stories from around the world direct to your inbox