Cutting edge: Fredrikson Stallard to launch bespoke Swarovski crystal collection at LDF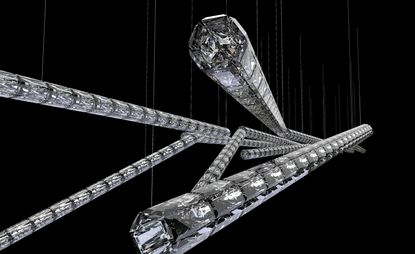 (Image credit: Fredrikson Stallard)
Crystal giant Swarovski is throwing open the doors of its glistening workshop for a special collaboration. Ahead of this year's London Design Festival, it has invited design duo Fredrikson Stallard into the guts of its production process to create bespoke crystal components – from scratch.

With a creative partnership spanning more than 10 years, its only natural that the Austrian brand would choose the experimental duo for this extraordinary project. Entitled 'Glaciarium', the collection consists of chandelier components, four chandeliers – 'Avalon', 'Helios', 'Superline' and 'Voltaire' – alongside pieces for Atelier Swarovski, the brand's home acessories label, which debuted at Salone Del Mobile earlier this year.

From the process of melting the raw materials in the kiln through to carving, the pair immersed themselves in the heart of the Swarovski factory world. 'The whole oven becomes lined with a sea of solidified crystals, which the workers have to remove from the walls by hand,' say Patrik Fredrikson and Ian Stallard, adding, 'the bits they chisel out are just rocks, but the surfaces are really beautiful, because the crystal is behaving in the way it wants to behave.'

The collection resonates with the duo's idiosyncratic style – a deft mix of the raw and refined – from the showering dome of rough crystals in 'Avalon' to the symmetrical line-up of exposed shimmering forms in 'Helios' and 'Superline'.

This same bare sensitivity is also imbued in the Atelier collection. Featuring abstract shapes in each contour, the ornaments' curves and sweeps are unnatural yet exquisite at the same time.

'Glaciarium crystals are the result of decisive intervention, one that helps rigid materiality sing its unique melody,' explains Museum of Arts and Design director Dr Glenn Adamson, who draws similarities between the duo's practice and that of American sculptor Scott Burton. He says, 'Like Burton, Fredrikson Stallard do not transform or rearrange matter into something unrecognisable, but reveal its inherent character.'

Fredrikson Stallard will open up their studio to the public on Thursday 22 September, where design pilgrims will be able to see the 'Glaciarium' collection in the flesh. Meanwhile, its unique crystal components will be available for other designers to play with thereafter, courtesy of Swarovski Professional distributors.
INFORMATION
'Glaciarium' will be on view at the Fredrikson Stallard studio on 22 September, from 10am-6pm. For more information, visit the Atelier Swarovski website (opens in new tab)
ADDRESS
10a Warner Street
EC1R 5HA