Experimental eating: cutting-edge cutlery at Antwerp's Valerie Traan gallery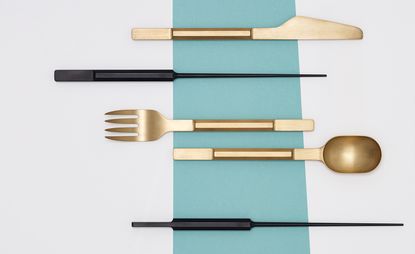 (Image credit: Frederik Vercruysse)
The collected forms of cutlery are among human history's most essential tools. This idea manifests itself as an experimental topic for selected designers and artists presenting their flatware projects at the Antwerp-based gallery Valerie Traan.

Cutlery, with its distinctive sculptural sensibility, has always attracted designers. Even Bruno Munari, one of the greatest thinkers of modern design, dedicated one chapter of his book Design as Art to the philosophy, form and function of cutlery. Now, an international crowd of designers and artists, including David Bernstein, Octave Vandeweghe, Maarten Baas, Unfold, Koichi Futatsumata, Studio Wieki Somers and Muller Van Severen have given new life, new beauty and even new meaning to these simple extensions of our limbs.

The artists' varying creative philosophies resulted in several unique and unexpected objects: designer Maarten Baas presents sketchy, almost childlike cutlery in his typical contemporary style; while Koichi Futatsumata was inspired by shape of his favourite technical pen for the grip of his cutlery, rendered in the shape of hexagon. Both projects are the first works realised for the valerie_objects 'To eat with' cutlery collection.

More artistic approaches are seen in the work of the Maastricht-based American David Bernstein and the Belgian Octave Vandeweghe. While Bernstein connects cutlery to stories and uses myriad spatulas as starting points for his performance-based pieces, Vandeweghe uses precious gemstones to create facet-shaped tools resembling prehistorical objects or natural wonders. 'The combination of a gemstone with facets, a knife and cutlery combines notions like beauty and function,' he says. 'Beauty becomes function, and function becomes beauty.'

'When I approached the designers I knew that they would each use their expertise, background and knowledge to come up with a completely divergent range of results. But whatever stage they were at, they all succeeded in delivering a surprise,' says curator Veerle Wenes about the project, which will be also on show at Il Lazzaretto during next month's Salone del Mobile.
INFORMATION
'Objects & Subjects' is on view until 2 April. For more information, visit the Valerie Traan gallery's website (opens in new tab)
ADDRESS
Valerie Traan
Reyndersstraat 12
2000 Antwerp
VIEW GOOGLE MAPS (opens in new tab)