Counter revolution: Tom Dixon brings the heat to IDS Vancouver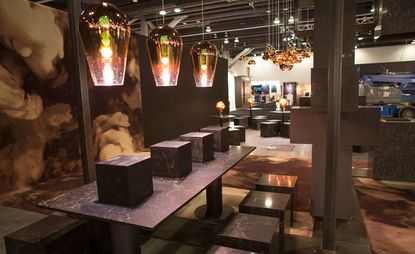 (Image credit: Caesarstone)
Vancouver's Interior Design Show (IDS) is the perfect setting for the big North American reveal of Tom Dixon's 'Fire Kitchen'. One of a set of interiors created in collaboration with Caesarstone called 'the Restaurant' – inspired by the four elements – that debuted at Milan's Salone del Mobile this summer, it takes centre stage in the sprawling Vancouver Convention Center. Across the way sits its sister display of the 'Ice Kitchen' that debuted at the IDS Toronto in January.

As a beleaguered but still buoyant Dixon, just arrived from Tel Aviv, shouts design details over an enthusiastic cover band rehearsing their version of Psycho Killer, he pauses briefly to sing along. The former musician does not miss a beat, noting that the singer is a little flat.

But his pitch-perfect design here does not fall short. The 'Fire Kitchen' is pure theatre. In fact, it's culinary theatre in the round. 'It's about the cook and the eater,' says Dixon. 'Everyone wants to be invited into the experience – so there is no front or back.'

Indeed, the ensemble of quartz tables and cooking stations reveals its American BBQ inspiration as design writers descend, devouring tandoori chicken skewers and quaffing Cava under warm, lava-lamp inspired lighting. This is more than merely a kitchen – it is both installation and gathering space.

Working with Caesarstone quartz, says Dixon, 'became interesting when I stopped thinking of it as marble. Unlike stone it has different qualities.' Advantages included a more seamless bonding process as well as 'laying panel vertically and cutting into it – which you couldn't do with natural marble'.

In this kitchen, Dixon exploits both the sculptural quality and sophisticated finish of the quartz, as well as revealing its materiality and structural gravitas, while luminous red-tinged lighting brings out its inner fire.
INFORMATION
IDS West ran from 22–25 September. For more information, visit the IDS West website (opens in new tab)
Photography courtesy Caesarstone