Crystal set: Swarovski broadcasts 120 years of brilliance with a Kristallwelten revamp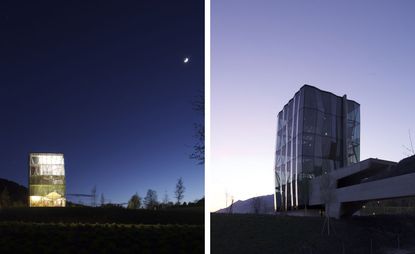 (Image credit: TBC)
Swarovski (opens in new tab) has unveiled a series of innovative new buildings and exhibits as part of a major expansion of its Kristallwelten (opens in new tab) ('Crystal World') in the picturesque village of Wattens, Austria, where the family-owned brand was established 120 years ago.

The revamped 7.5-hectare complex dedicated to all things crystal reflects the company's close collaboration over the past two decades with leading designers, ranging from John Pawson, Tom Dixon and Zaha Hadid to Naoto Fukasawa, Arik Levy and Ross Lovegrove.

The most striking new addition to the alpine setting is an intriguing multi-faceted, vertical tower with a glass façade designed by Oslo-based architecture firm Snøhetta (opens in new tab). Inside is a series of play zones, with an enormous trampoline and a vertigo-inducing, 14-metre-high climbing net arranged over four floors. Meanwhile, 360-degree windows turn the space into what feels like an air playground, surrounded by snow-capped mountains.

Snøhetta was also commissioned to create a new café and restaurant at the entrance to the complex. Their organic, low-slung pod of curvaceous concrete offers views over a contemporary landscaped garden, which features a custom-designed, 1,400-square-metre 'Crystal Cloud' installation by French and Vietnamese artists Andy Cao and Xavier Perrot. The silvery-grey clouds, "floating" above a mirrored pool, were hand-decorated with over 800,000 crystals in three different sizes.

Nearby, a bulging, mossy hillside sporting the unlikely visage of a smiling giant that doubles as a waterfall marks the entrance to Swarovski's newly expanded museum building. Among the five new creative exhibits is a standout new work by British creative duo Fredrikson Stallard. 'Eden' is a multi-sensory forest of simple brass structures and crystal sculptures symbolising exotic wildlife behind a digital waterfall. South Korean artist Lee Bull also plays with notions of modern utopian landscapes with 'Into Lattice Sun', building an elevated bridge that visitors use to traverse the artist's abstract crystalline world of sculptures. Elsewhere, the Studio Job 'Wunderkammer' playfully embraces pastiche, with a fairground-inspired spatial experience that alludes to the chaos of modern society, using a cabinet of curiosities as a starting point.
ADDRESS
Kristallweltenstraße 1
6112 Wattens
Austria
VIEW GOOGLE MAPS (opens in new tab)