Contemporary Canadian design celebrated in virtual exhibition
Canadian Creators Collective unveils 'Fictions' (22-30 April 2021), an immersive virtual experience showcasing new works by eight Canadian designers and curated by Nicolas Bellavance-Lecompte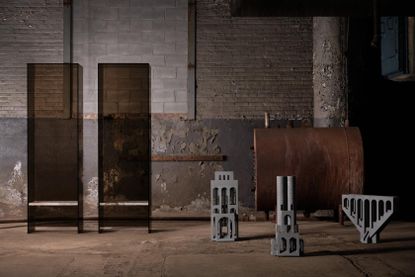 (Image credit: Alex Lesage)
'All cities that have suffered from political pressure become creative in a way,' says Nicolas Bellavance-Lecompte, the Milan-based curator, gallerist and founder of roving design fair Nomad, whose latest project is 'Fictions', a survey of the contemporary Canadian design scene of his hometown, Montreal. 'Montreal has always had a design culture, but there is no outlet for our designers to promote their work. My intention is to show what Canadian designers can do on a global scale,' he says. Originally planned for Milan Design Week 2020, the exhibition is being presented through an immersive virtual viewing experience from 22-30 April 2021.

Once Canada's largest city, staunchly bilingual Montreal boomed throughout most of the 19th and 20th centuries, but tensions between franco- and anglophone populations culminated in a secessionist referendum in 1995. Quebec voted to remain, but the bitter campaigning and its aftermath led to an exodus of business. The towering grain silos of the city's Old Port, immortalised by Le Corbusier as 'the magnificent first fruits of the new age', now stand empty, alongside the once bustling Lachine Canal.
Fictions curated by Nicolas Bellavance-Lecompte: Canadian design takes the spotlight
During its leaner years, artists from across Canada flocked to the city for cheap rents within the newly vacated industrial infrastructure, and Montreal soon became known as the country's creative epicentre. The city is not totally francophone, but it's certainly not anglophone, which leaves space for individuality and a certain edge. Canada as a whole may have a reputation for cheery earnestness, but Montreal 'has a certain darkness, an element of introspection', says Bellavance-Lecompte.
This rings true for the participants of 'Fictions'. 'Montreal has two languages and two realities,' notes Pascale Girardin, chatting in her studio among a forest of looming ceramic (opens in new tab) totems, stacked vessels coil-built from tinted Ontario clay, which she glazes in inky black. 'Because of this mix, we become very hybrid in our practices and in our way of seeing things,' says Girardin, a Quebecoise who first trained as a scientist, then a painter.
'I chose designers who could express a story about themselves and the way they work,' says Bellavance-Lecompte, who has brought together fine artists, designers, lighting specialists and woodworkers. One of them is French-born carpenter Loïc Bard. His rigorously detailed 'Bone' cabinets, ghostly apparitions in Canadian-sourced maple and limestone, are inspired by the articulations of the human body, and were first CNC-milled, then bleached and finished by hand.
Orbiting the boundaries of fine art are Yannick Pouliot and David Umemoto. Guided by his baroque sensibilities, Pouliot explodes and extrudes historic furniture (opens in new tab), creating a centipede-like series of Louis XVI chairs. Meanwhile, Umemoto's Escher-like concrete models are cast in a single step without producing a negative. A former architect, Umemoto first models the sculpture digitally, then builds the mould with painstaking precision. The series is imbued with pseudo-religious connotations: a chalice, a lantern, an incense diffuser.
Lighting designer Samuel Lambert and his team at Lambert & Fils developed 'Paravent', an undulating room divider built from stacked aluminium extrusions. Inspired by gridded ceramic waste filters used in manufacturing, they were fascinated by how the material caught and extinguished light.
RELATED STORY
The Lambert & Fils team work in a succession of airy rooms on Rue Hutchison, buffered by a curving railroad track. The former factory once produced clothing and then enjoyed a post-industrial life hosting underground raves, where many of the designers, some of whom have known each other for decades, once congregated. In 2015, it was turned into studios and given a shiny new look by another participant of 'Fictions', Zébulon Perron.
Better known for his buzzy downtown restaurants, interior designer Perron found inspiration for his 'Spineless' chair in more bucolic settings. A pilgrimage to Veneto to witness Carlo Scarpa's architectural legacy introduced the native Montrealer to the possibilities of Italian craft. His walnut wood, steel and brass chair, which cleaves down the middle like it is being unzipped, takes its cues from Scarpa's intricate joinery.
Also neighbours in the building are Guillaume Sasseville and Claste. Sasseville, a product designer and lecturer at the UQAM design faculty, investigated the application of industrial-scale recycled plastics. Using rotational moulding techniques, he created a series of monolithic furniture, its forms determined by simple cuts. Claste, made up of Quinlan Osborne, Martin Poitras and Philip Hazan, works almost exclusively in glass and stone. Its project resembles two identical thrones in marble and bronzed glass. The stone seat sits suspended within the glass casing, seemingly weightless.
The transformation of the Rue Hutchison building and its inhabitants may be too tidy a metaphor for the trajectory of Montreal, but it's true that economic wheels are quietly whirring again. Newfound optimism has spurred on local designers to take their place on the international stage. In 2018, non-profit group the Canadian Creators Collective – co-founded by participants Claste, Lambert & Fils and Zébulon Perron – was created as a focus for that effort, helped in part by the local government, whose generous arts grants are another reason for the city's prolific art scene. 'We don't say, "Let's try to produce Canadian design", but we do want to be aware of it,' says Claste's Quinlan Osborne. 'Let's start to catalogue it; let's communicate with each other and figure out what differentiates us from the rest of the world.'
INFORMATION
Until 30 April. cccollective.org/fictions (opens in new tab)
Laura May Todd is a Canadian-born, Milan-based journalist covering design, architecture and style. In addition to the Italian dispatches she writes for Wallpaper*, she regularly contributes to a range of international publications, including T: The New York Times Style Magazine, Architectural Digest, Elle Decor, Azure and Sight Unseen. Prior to her work as a journalist, she was assistant editor at London-based publishing house Phaidon Press.
With contributions from