Bolon installation by Jean Nouvel: a Q&A with the architect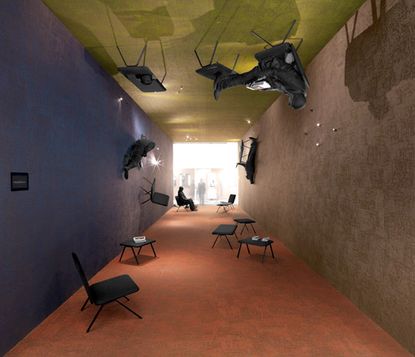 (Image credit: press)
In a spectacular installation that challenged gravity, as well the traditional ideas of flooring, Jean Nouvel reinterpreted Bolon's new Create collection at the Stockholm Furniture Fair. We caught up with the French architect and Bolon's directors, Marie and Annica Eklund, to find out more.

How did the collaboration between Bolon and Jean Nouvel come about?
Bolon: We always like to show our material in an artistic way and to challenge ourselves. To us it's important to see Bolon's material with new eyes and think outside the box. Jean Nouvel is a creative force in both design and architecture and has seen potential in our flooring for some time so it was an obvious choice for us.

Jean Nouvel: I used Bolon for the Musée du Quai Branly in Paris, so have known and respected Bolon for a long time. To put carpet down there would have been a disaster, but I still wanted a material that was kind, hardwearing and tactile. It was also important to me that the material was something that was impressive when looked at from afar, but still interesting when up close. Bolon ticked all these criteria for me then so I began a relationship with the company.

What inspired the installation at the Stockholm Furniture Fair?
JN: My idea was to use the Bolon material as not just flooring but to create a Bolon universe, exclusively a universe of floors: no ceiling, no walls... just floors. Equally I thought it was important to incorporate people in the installation, to see them react to it, lie on it, touch it and so on. At first I was going to use regular mannequins but following on from Xavier Veilhan's sculpture of me in Versailles in 2009, I decided to make four copies and use them. I thought it was very funny having four flies like this. As an architect you have to take the opportunity for a bit of humour when you can, as designing buildings can feel like quite a serious business.

How has Nouvel's installation inspired the future of Bolon?
Bolon: Today Bolon is a 100% flooring company, but with this installation the idea of blurring the edges between floor, ceiling and walls was born. Who knows where the future of the material lies? Perhaps we could even cover the façade of a building?
Receive our daily digest of inspiration, escapism and design stories from around the world direct to your inbox