Beazley Designs of the Year is a blueprint for our turbulent year
Curated by Emily King, the Beazley Designs of the Year exhibition captures how design has responded to social justice, climate change and Coronavirus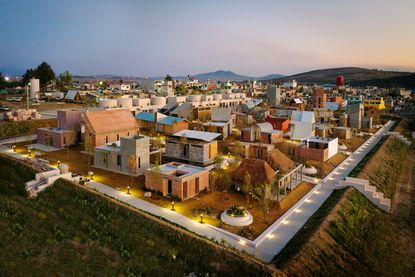 (Image credit: press)
Wallpaper* Newsletter
Receive our daily digest of inspiration, escapism and design stories from around the world direct to your inbox
Thank you for signing up to Wallpaper. You will receive a verification email shortly.
There was a problem. Please refresh the page and try again.
For most of us, 2019 feels like a bit of a faded memory, but inside the Beazley Designs of the Year exhibition at Design Museum London, it all comes rushing back. Announced today, the shortlist captures all of the peaks and troughs of those 12 months, and unravels as the poignant rollercoaster it has been.
This year's exhibition was curated by Emily King, who described the showcase as a 'portrait of the year through design,' referencing the social justice themes throughout. Taking centre stage in the exhibition is the stab-proof vest that was worn by Stormzy, and designed by Banksy. This was a powerful symbol that addressed structural racism in a visceral way at Glastonbury, where the musician was the first Black British artist to headline the Pyramid stage. Next to this on display is the non-conforming typeface and graphic design of Kiss My Genders, an exhibition at Hayward Gallery that explored artists that engage with identity politics.
'This is not a show that you just have to look at, it needs words,' King comments on the mass of descriptions, demonstrations and taglines posted throughout the show. Examples of this flow through the past year's efforts in bouldering towards a more circular future – projects like Indus, a wall that cleans wastewater, a brick made from 90 per cent recycled construction and demolition waste, and a reusable swap were given recognition.
Looking to the optimistic power of design are projects like energy efficient social housing Goldsmith Street Norwich, the rapidly built Leishenshan Hospital that was created in response to Coronavirus in Wuhan, and a Self-Sanitising Door Handle by Sum Ming Wong and Kin Pong Li. Healthcare is certainly a theme throughout too, and included is Luke Hale's 3D printed Biomimetic Neck Collar, and accessible Judy emergency kits. Injustices in the medical field are also acknowledged with Women and Heart Disease: Physician Bias and AI – a set of simple illustrations that highlight the lack of diagnosis women receive.
Many social media sensations made the list too with Atlanta-based Jalaiah Harmon's dance challenge on TikTok (which you can practice inside the exhibition) and Central St Martin's graduate Fredrik Tjærandsen's balloon dresses that flooded Instagram. Meanwhile, The Sari Series, a non-profit digital anthology of 80 films of ways to drape a sari by Border&Fall showed a great example of an initiative that kept people busy over lockdown.

The showcase is organised chronologically, reading like a blueprint of 2019-2020 with page numbers and a blue and white identity throughout. This visual narrative was created by London-based studio design kollektiv, who built scaffolding to hold up the displays – many of these in 3 metre billboard-style boards, spelling 12 months of chaos and hope.
Like a book, the exhibition ends with a clear written 'Conclusion' that 'there are concrete ways to build a healthier, kinder and more equal world.' While the show climaxes in January 2020, you can't help but think of the mound of change experienced throughout this year. Priya Khanchandani, head of curatorial and interpretation at Design Museum recognises that many of these nominations were realised before the pandemic became a global issue – 'the exhibition brings to the fore broader phenomena that have been underscored by the pandemic, such as climate change, activism and inequality,' she says. 'I don't think that design can or should gloss over that but there is optimism to be found in the ways in which design is giving voice to new narratives and questioning the status quo.'
Winners of each category will be picked by this year's esteemed judges, Razia Iqbal, Edwin Heathcote, Matt Jones, Dr Philipp Rode, Samuel Ross, Seetal Solanki and Camille Walala in November.
Explore the Beazley Designs of the Year nominees below
Goldsmith Street, Norwich
Designer: Mikhail Riches with Cathy Hawley

Housing No.8 (Laboratorio de Vivienda)
Designer: MOS Architects

L'Arbre Blanc
Designer: Sou Fujimoto Architects, Nicolas Laisné, Dimitri Roussel and OXO Architectes

Leishenshan Hospital
Designer: 10,000 workers
Lin'an History Museum
Designer: Amateur Architecture Studio
Material Institute
Designer: Assemble with Material Institute and MONA
ModSkool
Designer: Social Design Collaborative
Parasite set design
Designer: Lee Ha Jun

UCCA Dune Art Museum
Designer: OPEN Architecture

Z33: House for Contemporary Art, Design and Architecture
Designer: Francesca Torzo
A Rapist in Your Way ('Un violador en tu camino')
Designer: Colectivo LASTESIS (Daffne Valdés Vargas, Paula Cometa Strange, Lea Cáceres Díaz and Sibila Sotomayor Van Rysseghem)
Chernobyl Sound Design
Designer: Joe Beal, Hildur Guðnadóttir, Stefan Henrix and Stuart Hilliker (Sound), SISTER, The Mighty Mint and Word Games (Production), HBO and Sky Atlantic (Networks)
ICEYE One-Metre Radar Satellite Imaging
Designer: Rafal Modrzewski and Pekka Laurila

Make Your Own Masters
Designer: Stacie Woolsey
Manifold Garden
Designer: William Chyr, Arthur Brussee, Laryssa Okada and Martin Kvale

Miquela
Designer: Founder and CEO: Trevor McFedries; Co-founder: Sara DeCou; Chief Content Officer: Nicole de Ayora; Head of Design: Isaac Bratzel; President: Kara Weber; General Manager Lauren Goulston
NAE Cities Index
Designer: Li Lai, Briteweb, Andrew Lim and Nan Wu
The Renegade Dance Challenge
Designer: Jalaiah Harmon
The Uncensored Library
Designer: Reporters Without Borders in collaboration with DDB Germany; Architect: blockworks; Production: MediaMonks; Strategy: The Humblebrag
US & THEM
Designer: Alice Wong with Aryan Javaherian
Xenobot
Designer: Doug Blackiston, Josh Bongard, Sam Kriegman and Michael Levin
Adrift
Designers: Rui Zhou
Dakala Cloth – A New African Textile
Designers: Nkwo Onwuka
Kalank costume design
Designers: Manish Malhotra
Moments of Clarity Collection
Designers: Fredrik Tjærandsen

Nothing New
Designers: Phoebe English, Clara Jedrecy, Nataliya Brady and Ellie Grace
Cumming
Reconstructed Superstars, Spring/Summer 2020 Collection
Designers: Helen Kirkum with Bethany Williams
The Sari Series
Designers: Border&Fall
Scrap Case
Designers: Nicole McLaughlin
Telfar bag
Designers: Telfar
3D rendering of SARS-CoV-2
Designers: Alissa Eckert (MSMI) and Dan Higgins (MAMS)
A *New* Program for Graphic Design
Designers: Author: David Reinfurt; Designer/Publisher: Shannon Harvey
Babylon Berlin title design
Designers: Design: Saskia Marka; Music: Johnny Klimek and Tom Tykwer;Production Company: X Filme Creative Pool
Breast Friends
Designers: Director: Caitlin Young; Sound Design: Ioannis Spanos; Sound Mix: Yin Lee; Voice Actor: Suzy Oxenham
Climax title sequence
Designers: Director: Gaspar Noé; Titles Designer: Tom Kan.

Color of the Year: Bleached Coral
Designers: Designer: Huei Yin Wong; Writer: Jack Railton-Woodcock
Cover art for i,i by Bon Iver
Designers: Eric Timothy Carlson and Aaron Anderson
Hellscape jigsaw
Designers: Artwork, Design and Concept: Christopher Spencer; Design and Concept: Carl Gosling; Packaging Design: Danny Mitchell; Manufacturer: Map Marketing
Kiss My Genders graphic identity and typeface
Designers: Design: Studio Frith; Client: Hayward Gallery, London; Exhibition Curators: Vincent Honoré and Tarini Malik; Publisher: Hayward Publishing.
Ok Glacier Memorial
Designers: Designers: Cymene Howe and Dominic Boyer; Text: Andri Snær Magnason; Story: Oddur Sigur› sson; Manufacturer: Grétar Márfi orvaldsson
Stormzy's stab-proof vest
Designers: Banksy
Tokyo 2020 Official Art Posters Project
Designers: Tokyo 2020 official art posters project team, Tokyo 2020 Organising Committee
Women and Heart Disease: Physician Bias and AI
Designers: Karthik Dinakar, Catherine Kreatsoulas, Analise Alexandra Emhoff and Irina Kruglova
Artes y Oficios
Designers: Fabien Cappello
Batch.works and Batch.shield
Designers: Julien Vaissieres, Milo Mcloughlin-Greening and Salomé Bazin
Biomimetic Neck Collar
Designers: Luke Hale
Border as Producer of Design
Designers: Shneel Malik, Dr. Brenda Parker and Prof. Marcos Cruz (Bio-ID Lab, UCL) with Richard Miller (Froyle Tiles)
DO Black
Designers: Magnus Jakobsson and Mattias Alfborger

For.Form
Designers: Kate Strudwick

Förändring by IKEA
Designers: Lolo Stigenius, Akanksha Deo, Iina Vuorivirta and Helene Davidsson
Fronda Stool
Designers: Sam Hecht, Kim Colin, Romain Voulet, Luca Corvatta and Mattiazzi Srl
Impossible Burger 2.0 'A Better Meat for the Planet'
Designers: Impossible Foods
Indus
Designers: Shneel Malik, Brenda Parker and Marcos Cruz; Researcher:
Laura Stoffels; Fabricator: Richard Miller

Judy emergency kits
Designers: Simon Huck, Josh Udaskin and Red Antler with various
manufacturers
K-Briq
Designers: Gabriela Medero and Samuel Chapman
LastSwab
Designers: Isabel Aagaard, Nicolas Aagaard and Kaare Frandsen
LEGO Braille Bricks
Designers: LEGO Foundation and LEGO Group in collaboration with official partners in the international blind community
MarinaTex
Designers: Lucy Hughes
Nike ZoomX Vaporfly NEXT%
Designers: Nike Sport Research Lab
Nünude
Designers: Joanne Baban Morales (Nünude) and Vivian Murad (Skin Bandages
Ooho capsules
Designers: Notpla with Lucozade
Ouroboros Steak
Designers: Andrew Pelling, Orkan Telhan and Grace Knight
Reflectacles Privacy Eyewear
Designers: Scott Urban
Self-Sanitising Door Handle
Designers: Sum Ming Wong and Kin Pong Li
SmartHalo 2
Designers: Xavier Peich, Gabriel Alberola and Jonathan Beaulieu
Soluboard
Designers: Jiva Materials Ltd
Soundbops
Designers: Michael Tougher and RPD International
The Water Box Mobile Filtration System
Designers: Just Water and 501cTHREE
Brick arches
Designers: Hong Kong protestors
The Station of Being
Designers: Rombout Frieling Lab and Research Institutes of Sweden, Umeå
Teeter-Totter Wall
Designers: Ronald Rael and Virginia San Fratello with Colectivo Chopeke
INFORMATION
Beazley Designs of the Year is on view until 28 March 2021
ADDRESS
224-238 Kensington High St
Kensington
London
W8 6AG
Receive our daily digest of inspiration, escapism and design stories from around the world direct to your inbox