'Art Works' by Oiva Toikka for Iittala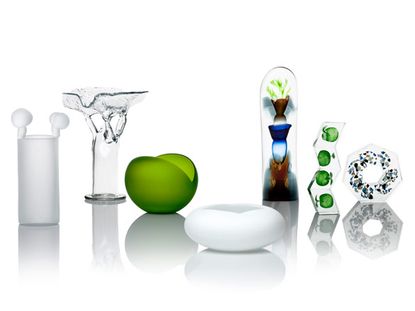 (Image credit: press)
Oiva Toikka may be one of Finland's most famous glass artists but his pop art aesthetic and bold use of colours fly in the face of classic Nordic functionalism. Now fifty years into his collaboration with Iittala, his new collection for the brand's 'Art Works' series - unveiled at Vessel Gallery during London Design Festival - is characteristically experimental and rich in form.
Toikka is best known for his bird series for Iittala - the lyrical glass sculptures that have become cult collectors' items. He has also produced a steady stream of covetted tableware and glassware collections for the brand, including Kastehelmi, Flora and Pioni. But contributing to Iittala's limited edition Art Works series afforded him fresh scope to play. This he embraced with relish, introducing new, surrealist forms, while reinterpreting classics from the past.
This Toikka collection, however, is surprisingly less colourful than its predecessors. Here he explains how this absence of colour requires new levels of technical mastery. Plus, the glass artist curates a Wallspace to give us a glimpse inside his weird and wonderful mind.
What was your aim when creating the Art Works collection for Iittala?
I wanted to make a kind of summary of my oeuvre - to pick up on some of the themes of my production that continue intriguing me. My works are never finished. I keep on developing them. For example, the Lumilinna series refers to the Pampula vases from the 60s, but this time I have used clear or opaque glass. It's great to work with white glass, but it is difficult to control. It is more humble than normal glass; it can break suddenly and the shape is lost. It takes four glassblowers to produce one piece.
Of Pinja, I thought for many years that it is 'smaklös' (a nice Swedish word, meaning 'tasteless') but then I sort of discovered it again and I wanted to experiment with the rough technique. You know, glass blowers have to throw hot glass on a concrete floor to get the right kind of surface structure. But even this time, I don't think we got the form as I would have liked it. It's good to bring back old memories and reinvent them, however.
Your work is often very experimental and, we're told, you never throw anything away. Do you think there is such a thing as a 'mistake' to you or do you use all accidents to your advantage?
Mistakes are often more interesting to me than some of my own ideas. I don't throw pieces away because I'm an optimist: I think that I can perhaps use them for something later.
Describe your creative process. Do you plan and sketch your ideas or do you let them evolve?
It is very normal that I go to the factory with an empty head. But when I sit down among the blowers, right there on the factory floor, the process starts and something indeed begins to evolve. Then I get to know what colours and materials are in use on that day, and so on.
My basic aim is to create objects with a character of their own. Sometimes this involves experimenting with a new technique or colour. And glass is such a quick material, so you have to make speedy decisions with it. Of course the cooperation with blowers is essential for me. I like teamwork.
What have been your biggest references in terms of inspiration throughout your career?
The biggest source of inspiration is the working process itself. At the same time, there are things in the back of my head - things I've seen or experienced. One example is the bubble glass that I came across in Mexico. Later I wanted to use the same technique myself, in my own, individual way.
I've always done things my own way, like how I adapted the filigrane technique to find new possibilities with it. But the skills and possibilities of the finishing department are also very important to my work.
How do your limited edition art pieces inform your more mass produced designs?
My artworks function as a basis for my mass produced designs. They give me more freedom to explore new ideas. I think working with art pieces is essential, both for the technical development of serial production, and for design thinking.
Why do you think your birds have become such collectors' items?
Birds are very common in nature and they have always intrigued people. People envy birds because they can fly. I found a new way of making birds, starting by blowing their head, which made it much easier to make them. Their form suits glass well.
How has your alter ego as a stage and costume designer influenced your work?
Both careers support each other as both are very dramatic. Theatre is all about storytelling, which has become an important part of my approach to glass.
ADDRESS
Vessel Gallery
114 Kensington Park Road
London W11 2PW
Receive our daily digest of inspiration, escapism and design stories from around the world direct to your inbox